How the LBCC Welding Program helped LB native turn a new leaf
Daisey Serrano never gave a thought to a career in welding. She had never suited up in coveralls or picked up a propane torch.
But when Serrano arrived on the Long Beach City College campus in 2017, she quickly fell into the school's training program. LBCC offered a world of opportunity—on top of her classes, Serrano joined the welding club and began student work that allowed her to earn money.
Today, she credits LBCC with launching her career. Serrano, 30, works full-time as a welder, as a second-year apprentice in the Local 105 Sheet Metal Workers union.
"If I would have known about this when I was 18 or 19, I would have done it right away," Serrano said.
Instead, her path was more complicated. Born and raised in Long Beach, Serrano attended LBUSD schools and graduated from Lakewood High.
Once out of high school she fell into trouble. Police arrested Serrano on suspicion of breaking into cars in 2009, and apprehended her again in 2011 for possessing stolen property. Serrano was convicted of burglary and spent four years behind bars.
Upon her release, Serrano looked for a new direction for her and her young son. LBCC fit her needs. The college offered a flexible schedule, night classes and immediate workplace training. There were resources for single mothers and instructors who helped Serrano navigate the application and interview process. Even being pregnant with her daughter when she began the program didn't slow her down.
"I had all the odds fighting against me," she said. "But the flexibility allowed me to choose my schedule."
Her work is paying off now. Welders in California earn a mean hourly wage over $22 and a mean annual wage over $46,000, according to the U.S Department of Labor. Both figures are higher than the national average. And the Los Angeles-Long Beach-Anaheim metropolitan region has the third-highest population of welders in the country.
Welders are in high demand due to a strong economy and high rate of construction, said Tim Shoemaker, a welding instructor at LBCC and former adviser to Serrano. Unions are "screaming for apprentices," he said, and certified welders have a good chance of launching a stable career.
In this environment, LBCC recently expanded its Career Technical Education program. It offers both certificates and degrees in focused trades such as construction, fashion and culinary arts.
Students can earn a newly-created Associate of Science Degree in welding and transfer to a four-year university. Or, like Serrano did, they can get a Certificate of Achievement in welding and enter the workforce.
Shoemaker estimates that LBCC now sends 20-25 more students into apprenticeships than it did in years past. He emphasized the value in trade programs like CTE, noting that they can lead to well-paying middle class jobs without the need for a four-year degree.
The process is designed to help people like Serrano, he said.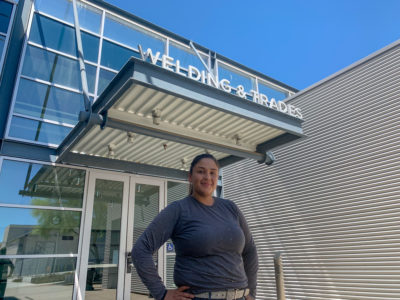 "She picked up the welding really quick," he said. "The welding shop is probably 90-percent male and I think she was a little bit shy at first. But she's one of those people that has a really good attention span."
The school hired Serrano as a student-worker, and she impressed Shoemaker with her punctuality and commitment to following through until she had finished a project.
When it was time to explore the workforce, Serrano continued to show initiative. She took advantage of advice from her instructors and earned her Los Angeles City license in a year-and-a-half. Serrano also passed a written test before coming to Shoemaker to request a letter of recommendation for an in-person interview with the union.
"When you see that, you know you've got someone that's ambitious," Shoemaker said.
"We get a lot of students that have never worked before and have no idea what it's like. Her time incarcerated probably established some regimen in her life."
With LBCC in the rearview, Serrano is focused on her mission to build a career. She is in the second year of a five-year apprenticeship. Once the apprentice period is complete, Serrano could train to become a foreman or project manager.
Sometimes, it even surprises Serrano to consider how far she's come.
"I didn't know anything about how to go about it," she said.
"I wanted something better for myself and my family. And I found it."

Support our journalism.
Hyperlocal news is an essential force in our democracy, but it costs money to keep an organization like this one alive, and we can't rely on advertiser support alone. That's why we're asking readers like you to support our independent, fact-based journalism. We know you like it—that's why you're here. Help us keep hyperlocal news alive in Long Beach.