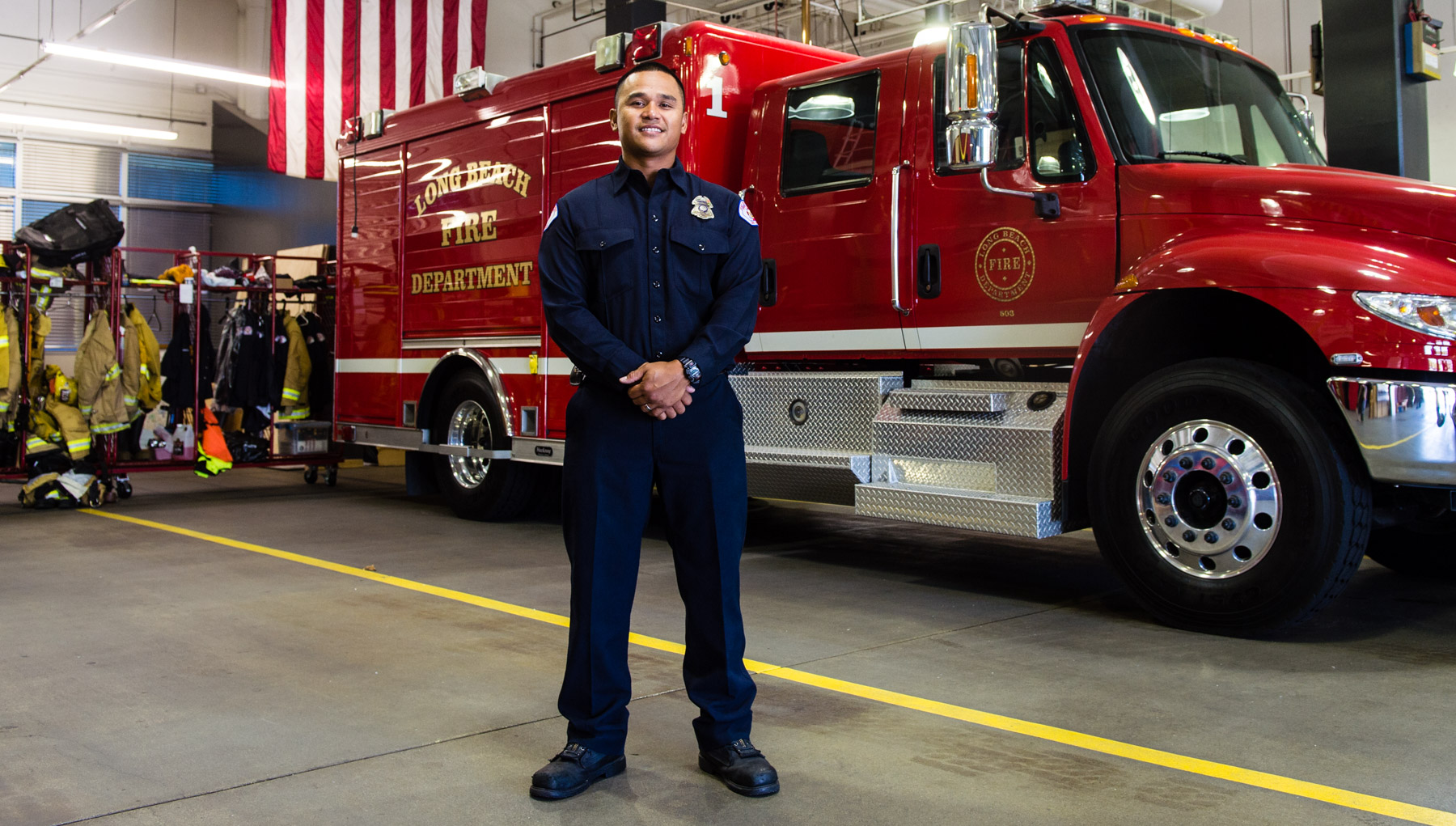 New pipeline guides LB firefighters into engineer role
Some people dream of sitting high atop a screaming red fire engine, twisting the steering wheel back and forth as the 23-ton truck careens through city streets. Seward Khem gets to do it every day.
Khem is a paramedic in the Long Beach Fire Department. But he's training to be an engineer. The engineers learn to pilot the enormous engines through tight corridors at high speed, arriving at emergencies in the nick of time, and providing support to firefighters battling blazes.
The new program, in its first year, is called the Provisional Engineers Academy. It's a five-week course designed to promote from within the department and provide access to a new career path. Finishing the academy all but guarantees a promotion. But it's hard work.
"It's nose to the grindstone," Khem said.
Khem is proud of his job, and of giving back to the community that raised him. But it wasn't an easy road.
The son of Cambodian immigrants who in 1981 fled their home for the U.S., Khem and his family settled in Central Long Beach. He grew up without much, learning to navigate a world plagued with crime and neglect while his father put himself through school and worked construction to put food on the table.
All the while, the Khem family stressed the value of education. He watched his father rise from the ranks of hard labor to become a contractor in his adopted home. "Dad's goal was for us to become doctors," Khem said. "Education was a must."
Khem graduated from Millikan High and headed to UC Irvine, where he majored in computer engineering. But about halfway through, the firefighter bug bit him. Khem finished his degree, followed by a stint at Santa Ana College for firefighting courses. He wasn't focused on coming back to Long Beach. But the department provided the paramedic certification courses he needed, and offered testing that created a direct path toward employment.
Khem didn't realize his luck at the time. But he does now.
"I didn't know how good the LBFD is," he said. "I was born here and I wanted to help in my community. I didn't know how well-respected we are in the firefighter community. But it makes sense."
After six years as a firefighter and five more as a paramedic, Khem was approached with a new opportunity—joining the inaugural Provisional Engineers Academy class.
LBFD officials had been looking for a way to strengthen the engineer position, one that had a poor retention rate in the past. If firefighters wanted to train to become an engineer, they had to use their off-time to reserve the truck and practice driving with a partner. They even had to wash the truck themselves after each use.
Creating the program, they hoped, would not only boost interest in the job but lead to more skilled applicants and, eventually, well-equipped engineers.
"We need these types of programs," said Assistant Fire Chief Robert Grego. "Let's develop them the way we want. We think it will translate to success in the job and the profession."
The program is expensive, at about $500,000 for the extra manpower and course time. The department funded the first class itself and would like to find other options for the future. Grego is optimistic that the Provisional Engineers Academy will lead to the creation of other career pipelines for aspiring captains or battalion chiefs.
"We couldn't be more thrilled with the results," he said.
For Khem, the program has taken the career of a paramedic in a completely new direction. He completed the course at the top of his class, and will soon find himself second in command on the fire engine. Department officials are thrilled to have Khem in his new role.
"His personality is contagious," Grego said. "He's a family man, he thinks about how his actions will affect other people, and he's just good at what he does."
Khem didn't follow the doctor's path of which his father dreamed. In his own way, he found something that is perhaps better.
"I didn't know things were going to work out this way," Khem said. "But I'm glad they did."

Support our journalism.
Hyperlocal news is an essential force in our democracy, but it costs money to keep an organization like this one alive, and we can't rely on advertiser support alone. That's why we're asking readers like you to support our independent, fact-based journalism. We know you like it—that's why you're here. Help us keep hyperlocal news alive in Long Beach.