UPDATE: Campus Administration Holds Meeting with Animal Caregivers
Several campus administrators, feral caregivers and advocates, and councils for both parties came to the table to discuss development of a university policy regarding the feral cat colonies on campus and the coyote intrusion. The meeting took place on campus and lasted two hours. A number of points were discussed regarding control and management.
"The university is moving toward an official policy on campus," said Toni Beron, associate vice president of university relations. "Both parties met, and a lot of good things came out of the meeting."
None of the participants is at liberty to discuss any of the points, but the meeting appeared to end agreeably.
"In all, it was a productive meeting, with unified goals and solutions," said Dr. Patricia Meredith, one of the feral caregivers.
*
Orignal post from 07/21/08
If you're an animal lover (and if you're reading this column, you probably are) and you keep up with local news, you're doubtless aware of the 40-day time limit imposed by the CSULB administration for several managed colonies of feral cats to be removed from campus. Caregivers, activists, students and concerned individuals from as far away as San Clemente came together on Sunday, July 13 to protest the university's actions, and we went, too. We spoke above the horn honking on 7th Street with residents, out-of-towners and caregivers, among them Bill Dyer, the tireless activist representing In Defense of Animals; Leslie Abramson, one of the main campus colony caregivers; and Long Beach lawyer Henry Salcido, who is pro bono attorney for the caregivers. The news vans and print and online reporters were there for coverage. Conspicuous by their absence were representatives from the university.
"The last president of the university [Robert C Maxson, who retired in 2006] was a friend of ours," said Abramson, who has been spending as little time sleeping as the average feline does being awake. "He was supportive of the cats. King Alexander hasn't been a friend. The cats have been here since 1949, and now this."
The office of F. Alexander King, the current university president, informed the caregivers on July 10 that they had 40 days to trap and relocate the ferals, who live in sheltered managed colonies throughout the campus. Managed colonies comprise cats that have been spayed or neutered, vaccinated, and tracked, and are regularly fed and cared for. The reason that the university gave for the rush job was that coyotes had been spotted on the campus. The number hasn't been determined; coyotes generally hunt singly or in pairs, according to California Fish and Game, but there have been rare instances of more than two. However many there are, King's office stated that the animals, considered predators, present a danger to the public, particularly to the children who attend the campus preschool and summer camp. The university's solution? Remove the cats, and the coyotes will leave.
Cats, according to communication from campus administration, create an attractive nuisance because the food set out for them brings in coyotes. The coyotes will then jump the fence, prey on the cats and, assured by a bountiful food source, will remain on campus and attack students and eat the preschoolers. What will probably happen if the cats are removed—and according to feral organizations, it's next to impossible to empty cat colonies, for reasons that we'll address in a future article—is that the coyotes, who are out hunting in the city because they've been forced out of their own environment by human predators, will then go for raccoons, opossums, and squirrels, and pick their teeth with rats—well, perhaps not. According to protester Dave Lockyer, rodents haven't been seen on campus for years—probably since 1949. Rats are smart critters and as soon as those little gnawing chewing geniuses get word that the cats have matriculated from the university, they'll have passed their entrance exams and will be nibbling on everything from kitchen scraps to bare toes in the dorm beds before you can say Willard.

Feral station before it was torn down.
We don't actually believe that the administrative staff at the university is a bunch of cackling cat-hating villains, but they have objectified the ferals as nuisances and their removal a solution to the coyote threat. Furthermore, there are apparent contradictions between their public statements and their actions. CSULB spokesperson Toni Beron, who sounded as if she really does care about the cats—she responded with a sharp "It's not funny!" when one of us snickered at her unintended incongruous metaphor of describing the cats as sitting ducks—said that she is aware that adult ferals are next to impossible to adopt out, but that every effort would be made to place them somewhere, and that a number of organizations have already offered to help. But in the long run, the coyotes will be attracted by the food for the cats, and will also expose them to the danger of being eaten if the cats are not removed.
"Would you want to die that way?" she asked us.
Of course, we wouldn't, but her question stuck a chicken bone in our gullets, which we'll attempt to cough up for you. Despite offers of volunteers to trap the coyotes, Beron advised that it is up to Fish and Game to remove them. Fish and Game, she said, is presently investigating the situation. But it's a lose-lose situation for every animal, as it is illegal to relocate coyotes; Fish and Game states in their brochure that relocation "only moves the situation to someone else's neighborhood." Furthermore, the trapped animals are ultimately euthanized. As for placement, our shelters and rescues are full to bursting. Long Beach Animal Care Services, formerly Long Beach Animal Control, has an open admission policy and evaluates each animal as to its health, safety, and ability to be domesticated, but there's no guarantee that any of them will find a permanent home. And here's a real bone we have to pick: The vulnerability of the ferals is a direct result of the action of Mary Stephens, CSULB's vice president for administration and finance, who ordered the demolition of the shelter near the Carpenter Center parking lot. The shelter was surrounded by a chain-link fence; whether the coyotes could climb it or not, the cats could run inside the little hut for protection.
"This was cruel," Abramson said. "They say that they want to protect cats from coyotes, and then they tear down the shelter. This is an exposed ghost town."
There are colony shelters throughout the campus, but ferals are territorial and prefer their own digs. Because the cats no longer have a safe place to hide, Abramson spends long nights by the sad remains of the shelter, accompanied by her husband. She protects her charges all night, goes to work the next day, naps for a couple of hours, and gets called Crazy Cat Lady and people hater by the yahoo factions.
"Yeah, I'm a cat lady, but I'm not crazy," Abramson said. 'I'm also a bird lady, an opossum lady—all animals. Furthermore, I'm a nurse and run a nationally accredited childcare center. How much can I do?"
Besides her nocturnal activity, Abramson goes daily to the campus cat shelters and the site of the former one to feed and visit the residents. The cats come running, tails up, rubbing against her as payment for their dinners. As in any colony, some of the cats were born wild, but a considerable number of them were dumped there by people who can't or won't care for them anymore. The mortgage crisis, Abramson said, has increased the number of pet dumps. The students, too, miss their pets back home and try to sneak cats into the dorms, often leaving them in the colonies after they are caught doing so. Abramson said that these domestic cats, most likely frightened and pleading for the safety and affection of their owners, are bullied and terrorized by the ferals. There is a state abandonment code on the books (CA Penal Code Sec. 5975), but it's questionable as to what effort it would take to enforce it. And, now that the shelter has been torn down, these former fireplace kitties are as much at risk of danger as their wild counterparts. A better choice for the students would be to volunteer to help manage the colonies instead of adding to them.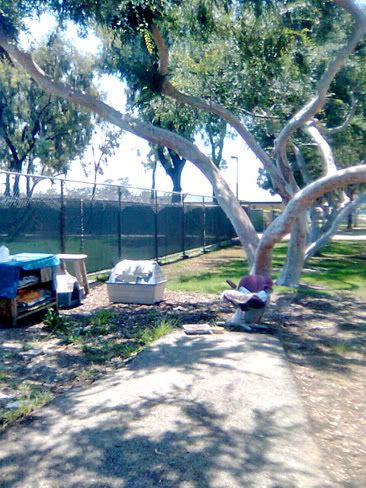 The feral station at CSULB after its exposure.
Stephens had agreed to meet with the caregivers to discuss possible solutions, but at this writing, they have made no further efforts or responses to requests.
"Mary said, yes, they would definitely like to have a meeting with us, and asked us to contact her office to set up a meeting," said Dr. Patricia Meredith, who also cares for the campus cats. "As of yet, our phone calls haven't been answered."
So, Leslie sits and continues to guard her charges, and people continue to add to the problem. Meanwhile, construction goes on at the university and everywhere else, displacing coyotes and other species, forcing them to find food elsewhere. And people continue to leave their pets sexually intact to produce more litters, and dump them when it's no longer convenient to share their home with them. We continue to ask the community to be responsible for creatures who cannot take care of themselves, but sometimes we feel as if the horse is long gone from the barn. Or, to avoid mixing more metaphors, the cats have been expelled from the hearth.

It's a matter of taking the side of the weak against the strong, something the best people have always done.
– Harriet Beecher Stowe
Related Web sites:
In Defense of Animals www.idausa.org
Stray Cat Alliance www.straycatalliance.org
Alley Cat Allies www.alleycat.org

July 26
"Beyond The Valley of the Flight Attendants: Beyond Retirement," will be performed as a fund-raiser for the Recreation Small Dog Park Renovation & Expansion Project, with 100 percent of proceeds from ticket and refreshment sales going to the fund being maintained by the Long Beach Recreation Dog Park Association. Honored guest at the event will be Vice-Mayor Bonnie Lowenthal. $20. Found Theatre, 599 Long Beach Blvd., Long Beach
foundtheatre.org
July 27
A veggie barbecue to pass Proposition 2, the Prevention of Farm Animal Cruelty Act, will be held at 4 p.m. Mass dial-in to the nationwide conference call at 5 p.m.
Click here for the full text of Proposition 2, the Prevention of Farm Animal Cruelty Act.
July 31
Friends of Long Beach Animals presents "Walk on the Wild Side," with herpetologist Steve Strichart and LBAC Officer Kevin Law. Annual membership meeting; public welcome. 6:30 p.m., free. Signal Hill Community Center, 1780 E. Hill St., Signal Hill.
www.folba.org
August 19
Friends of Long Beach Animals will hold its Yard Sale for SNIP (Spay/Neuter Incentive Program) at 5504 Monlaco Rd., right off Bellflower Boulevard. Money from all the treasures you buy will go toward helping animals through SNIP. FOLBA s is an all-volunteer organization with the goal of zero pet overpopulation and ending the euthanasia of any healthy animal.
Please e-mail any Long Beach-area animal-related events to [email protected].
{loadposition bottomshare}