"You're doing what?" said Signal Hill city councilmember Larry Forrester when Animal Care Services (ACS) bureau director John Keisler invited him to read to the animals at the Pitchford Companion Animal Village last Tuesday. "You're nuts!"
Despite it having been scheduled during National Library Week, the Pet Literacy Launch has less to do with discussing Oliver Twist with cats and dogs than it does with socializing pets, getting them accustomed to the sound of gentle human voices and bonding with them for some quiet time. The Pets Are Worth Saving (PAWSLongBeach) committee, consisting of ACS staff and Long Beach animal advocates, came up with the idea from the nationwide Reading Education Assistance Dogs (READ) program, which uses therapy dogs as nonjudgmental reading companions for children who may be having issues with reading. Now, the shelter is inviting the public to devote one hour of any day it's open to read to animals, making Pet Literacy an ongoing project. Readers are asked to come with their books to the front desk at the Village at 7700 E. Spring St. from 2–3 p.m. Wednesday through Sunday, sign a waiver, and read to a cat, dog and whoever else is spending time there. Keisler said that school service hours or elementary-age reading time may be earned through this project as well. We're hopeful that use of our library system will go up as many times as a Pet Literacy reader will scan the library to find a book appropriate for pointed and floppy ears.
"When John brought this idea up, I wondered," said Ron Arias, director of the Long Beach Health and Human Services Department. "But what really attracted me is that any idea we have to get the public out here to see the beautiful adoptable animals is a great idea."

ACS bureau manager John Keisler envisions a literary connection between residents and shelter animals.
For Keisler, Pet Literacy is another way to involve the community with the shelter, improve the environment by providing daily time for sociability and stable exchange, and foster connectivity between the public and the animals.
"Then, there's the deep, dark secret—someone may fall in love with an animal and adopt it," he said.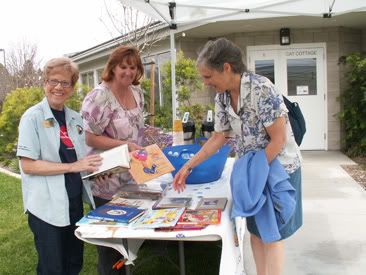 From left: FOLBA vice president Nona Daly, BARK founder Josie Gavieres and Elise Mattison select from among books.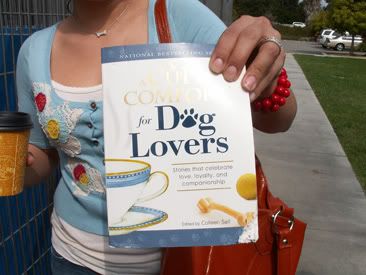 Some readers brought their own reading material. CosmoPAWlitan Boutique owner Eva Kuncewicki read from her dog-eared, dog-chewed copy of A Cup of Comfort for Dog Lovers.
The Launch took place last Tuesday, April 14 at the Village. Friends of Long Beach Animals (FOLBA) provided reading chairs, and It's A Grind co-owner Louise Montgomery, who is also an active volunteer for Animal Match Rescue Team (AMRT), brought coffee and person biscuits. Josie Gavieres, organizer of the local Beach Animals Reading with Kids (BARK), was delighted. Gavieres founded BARK locally in 2007 after discovering READ on the Internet. She, too, uses therapy dogs as companion readers for children in Los Angeles County and Orange County schools and libraries; she finds that the project has help to raise both reading ability level and self-esteem. But what would it do for the animals in the shelter cages, with their own needs?
"I think it'll help some of them, and some will just ignore you," said Gaviere's friend Elise, who picked up a children's book, smiling, and headed for the Cat Cottage.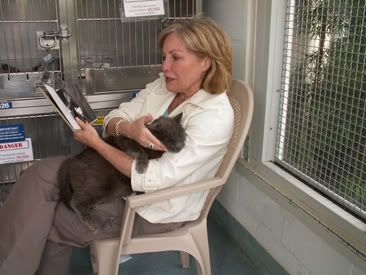 Long Beach's first lady, Nancy Foster, lulls big Smokey to sleep with an Ernie photo book. Smokey's available at Wiskers, 4818 E 2nd St., so some lucky adoptive companion is going to wind up with a cat who had a brush of the tail with fame.

Retired Long Beach Public Library Services Director Eleanor Schmidt reads The Cat in the Hat in a hat to a cat. She would have read it in a box to a fox, if one were in residence.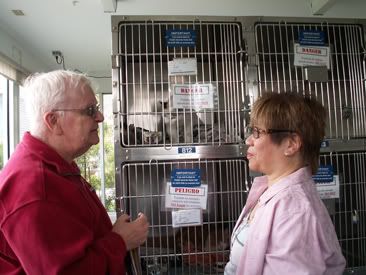 The little guy in the cage is trying to convince Press-Telegram columnist Tom Hennessey and wife Debbie that he'd prefer to be tucked in and read to at their house.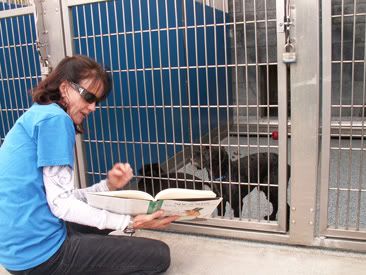 AMRT and It's A Grind's Louise Montgomery's book perks up a pooch with a parable.

Health and Human Services Director Ron Arias with a normally excitable boy. "Did you see how he calmed down after I started reading?" Ron said.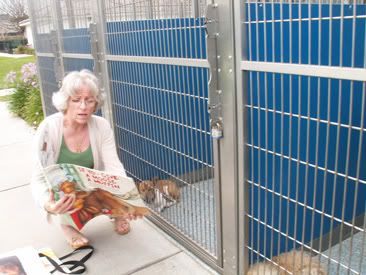 Here's Judy…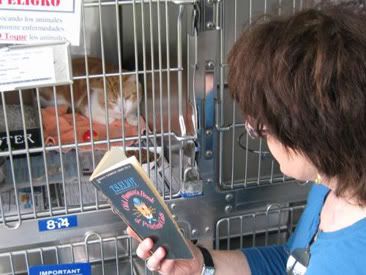 …and part of Kate.

It's all about the animals here. Ask Debra Brubaker, ACS public health associate…

…and the officers can relax, too. Here's ACO Heidi Poe communing with a friend.
Random Clawings
Legislation
Animal activist Judie Mancuso announced a banner day for four bills in the process of approval. Mancuso said that representatives' offices were "flooded by public support" for these bills. The bills include:
SB 250, Pet Responsibility Act, 3–1 victory in the Senate. The bill requires that dogs be spayed or neutered unless their owner/guardian obtains an unaltered dog license when they license their animal, and that cats be altered if they are allowed to roam neighborhoods. The bill targets dogs and cats 6 months and older.
AB 241, Responsible Breeder Act of 2009, 5–2 victory in the Assembly. The bill targets puppy mills.
AB 242, Dogfighting Prevention Act of 2009, 7–0 victory in the Assembly. Willing spectators at a dog fight would be charged with a felony and not the usual misdemeanor.
AB 243, Animal Abuse Prevention Act of 2009, 7–0 victory in the Assembly. The bill would allow a judge to bar felons convicted of cruelty to animals from owning pets for a period of time.
Click here for information on the bills and how to further support them.
AB 233, Tax Deduction for Adopting an Animal for the Shelter, is also pending approval. Shelters are overcrowded and are becoming more so as people abandon their pets because of economic difficulties. The bill would allow up to $100 of adoption fees as tax deductions. Hey, if you can deduct your kids… click here for information and support.
Volunteering
Animal Match Rescue Team needs temporary foster homes for their dogs. Contact Louise at (562) 897-5282 if you are able to provide short-term care for a dog who weighs less than 15 pounds.
Events
Ongoing Pet Food Drive at Neighborhood Resource Center
The Neighborhood Resource Center in tandem with Food Finders is collecting both pet and people food for needy families. Bring what you can to the NRC office at 425 Atlantic Ave., (562) 570-1010.

April 26, Blessing of Animals
Well, they're blessed already, but why take chances? Take your pet—any kind, as long as he or she is contained—to California Heights Methodist Church, 3759 Orange Ave. in Long Beach, at 11:30 a.m. for a lovely time.

April 26, L.A.'s First Veggie Pride Parade
Come and get your veg on! This free event begins at 11 a.m. and is dedicated to the vegetarian lifestyle and ending animal exploitation. Entertainment, rallies and great food from the area's best vegetarian restaurants. Location: Culver Events, 11948 W. Washington Blvd., Los Angeles. Visit here for more information and registration.

May 3–9, Be Kind to Animals Week
Of course, you must do this every day, but maybe you could do something extra-special for an animal who doesn't live with you. Like go to the shelter and read, maybe?
"OUtside of a dog, a book is man's best friend. INside of a dog, it's too dark to read."
{loadposition bottomshare}