In the Bassac slums of Phnom Penh, children wander the trash-filled streets in a desperate search for survival. Many kids are orphaned by HIV/AIDS, and some were born with the disease. Older siblings often fall into sex work as a means to support their families, or their drug habits. Schools are expensive, and basic skills like reading and writing are in short supply.
Tuy Sobil, born to Cambodian parents in a Thai refugee camp and raised in Long Beach, never became a naturalized US citizen. After serving time in prison for a gang-related crime at the age of 18, and being held by the INS, he was deported to Cambodia. At first he was overwhelmed by the poverty that surrounded him but, much to his surprise, the local kids were eager to learn hip hop dancing. He wasn't especially interested in teaching break dancing, but the kids were relentless. Tiny Toones was born.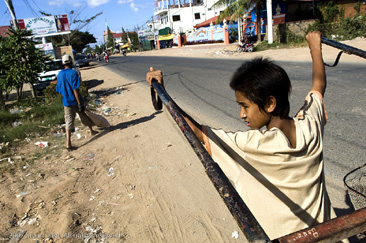 Slowly, he began to use this desire to motivate the kids to learn other things. If, for example, they wanted dance instruction, they had to spend time every day learning to read and write, both in English and Khmer. There was a zero-tolerance drug use policy. They were also given health and drug awareness classes.
Soon, Tuy's small room was packed with kids and they had to relocate to a larger space. Now, it is an open-door community center that serves hundreds of kids, and programs are expanding to include rapping and music production.
In order to support Tuy's efforts, the Cal State Long Beach Breaker's Club and professional dancers have joined forces to produce an ambitious fundraiser, "Beyond The Mats 2 – Tiny Toones Benefit for Cambodia."
Vimore, an American of Filipino ancestry, is a member of the local dance troupe Deuces Wild. He, along with Peanut, a member of the Seattle-based world champion break dancing group Massive Monkeys, are organizing the event. It is a healthy mix of break dancing competitions called 'battles', spoken word, an art raffle, and dance exhibitions.
Hosting the event is Utmos, another member of Massive Monkeys, and DJs include Frankie Flave (Killafornia), Abel (Foundations), Bles One (Massive Monkeys).
The event is taking place on Saturday, October 18th, from in the CSULB Student Union Grand Ballroom. Tickets are $10, and $7 for students with ID. Parking is free in Lot 3.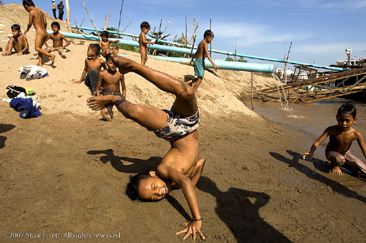 In addition to ticket sales, donations are always welcome. They're also accepting new or used (in good condition) b boy gear, including beanies, socks, helmets, gloves, and elbow/knee pads.
Visit www.TinyToonesCambodia.com for more information.
Many thanks to Stuart Isett for allowing us to use his amazing photographs.
{loadposition bottomshare}