Friday night at Jordan High School was classic prep football. Fantastic personal efforts were overshadowed my mistakes and penalties, and when the chalk settled, Jordan (4-1,1-0) had run past Millikan, 21-7, in a messy Moore League battle.
In these types of games, one needs only look at three stat lines. Who ran for more yards, who had more takeaways, and who won the field position battle? The answer: Jordan (356 yards, to Millikan's 8), Jordan (5 takeaways, to Millikan's 0), and Jordan (avg starting field position= own 45.) Jordan quarterback John Timu only threw the ball 12 times for 24 yards, but killed Millikan with his feet on 14 carries for 100 yards, picking up huge first downs in the second half.
Millikan (2-4, 0-2) has struggled with turnovers the last two weeks, and started the night on the wrong foot when Jordan DB Anthony Smith picked off quarterback Jake Holtz at midfield. Six plays later, fullback Tevita Palu bounced it outside and stumbled down the sideline for the 31-yard touchdown.
Palu, Jason Logologo, and sophomore Patrick Thomas filled in for the usual starting backfield of Taniela Maka and Vincent Porter, who sat out with injuries. On the defensive side of the ball, Princeton "Bobo" Fuiamor filled the whole left by Maka with his tenacity and ball hawk skills.
Jordan head coach Scott Meyer is routinely giddy about his team's depth, and Friday night's domination at the line of scrimmage serves as a message to the Moore League: the Panthers just might be for real.
Down 14-0, Millikan had a chance to get back in the game when Holtz found his favorite target Alden Darby for a 19-yard pass on fourth down deep in Jordan territory. But three plays later, senior DB Tommy Elliot jumped in front of Holtz's intended receiver, and took the interception back to the 40-yard line.
Millikan did score before halftime, on a 65-yard touchdown pass from Holtz to Darby, but on the fifth play after halftime, fill-in Jordan running back Thomas took his first carry of the night 40 yards for the score, making it 21-7.
Not only did the Jordan defense do its job protecting the lead (allowing net 79 yards in the second half) the offense ran the ball effectively and possessed the ball for 10 minutes of the fourth quarter.
Holtz found six different receivers, going 18-for-29 for 238 yards, but the four interceptions stopped any Ram chance for a comeback. Darby hauled in nine catches for 169 yards. Palu finished with 98 yards and two TDs on 14 carries.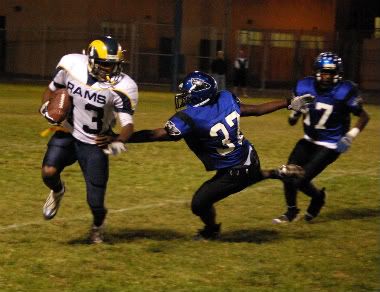 {loadposition bottomshare}