All that glitters ain't gold, just ask 49er sophomore defender Bo Rael.
Rael, a University of Oregon transfer, admits she wooed by the school's college town, prestigious athletic program and first-class facilities. But it wasn't enough to keep her happy in Eugene for the whole duration of one semester.
Instead she traded in her Duck lightning-yellow and green for 49er black and gold.
And she couldn't be happier to be here.
"It just wasn't a good fit," Rael said of her Oregon experience. "It wasn't my style of soccer, obviously I wasn't playing but I knew what I could do. I knew I could be out there on the field. So I wasn't going to sit back and let it happen my next season—these are my last four years, I'm not going to waste them. Most of us don't have anything [soccer-wise] after college. So, this is it—I wanted to play Division I soccer and I wasn't playing there."
Rael has started all six 'Niners games this season and the Ducks can expect to see a familiar face in number "uno-ocho" today when they face off against the 49ers at George Allen Field.
So like LL Cool J and Notorious B.I.G. set out to do, Rael is back in Cali. A Rancho Cucamonga native, Bo—who's real name is Marissa—is back on the field with a group of 'Niners who played club ball with she and high school teammate Shawnna Gordon (Los Osos High School).
Not to mention her family will be more content making it out and actually seeing Rael getting playing time in her sophomore season. Rael said she got the nickname Bo from countless times of playing the name game (she even sang it out "Marissa-visa, Bo –visa, banana-fana" you get the point). It was also with her mother that she suffered a minor set-back right before spring drills; catching her lower right quadriceps on the head of nail trying to break into her own house.
Now she has an arrowhead-like scar to symbolize her departure and arrival at Long Beach State.
"Now that I look back on it, here [at Long Beach State] this is my style," Rael said sporting a year-round So-Cal tan. "How Long Beach plays and everything, this just a perfect fit here. I'm so much happier here."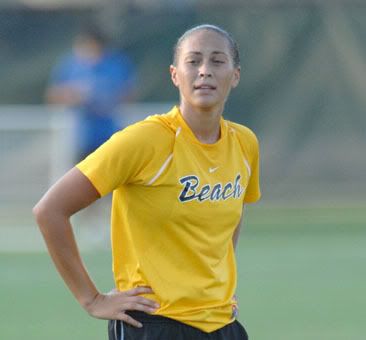 Photo by Stephen Carr
Happiness evident by her vivacious and bubbly personality, making it difficult to hold back laughs during the interview process. Even during a photo shoot when she attempts to stare down the camera and intimidate—somewhat—the smiles cracks right through her "serious" face.
But that type of sincerity doesn't translate to the field, where one freshman Nicole Hubbard, seniors Sara Baca and Tiffany Vaught make up a physical, aggressive defense. It is a type of defense that's style of play is more resembling a stereotypical "big" school and conferences (like Oregon in the Pac-10) than Big West. And they have proved their skills having come up big in the team's three shutouts in six games this season.
"I think the Pac-10, the whole Pac-10 label is just a name, just a conference," she said. "With Long Beach—the way we've been playing with the confidence and attitude we have, we're way up at that level. Not being ranked this year made us all mad, Whether Pac-10 or not it's just a label, but we're totally at that level. We're ready for anything."
While the team is ready for anything, it's hoping their next transition is into the NCAA tournament. Despite winning the last two Big West regular-season titles, Long Beach State has failed to win the automatic birth by winning its conference tourney and have been denied at-large bids.
Stepping into campus in the Spring has helped familiarize her with teammates and at the same time get to know their experiences. Even though she wasn't around for last season's Big West tourney loss to Cal Poly, Rael feels the ill-effect of the loss and she says this team isn't about to let that happen again.
"I felt like coming in I have to take that as something that hurt me too even though I wasn't here," she said. "It hurts to see them that upset."
Another one of last season's bitter tasting defeats came at home to another Pac-10 foe and eventual National Champions, USC. The women of Troy came into George Allen Field and schooled the 49ers both physically and tactically. But like Rael said, expect the Niners to be much more physical against the Pac-10 schools this time around. They can prove themselves on Sunday against Oregon. The Ducks are most known for they're ruckus football crowds at Autzen Stadium—where the program has been a constant in the top-25 the last decade—rather than its futbol.
Oregon has been notoriously noted as Nike's guinea pig for untraditional uniforms and color schemes. Of course the risk comes with a reward with Nike messiah Phil Knight or "Uncle Phil" as Rael says—being an Oregon alumnus and pouring money into the school like George Steinbrenner and the Yankees.
But money can't buy championships and—despite their $125 million in donations for athletic renovations over the last decade—it was not enough glamour to keep Rael from returning to civilization (aka Southern California).
"I'm not gonna lie, I'm really excited," Rael said about facing her former team. "I've known from the get-go that we were going to play Oregon. But I just took it one game at a time. But I still had Oregon in the back of my mind—what I could have done there, what difference I could have made there. But I'm so happy here, I love it here. We've just taken every game at hand and focused at that game, but now it's Oregon time, now we're ready.
So while Oregon might have it's Nike backing, there are two things they don't have that Long Beach State does: a giant blue pyramid and Bo Rael.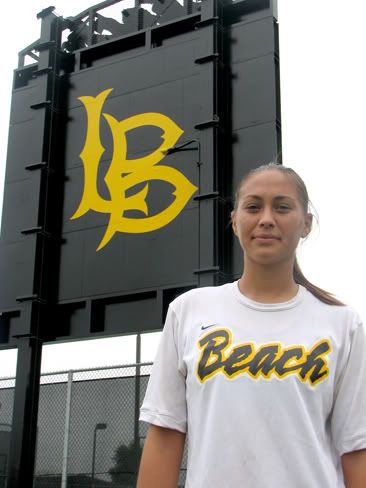 Photo by Ryan ZumMallen
{loadposition bottomshare}