Early in the fourth quarter, Wilson wide receiver Jemari Roberts made an incredible leaping catch over a Millikan safety and glided into the end zone for a 40-yard touchdown reception that put the Bruins up for good on their way to a 16-13 victory Friday night. It was the kind of play that no one else in the Moore League could have made, but the Bruins' victory was ultimately the result of an inspired team effort from every player in maroon & gold.
Quarterback Stephen Barrett completed 16 of 32 passes for 235 yards and 2 touchdowns, while Brandon Robertson handled the load on the ground, amassing 153 yards on 32 rushes and moving the chains when the Bruins (3-2, 1-0) needed it most. The Stanford-bound Roberts caught just 2 passes, but made them count for 61 yards and the deciding score to ruin the Millikan (2-3, 0-1) home league opener and homecoming.
It was an emotional victory for a Wilson team that won just one game last season and had not won a Moore League game since 2006.
"I'm really proud of how hard they played," Wilson head coach Mario Morales said of his squad. "Both sides of the ball lived up to the challenge, but especially the defense."
That defense limited an explosive Ram attack and forced four turnovers, including linebacker Blake Cooper's game-ending interception late in the fourth quarter. It was Millikan quarterback Jake Holtz's second interception of the game, despite throwing for 207 yards and a touchdown on 16 of 32 attempts. Holtz connected with just three receivers for those 16 completions – proving detrimental for an offense that relies on its versatility.
The three receivers were Millikan's usual suspects and biggest playmakers: Jonathan Sanders, Alden Darby and Silver Vaifanua. Returning from injuries after two weeks on the sidelines, Vaifanua had the best night, catching 6 balls for 104 yards and rushing for 111 yards on just eight attempts. The electric junior scored on a 54-yard run and a 45-yard reception to account for Millikan's scores.
But it wasn't enough for the Rams, as Wilson put together long, time-consuming drives that resulted in two touchdown passes and a field goal to take the win. Roberts draws plenty of attention from every defense he faces, but Wilson may have caught Millikan off guard by relying on running back Robertson (he carried nine times in the game's opening drive, alone). A methodical between-the-tackles routine wore down the Ram defense and allowed Robertson to bounce outside and open the throttle for late runs of 39 and 25.
"It was an amazing performance," said coach Morales. "He's just a special kid. We're so happy he was able to play well tonight."
Both running backs put on quite a show, but while Robertson was excited after the win – "I think we can go to the playoffs this year," he said – Vaifanua was forced to wonder where his team will go from here.
"It's a tough loss," he said. "We've gotta work harder in practice. Coach keeps telling us that and it showed tonight. We should be able to turn it around if everyone works hard in practice."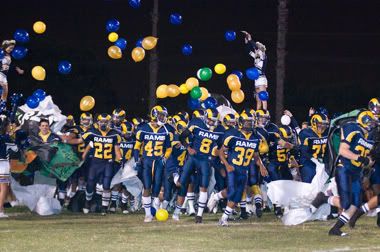 Millikan came out ready but looked tentative and struggled early.




Stanford-bound senior receiver Jemari Roberts caught just two passes, but turned them into 61 yards and the winning touchdown.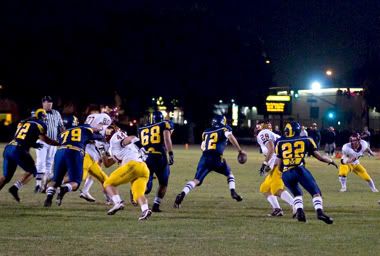 Millikan quarterback Jake Holtz spots daylight and makes a run for it.




Wilson tight-end Robert Bebek snuck past the Millikan secondary for the game's first score on this 37-yard touchdown.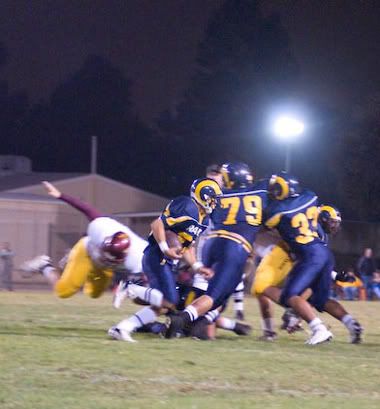 Millikan playmaker Silver Vaifanua sent defenders flying as they struggled to corral him.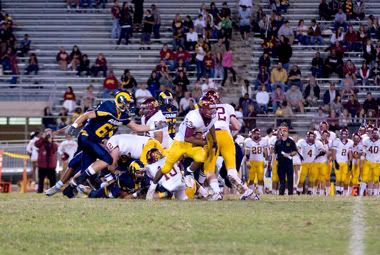 Bruin running back Brandon Robertson shouldered the load with 32 carries for 153 yards.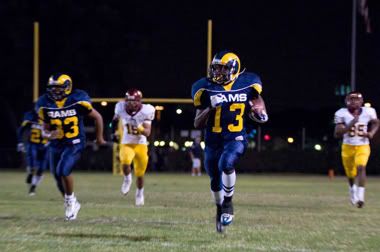 Ram receiver Jonathan Sanders is dangerous in the open field, but was relatively contained by the Bruins to the tune of 81 total yards.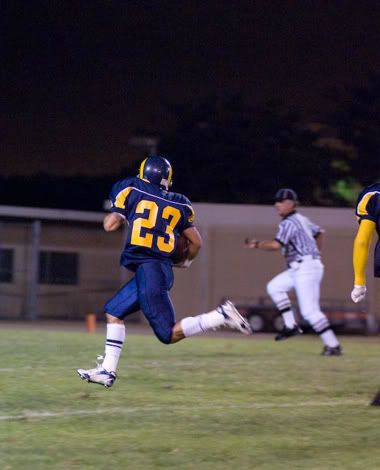 Vaifanua looked untouchable on this 54-yard rush that cut Wilson's lead to 7-6 (PAT no good).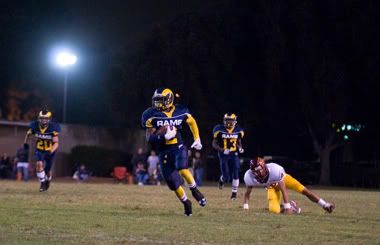 Millikan WR/DB Alden Darby has been a force for Millikan this year, but touched the ball just five times for 30 yards against Wilson.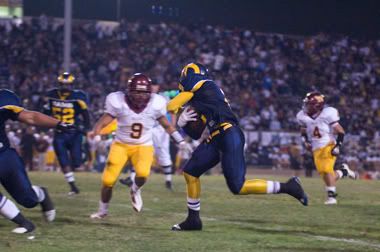 Bruin defenders found Darby whenever he looked for daylight.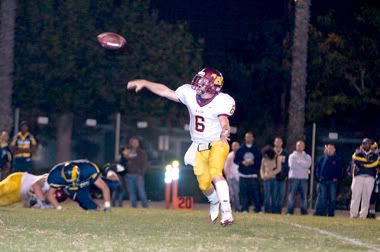 Bruin QB Stephen Barrett led the passing attack with 235 yards and 2 touchdowns – though he was also intercepted twice.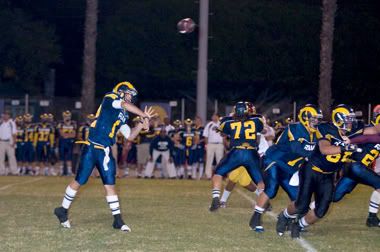 Holtz threw for 207 yards and a TD, but his two interceptions were costly.




Holtz finds Darby in the 4th quarter.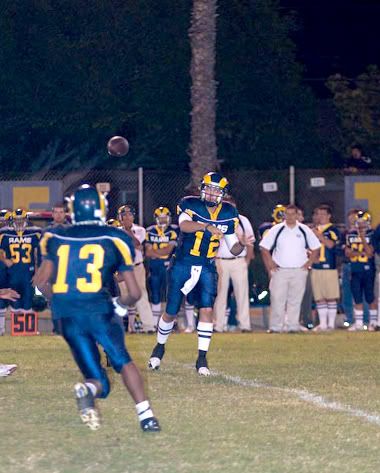 The Millikan air attack consisted mostly of clever screens and quick hits – this one to Jonathan Sanders.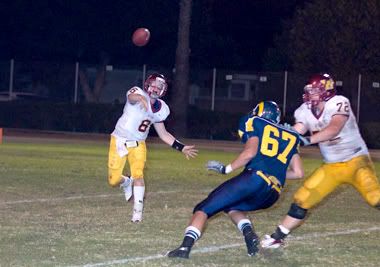 Barrett spread the ball to seven different receivers and received excellent protection from his offensive line.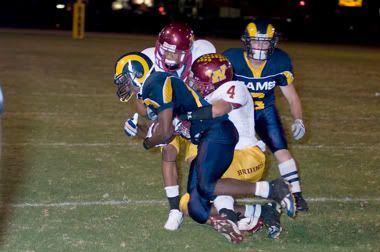 Wilson defenders (like #4 AJ Nuusila) effectively limited yards after the catch – usually Jonathan Sanders' forte.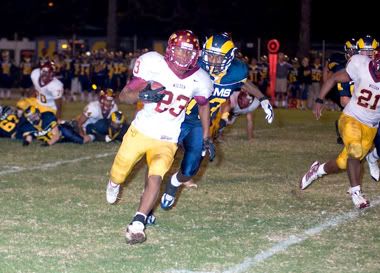 Robertson consistently gained two or three yards per carry until breaking long runs of 39, 11 and 25 late in the game – when the Bruins needed to eat clock most.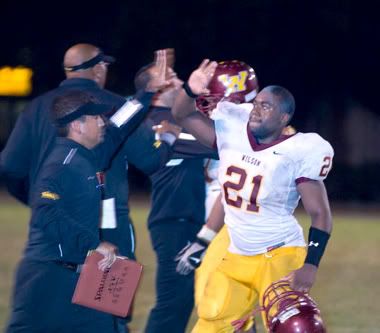 Junior Vergee Whitaker celebrates the win with Wilson's coaching staff as the Bruins move to 3-2 this season.

{loadposition bottomshare}