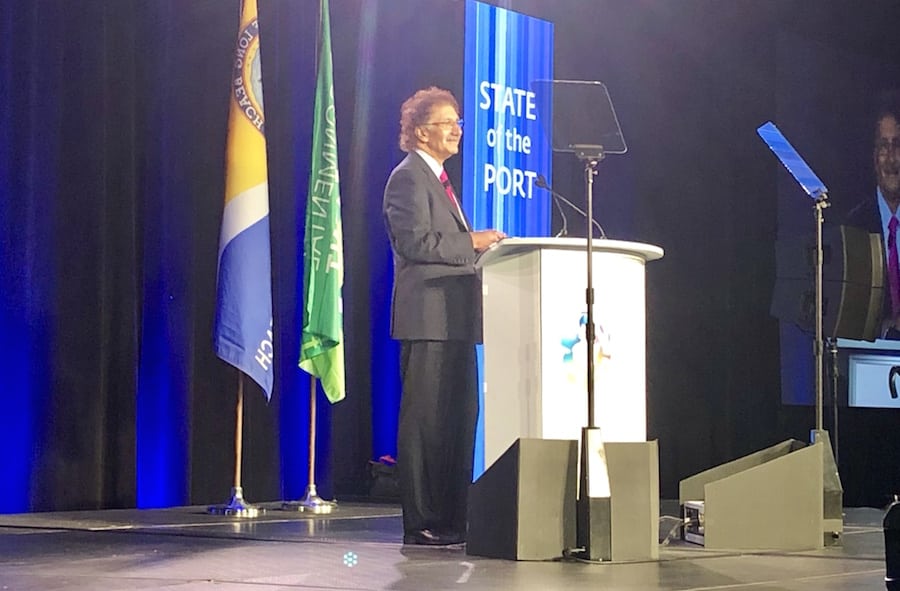 Not singing the blues: Director says business is good at Port of Long Beach
Improved efficiency and a historic spike in volume has left the Port of Long Beach in a good position in 2019.
That was the message delivered by Port of Long Beach Executive Director Mario Cordero inside the Long Beach Convention Center's grand ballroom Wednesday afternoon, where he delivered the annual State of the Port address.
Coming off another historic year where the cargo increased by 7 percent, breaking the record that was set in 2017, port executives are looking to a future that may be greener and leaner, though its fortunes will depend on what happens with a potential trade war with China.
Port of Long Beach headed for record breaking year as trade war with China escalates
Last year the port saw 8 million containers pass through its piers, the most in its 108-year history. Exports grew by 6  percent and exports by 3 percent with December being the second busiest month in the history of the port.
Cordero touted these figures in his address to the crowd of hundreds gathered inside the convention center, describing the cargo statistics with a lyric from Etta James.
"She [James] sang the blues is my business and business is good," Cordero said. "Well, here at the Port of Long Beach containers are our business and business is good."
While the last part of the year saw a huge influx of imports from Asian markets, an impending trade war that has seen threats of escalating tariffs between the world's two largest economies the rate of trade could be slowed if any of those threats come to fruition.
Cordero noted the issues that could face the port in the future but remained hopeful that the two countries would be able to work out their differences in the name of maintaining both countries' economic well-being.
"We have a very optimistic view that in the end these issues will be resolved because with so much at stake on both sides of the Pacific. We believe that the United States and China can resolve their differences, and keep our respective economies growing."
He added that the port sees more growth coming this year but likely at a more conservative level. In the long-term Cordero said the future of the port remains bright because of its continued investment in infrastructure and its customer service.
Some of those improvements include the on-dock rail yard that was approved last year on Pier B which is expected to begin construction within the next three years. Cordero said that rail would be extended to other parts of the pier to improve efficiency while also noting that rail could dramatically reduce truck trips needed to load or unload ships as well as emissions.
A new, taller Gerald Desmond Bridge is in the process of being completed, which will allow for better traffic flow and for larger ships to navigate into the port complex.
Cordero said that the port and its tenants have improved efficiency by tapping into new technologies. In the Port of Long Beach and Los Angeles' updated clean air action plan the two ports called for instituting a reservation system for trucks to further reduce idling and to improve efficiency.
Ports of Long Beach, Los Angeles Governing Board Approves Updated Clean Air Action Plan
He pointed to International Transportation Service as an early buy-in to this idea with its system that allows truck drivers  to know five days in advance of when their cargo is ready for pickup.
While improvements to truck scheduling is critical, Cordero made no secret that the port's future is in on-dock rail, stating that he would like to increase the volume of cargo transported by rail from about 30 percent to 50 percent
Rail is a big part of the port's green future, Cordero said, but his ambitions for the port and its future emissions levels will require larger steps taken by all parties at the port from the trucks and trains that unload cargo to the ships that deliver it.
"We all know climate change is a major global effort and a global threat," Cordero said. "We need to transition to sustainable low-carbon and the Port of Long Beach will do its part. Our challenge is not just to reduce harmful emissions, it's to eliminate them altogether."
Jason Ruiz covers City Hall and politics for the Long Beach Post. Reach him at [email protected] or @JasonRuiz__LB on Twitter.
Support our journalism.
It's been one year since the Long Beach Post began asking you, our readers, to contribute to keeping local journalism alive in the city.
Thousands have contributed over the past year giving an average contribution of $12.39 a month.
Please consider what the news and information you get every day from the Post means to you, and start a recurring monthly contribution now. READ MORE.