The Long Beach Post's Unofficial, Unlicensed CSULB Mascot Contest
Now it's your turn. For weeks, we've been conducting our UNOFFICIAL Cal State Long Beach UNOFFICIAL New Mascot Contest (UNOFFICIAL). Well, here are the really excellent, really UNOFFICIAL entries; 21 re-imaginings of a new mascot character for the school.
The artists who were generous enough to share their talent and vision gave us everything from the anthropomorphic to the abstract to the cute-as-a-button. Take them all in and let us know which one you like best, i.e. vote for your favorite.
We'll be awarding the winner at an upcoming, fabulous, UNOFFICIAL event at the Post office. (Yes, we call it that. UNOFFICIALLY.)
You can place your vote for multiple mascots, but only one vote per mascot per day.
— Steve Lowery
THIS CONTEST HAS ENDED. VIEW ALL OF THE ENTRIES BELOW.
Shira Stingray by Vivian Nghiem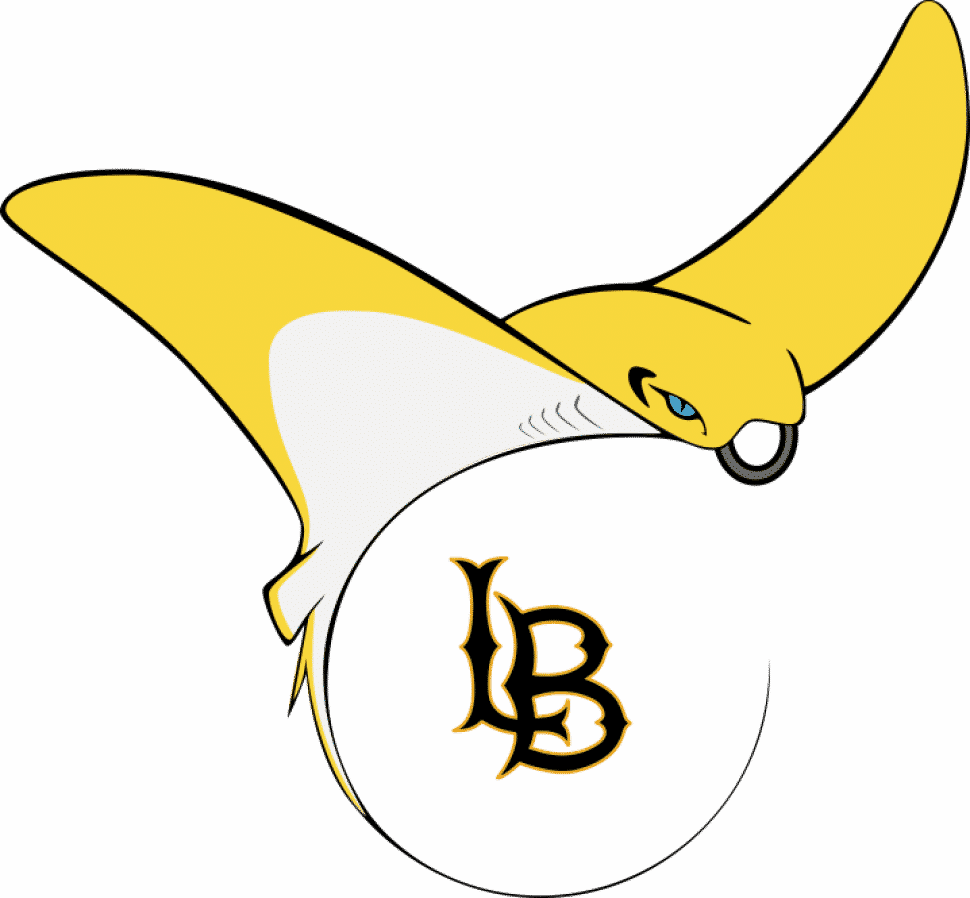 A transfer student in her senior year at Cal State Long Beach, Vivian Nghiem designed Shira Stingray after the Pacific Cownosed Ray. A nod to the university's inclusive student body and its shark lab, Cownosed rays are also migratory and represent "the fact that students at CSULB are always on the move," Nghiem said in an email.
With this mascot, CSULB students can refer to themselves as "The Golden Rays of Long Beach".
"Shira's true importance however, comes in her name," Nghiem said. "Shira is an abbreviation of shiraawa'ax (shi-raah-wah-ah) which means 'to speak' or 'to talk' and comes from the language spoken by Kizh Americans. Shira's name pays homage to the ancient Puvungna that Cal State Long Beach resides on, and symbolizes the open forum culture encouraged amongst campus life and in classrooms."

The Long Beach Hammerheads by Alexander Villalobos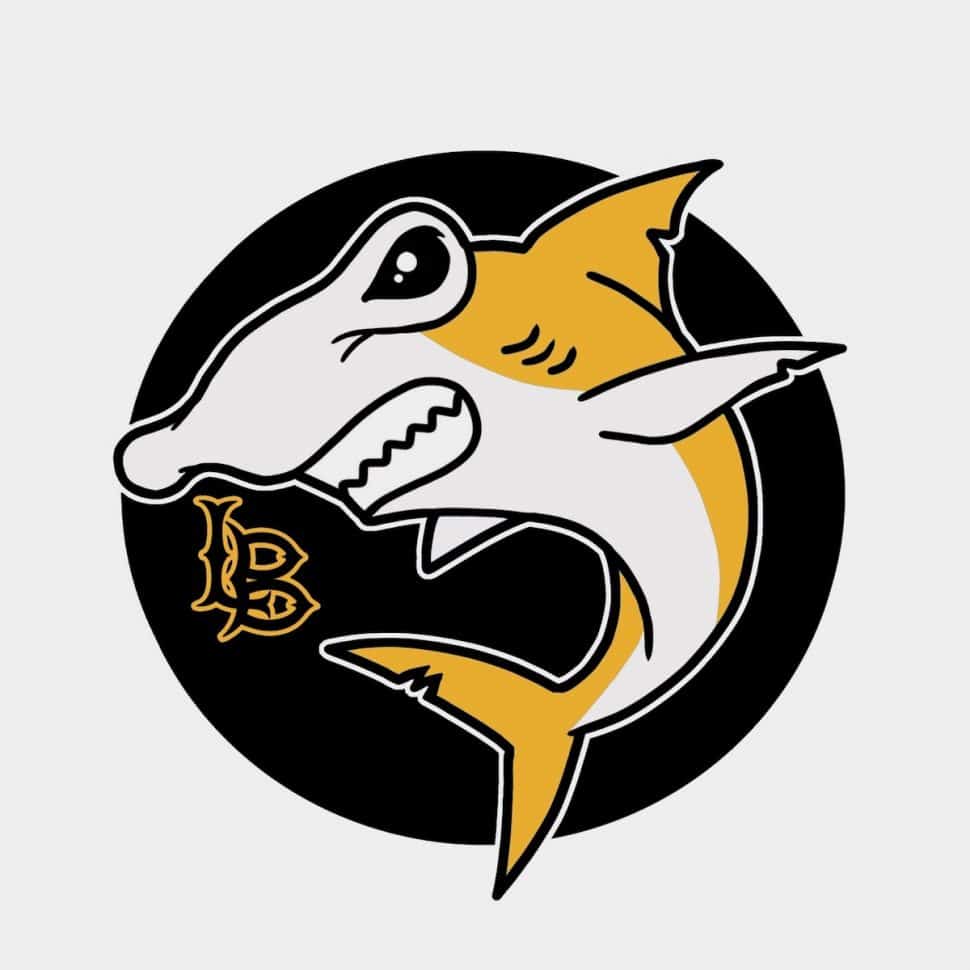 Growing up in Long Beach, artist Alexander Villalobos found Cal State Long Beach to be one of the most diverse and inclusive campuses, he said. Most of his friends and some family were students there, and are a part of the "liberal, multicultural environment that influenced his personality and art."
"I chose to use 'The Long Beach Hammerheads' as my mascot, because of what a hammerhead symbolizes," Villalobos said in an email. "The hammerhead shark is courageous and has great strength, qualities that Long Beach State has demonstrated in their policies and campus culture. This shark represents CSULB's social awareness and inherent drive to fight for social justice."
The mascot is also a nod to the Aquarium of the Pacific's hammerhead shark.
Learn more about Villalobos' art on Instagram @_anv_art_.

The Pelicans by Liza Negrete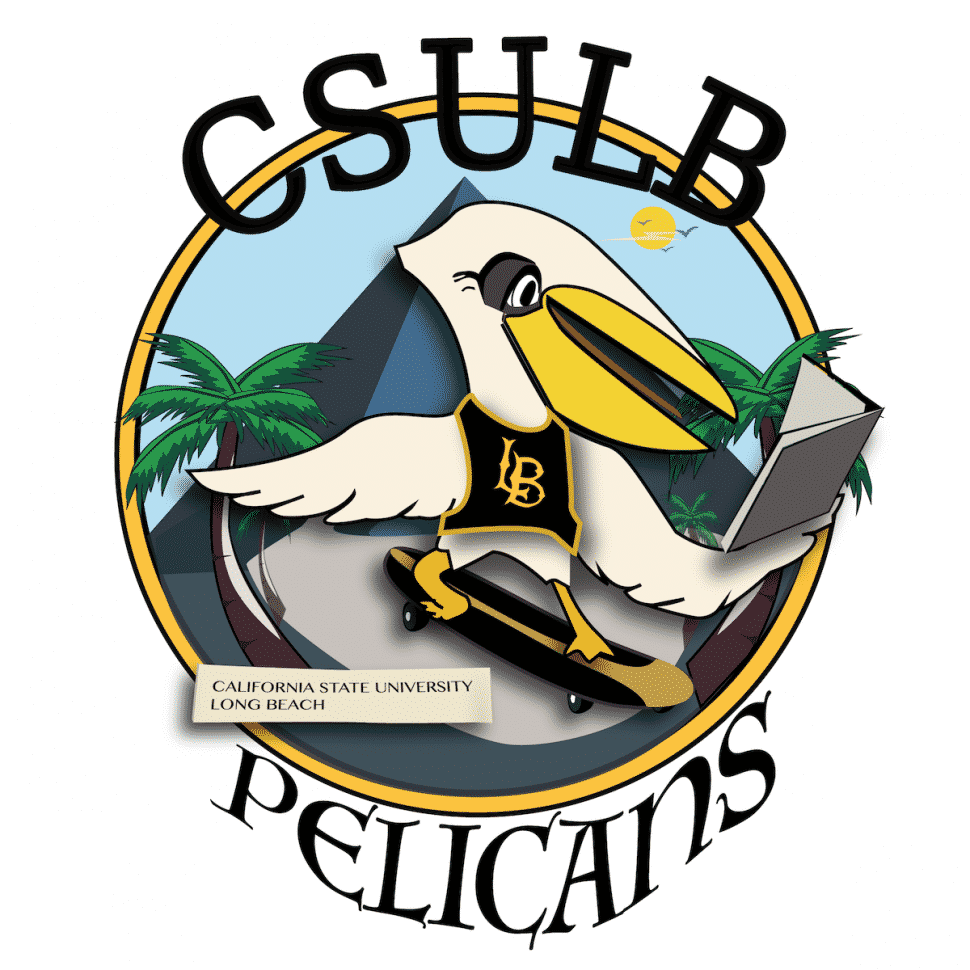 Part-time realtor and part-time graphic artist, Liza Negrete, designed "The Pelicans" as a symbol of the diversity and strength of Cal State Long Beach's student population. Found in coastal regions, Negrete believes the bird as a mascot can help define the institution's future.
"Pelicans are known to dive head first into the ocean when the opportunity presents itself, like CSULB students must commit and dive headfirst into their studies to take the best advantage of their educational opportunity," Negrete said in an email.
Negrete added that the pelican symbolizes new beginnings and can represent graduating students as they soar "into the skies of the future."
Learn more about Negrete's work on her website here.

The Sea Dragons by Karla Hernandez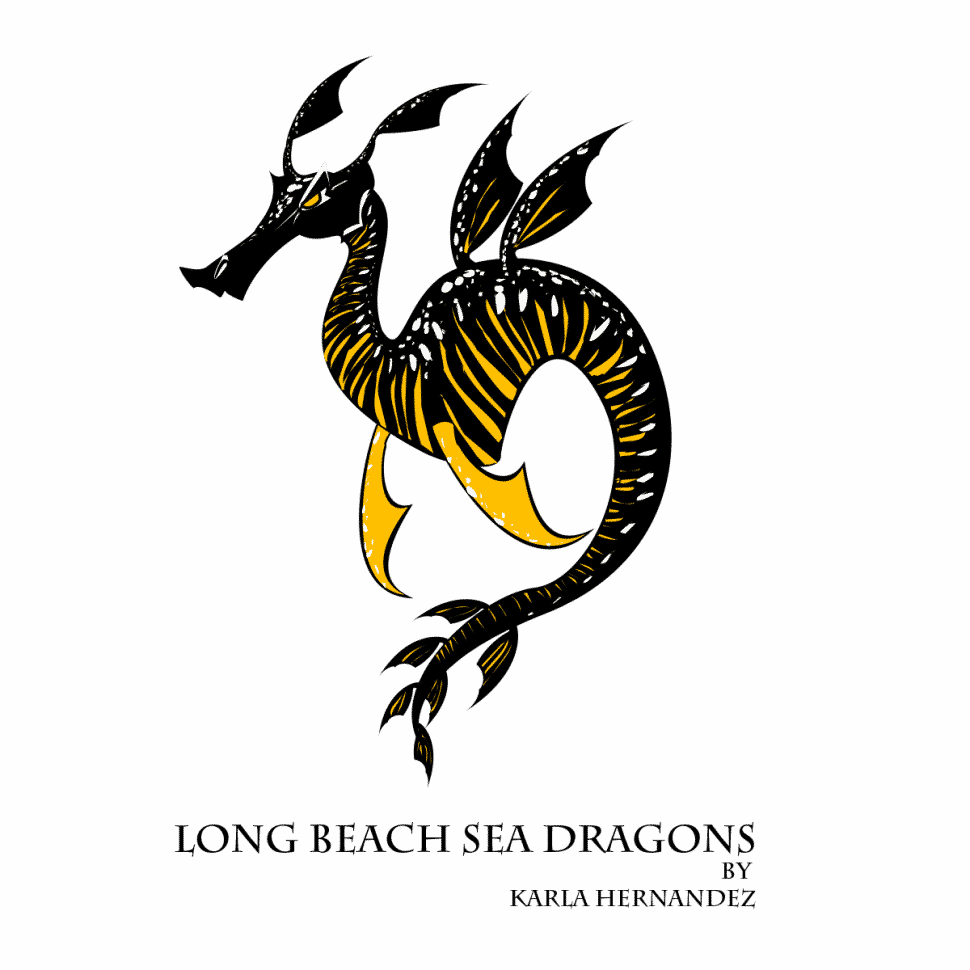 3D artist and Cal State Long Beach alumna Karla Hernandez created the Sea Dragons because their uniqueness reminded her of the students there. Linking Long Beach with the sea, Hernandez said "it wasn't much of a stretch to find sea creatures that embodied the school and its spirit."
"I chose a Sea Dragon because, like the beautiful Sea Dragons found in the Aquarium of the Pacific, Cal State Long Beach students are unique and resilient," Hernandez said in an email. "We are one of a kind. This comes from the high quality education and driven academic culture at Long Beach State."

Dicky the Docker by Sean Kirkland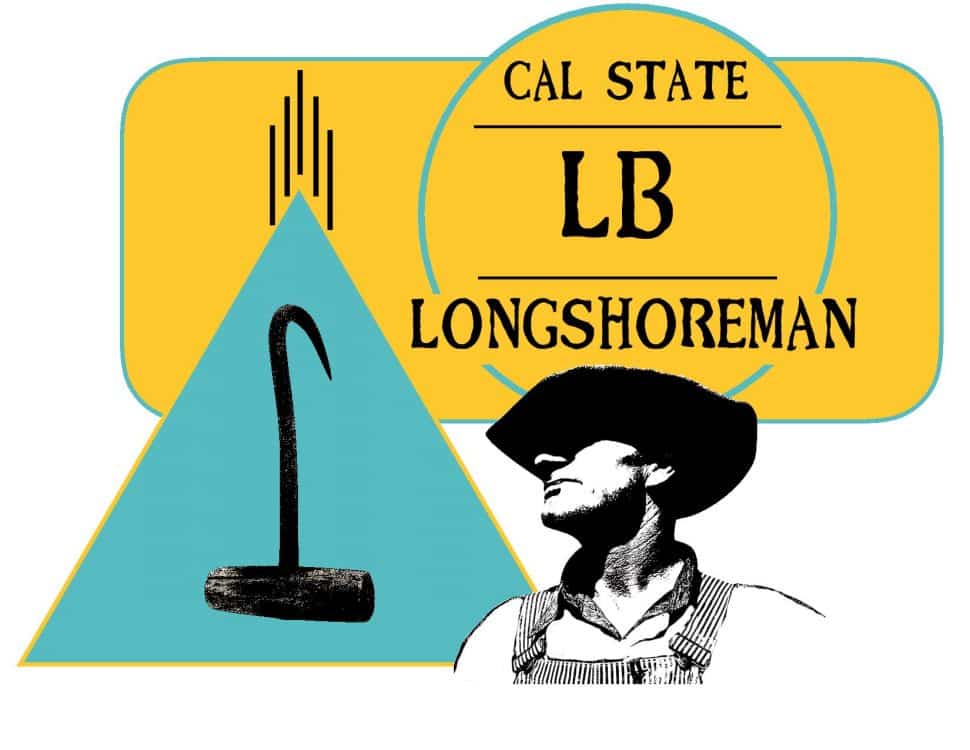 Artist Sean Kirkland stepped outside of his usual realm of painting on canvas to throw together "this simplistic Art Deco-inspired design." While he never attended Cal State Long Beach— although he could have been a student there as an accepted transfer student from ASU—Kirkland said being involved in Long Beach's art community has put him in contact with the amazing artists and staff at the university.
"This tough guy is Dicky the Docker and Dicky never punches in the clock without his Box Hook handy," Kirkland said in an email. "When I think of Long Beach I think tough, I think gritty and grimy. I mean those words in the best way. What is tougher than a Longshoreman from the Depression era? I dunno? Maybe a hardworking CSULB student? Perhaps so…. I believe Dicky the Docker is a perfect representation of what Long Beach is at its core: tough, hard working individuals that carry the cities strong tradition on their shoulders."

Long Beach Long Necks by Dominic Hure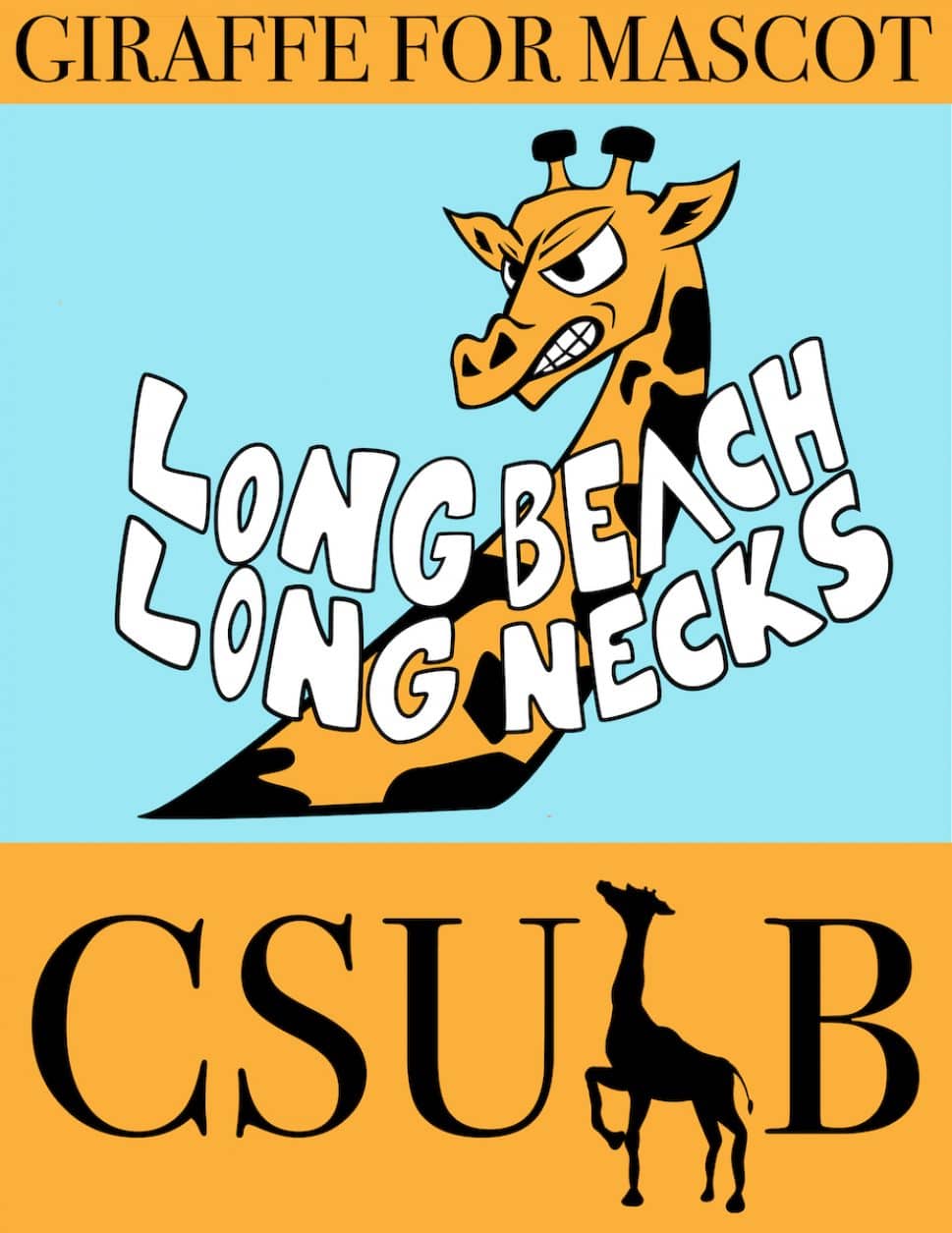 With the largest heart of any land animal, spots unique like fingerprints and a neck always reaching high (for success), the giraffe is the perfect mascot for Cal State Long Beach, said film student and "Long Beach Long Necks" designer Dominic Hure.
"This combination of unique elements is reflective of our campus' diversity and inclusivity," Hure said in an email. "No school in the country has a Giraffe as a mascot."
The giraffe's physical abilities represent the university's sports teams, as well.
"The Giraffe can run up to 37 mph," Hure said. "And with an average height of 20 feet it can easily dunk a basketball or block any volleyball spike. 'The Long Beach Long Necks' also has a nice ring to it."
Find out more about the Long Beach Long Necks through the petition here, as well as on Instagram @giraffe4mascot.

The Krakens by Karla Hernandez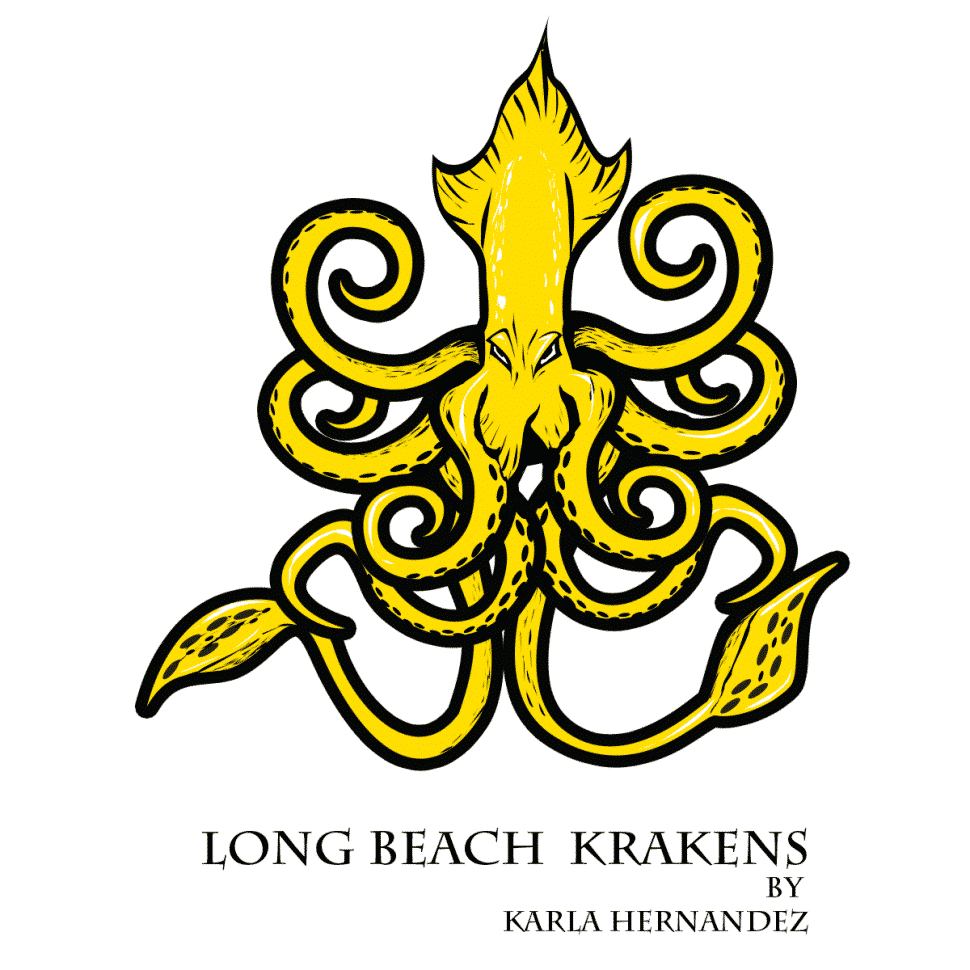 3D artist and Cal State Long Beach alumna Karla Hernandez created the Krakens because their incredible strength reminded her of the students there. Linking Long Beach with the sea, Hernandez said "it wasn't much of a stretch to find sea creatures that embodied the school and its spirit."
"We are determined, committed, and can take on any challenge with success," Hernandez said in an email. "This is evident in the school's high ranking departments and the many accomplishments of their alumni and graduates. Like the Kraken, the world doesn't see us coming!"

CSULB Lions by Alexandria Smith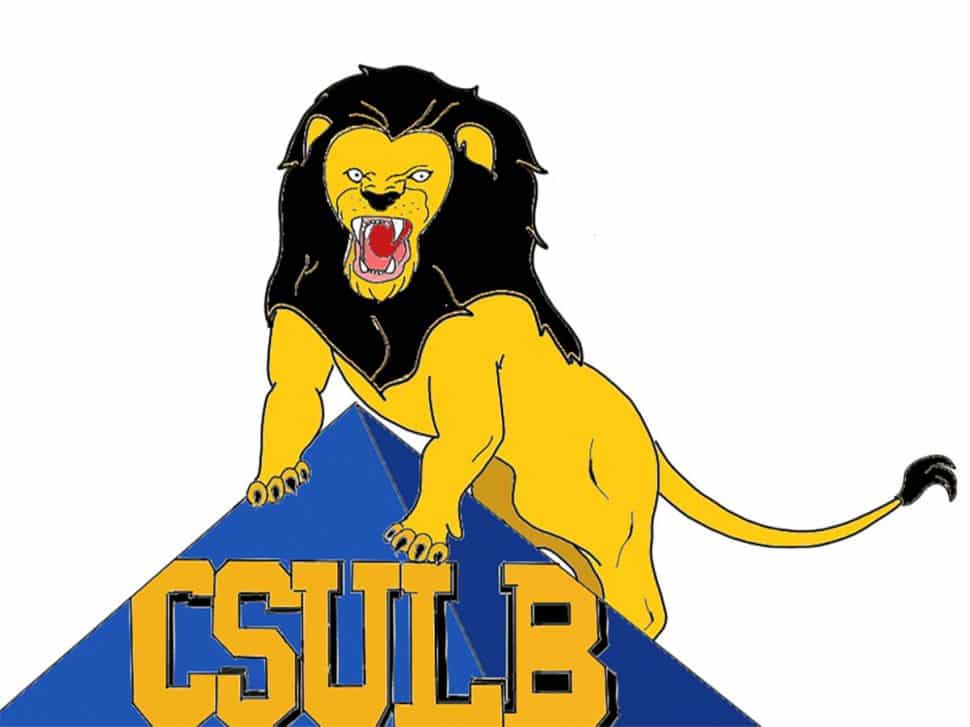 For artist Alexandria Smith, lions represent all three of Cal State Long Beach's strengths: diversity, pride and courage.
"A lion is used universally in many cultures around the world, some meanings are the same some are different," Smith said in an email. "That's what makes it wonderful, but together it does show what strength is."
Born and raised in the city, Smith attended the university's Upward Bound program throughout middle school and high school and remembers the "rush of strength and second family she came to love and enjoy."

Prospector Pete by Gary Musgrave
Gary Musgrave, a CSULB instructor for the past six years in the Illustration/Animation department, chose to keep the name Prospector Pete, confident that the original mascot wasn't made with any intentional negativity, but as a representation of the "courage and resolve of the Gold Rush era prospectors," Musgrave said.
Musgrave's mascot was inspired by the Mitred Conure Parrot, a species originally from Peru and Bolivia that made its home in Long Beach two decades ago after escaping a pet shop fire in Pasadena. "Essentially immigrants", the birds have only added to the city's diverse culture without damaging its ecosystem, he added.
"Think about it, Prospector Pete is an immigrant from a foreign land that has come to prospect our community because of all the opportunities that Long Beach has to offer; and because we welcome the new and we recognize that our strength comes from diversity," Musgrave said.
Musgrave has been working as a freelance illustrator since 2009, with recent clients including Gorillaz, Stance, Disney and The New York Times. He's a member of the mural and design team, The Draculas and is currently enrolled as an MFA student at CSULB. Learn more about Musgrave's work on Instagram @garymusgrave.

The Fighting Pharaohs by Jon Sloan Jr.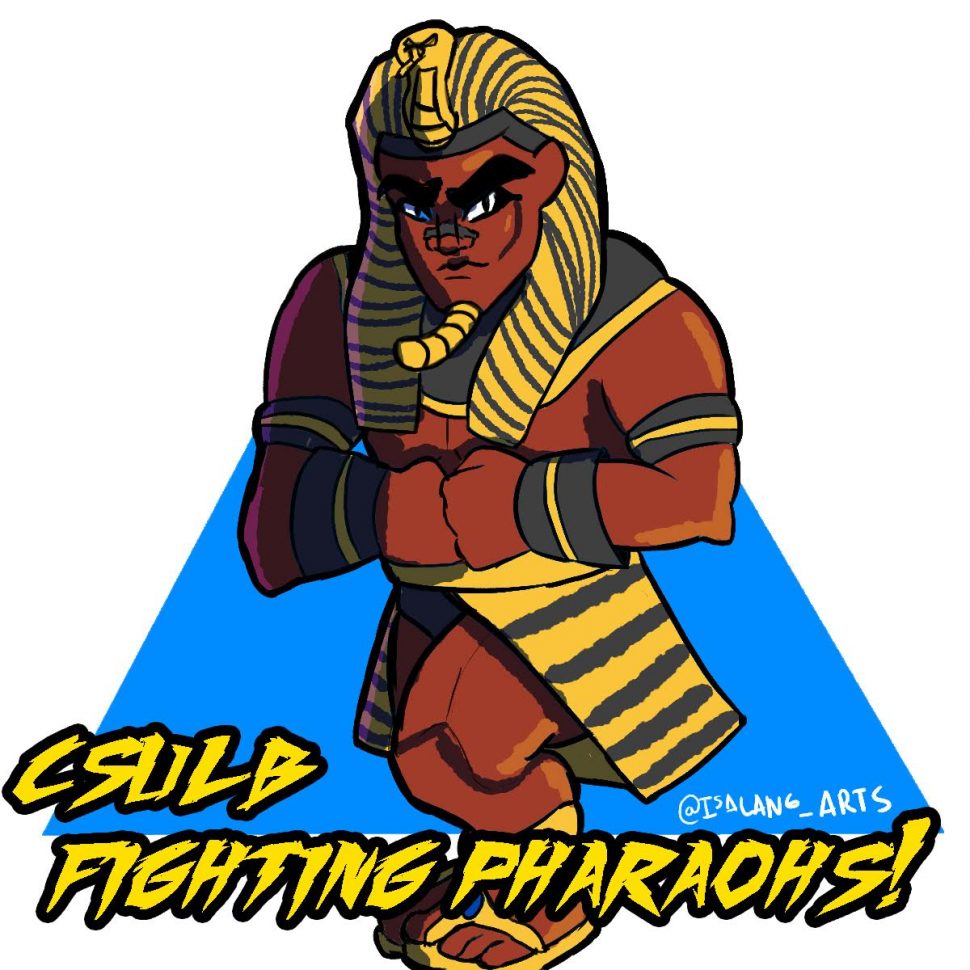 Artist Jon Sloan Jr. designed "Aton the Pharaoh" after the pharaohs of ancient Egypt, as well as the pyramids.
"CSULB offers students a chance to be powerful leaders and independent thinkers. A Pharaoh is a perfect representation of leadership," Sloan said in an email. "Not only that, It also directly ties to the Walter Pyramid which has been the headquarters of all of sports."
Sloan used to work at the Walter Pyramid and remembers hearing the excitement of the sports fans, while as a Studio Art student at Cal State Long Beach, he learned to visualize and capture his feelings using art.
"When Prospector Pete was kicked, I thought the next best thing was to create a mascot that truly gave CSULB the place people want to go to school for," Sloan said. "I think what really incapsulates both CSULB and the culture around it is a Pharaoh leading and fighting for the people."
Check out more of his work on Instagram @isalang_arts.

Long Beach State Locals by Elle Hamilton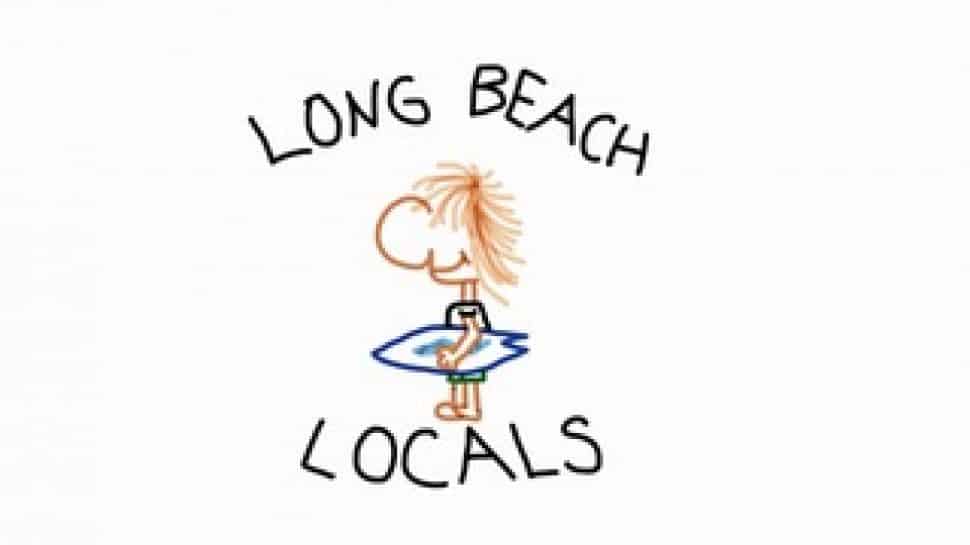 Elle Hamilton, a Cal State Long Beach alumna, who studied film, ran track and was a Delta Zeta sorority member, feels that everyone in Long Beach is considered a local. Her "very rough drawing" is representative of that at-home feeling, on campus and off.
"You always feel like you belong here when you are in Long Beach, no matter where you are from," Hamilton said in an email. "Everyone is always out and about and seems to know each other."

The SnoopDawgz by Jim Thompson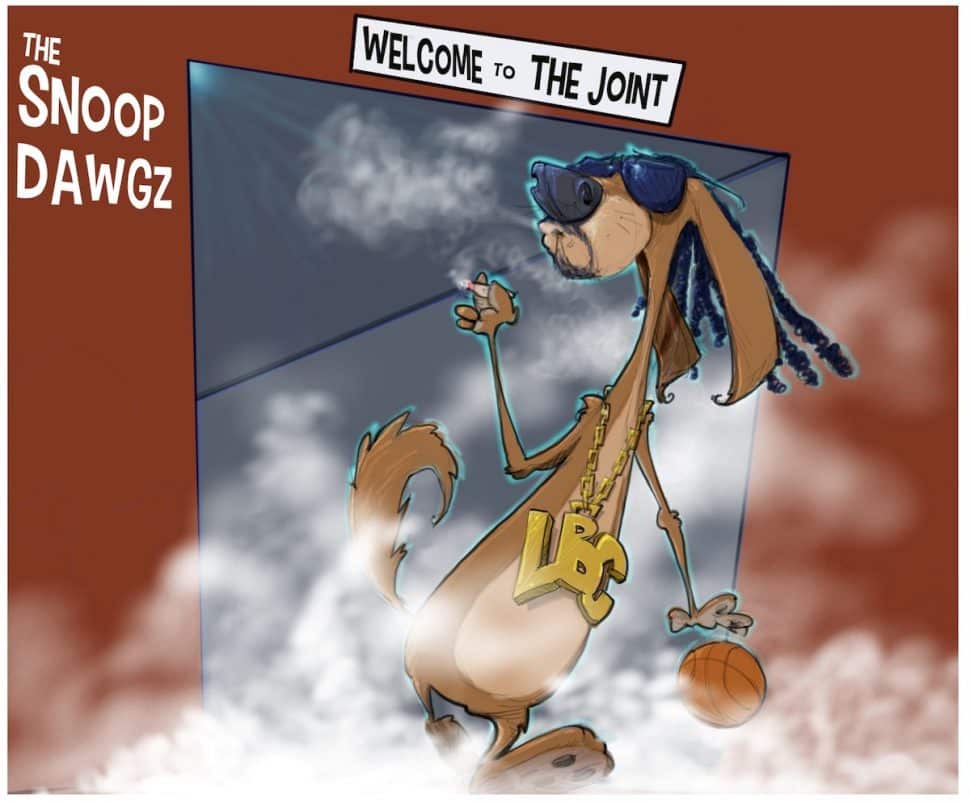 Illustrator Jim Thompson and writer Tom Hoffarth conspired to come up with "The SnoopDawgz", envisioning the Walter Pyramid as "The Basketball Joint". Cue the reggae band, or any song from The Doobie Brothers.
The "z" in SnoopDawgz is mandatory, Hoffarth explained. He's also sure his submission isn't too obvious and won't be claimed by any one else. Hoffarth added the mascot is not to be confused with Cheetos' Chester Cheetah, but a good joint and a bag of Cheetos go hand in hand, don't they?

Beach Dragon Pete by James Morales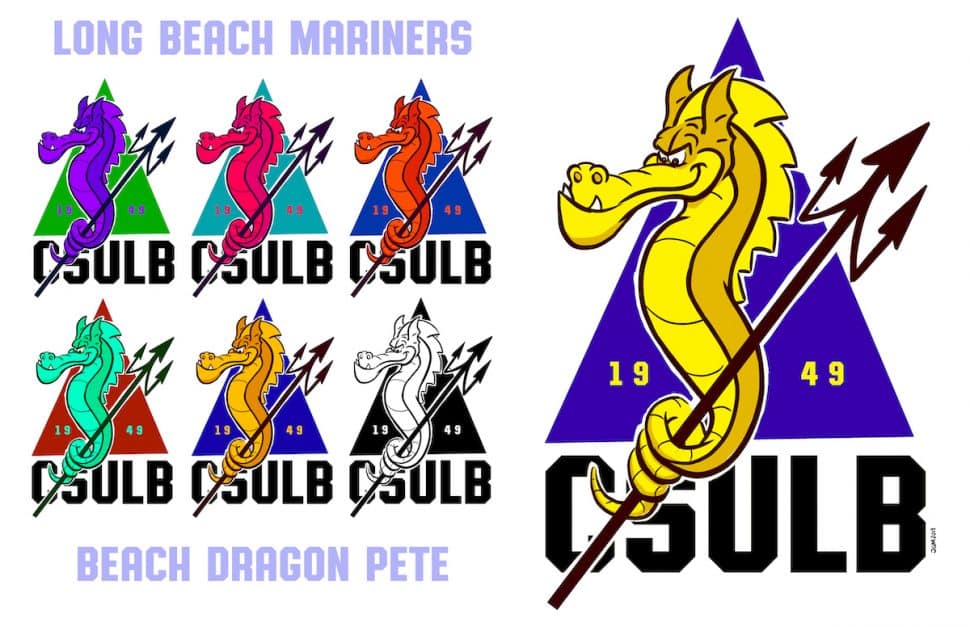 Cal State Long Beach alumnus James Morales hopes that his mascot, Beach Dragon Pete, a mariner, can help the university navigate through its retirement of Prospector Pete and represent a step in a new, positive direction.
Different cultures share in the lore of the dragon, Morales said, so Beach Dragon Pete can represent "diversity without prejudice." The dragon's trident represents strength, power, discipline and leadership.
"As a minority and a veteran and raised by a single mom, I have met many challenges that helped shape my character throughout my life," Morales said in an email. "My time spent at Long Beach is one of those mile markers we look back at and are proud of."

The Late Squirrels by Ellen Marie Bae
Artist and illustrator Ellen Marie Bae came up with "The Late Squirrels" to help launch the Post's mascot contest. As one of the most familiar presences on campus, Bae said, "they're no king of the jungle, but they are adaptable, smart, and have a sense of camaraderie. And not unlike these squirrels, CSULB students are a scrappy and resourceful bunch, too."
Also a zine maker, Bae's recent works include collaborations with The Women's Resource Center at Cal State Dominguez Hills, On She Goes and more. Learn about Bae's work on Instagram @baecon_bits.

The Brain Cells by Dave Van Patten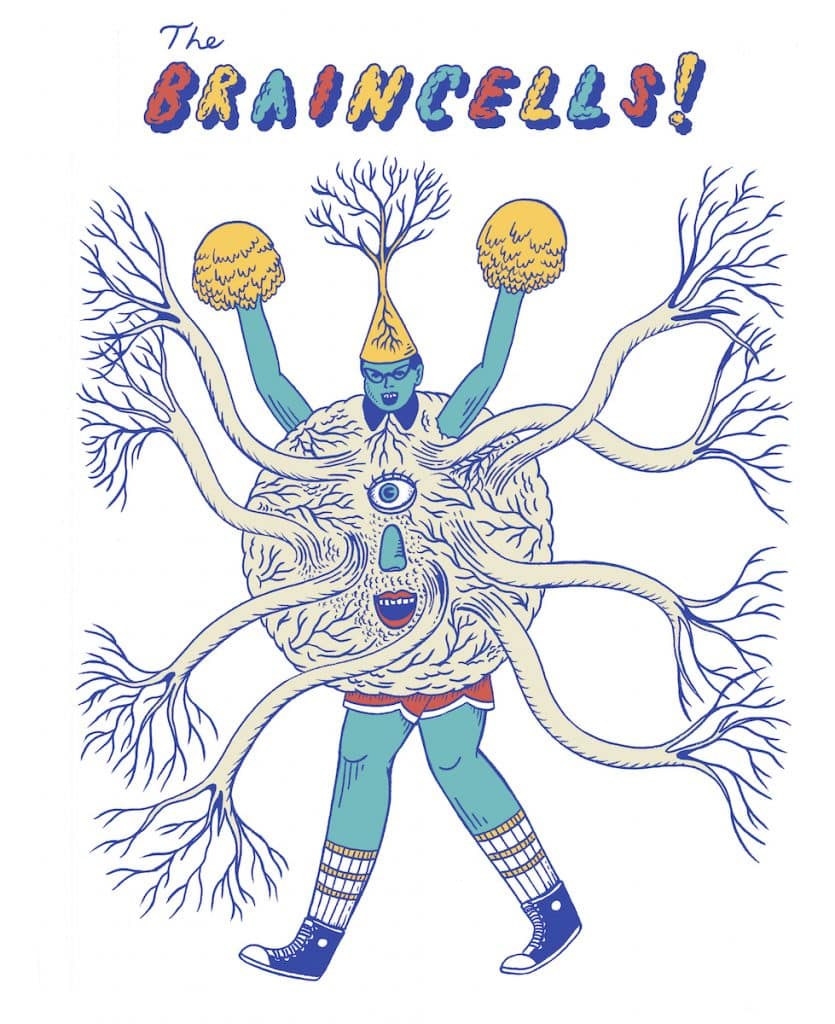 Artist and illustrator Dave Van Patten chose the brain cell as the CSULB mascot "because it's the fundamental part of the college experience whether it be building up the brain cells in class throughout the week, or destroying brain cells with beer over the weekend."
Van Patten, a Long Beach-based artist, illustrator and muralist, has been a participant in POW! WOW! Long Beach, done album work for bands including The Grateful Dead (Live Concert Series) and has been published in Juxtapoz, Vice and more. Learn more about the artist on his website here and Instagram @davevanpatten.

The Walt by Curtis Herod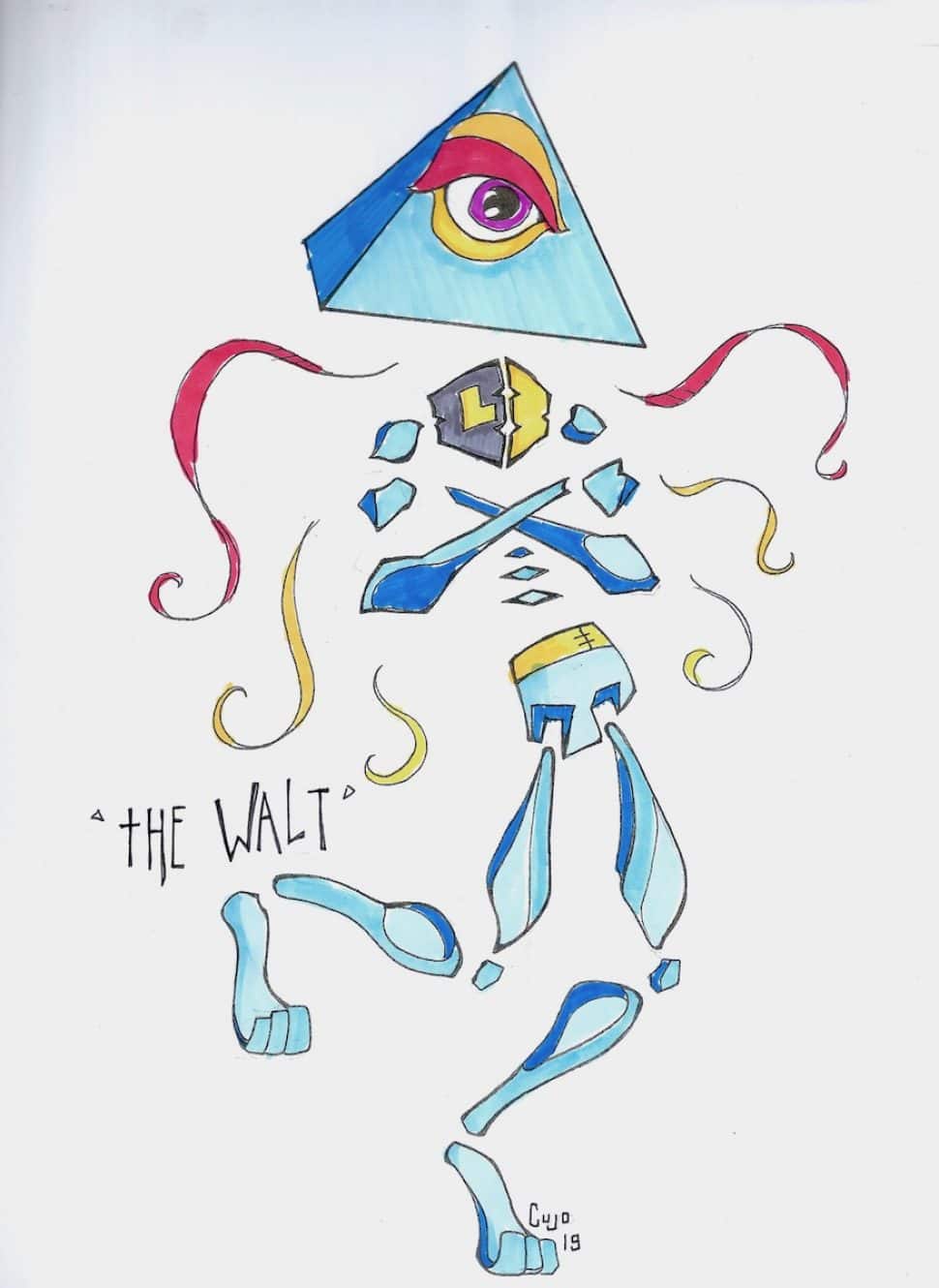 Artist Curtis Herod's "The Walt" is inspired by Cal State Long Beach's Walter Pyramid and the conversations he's shared with people educated at the university.
"Easily one of the iconic designs in our state, it captivates those that catch even a glimpse from the freeways and it beckons to the thinker in all of us," Herod said in an email. "Meet 'The Walt'. Cool. Blue. Confident. This smooth design is always down to stroll the beautiful campus and if you're lucky drop some knowledge."

The Poltergeists by Jake Kazakos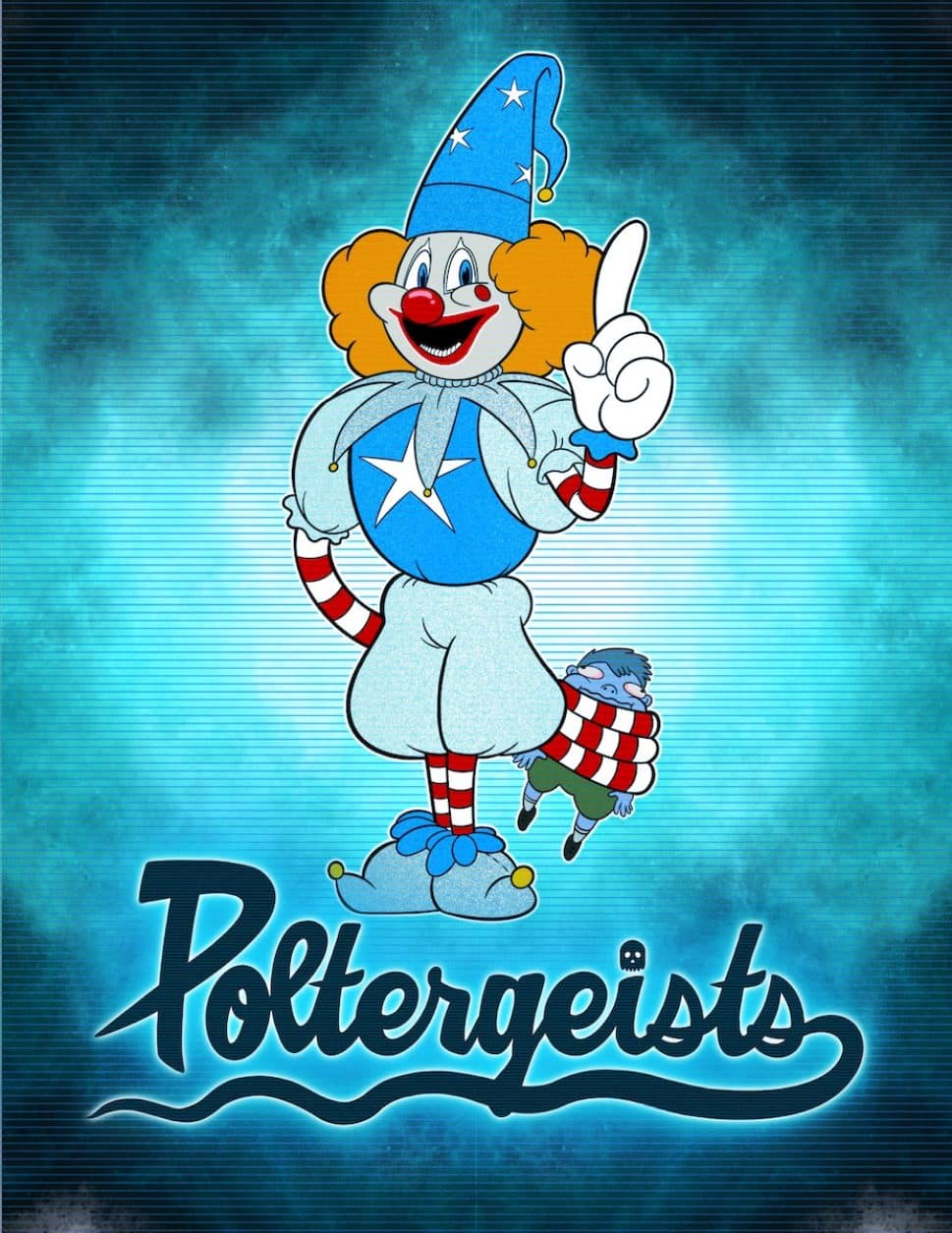 Jake Kazakos, an illustrator from "Orange Californiangeles", drew up the Poltergeists because "the school was built over some burial sites back in the day! OoOoOo!" And if you've seen the movie "Poltergeist," written by CSULB grad Steven Spielberg, you know that the family goes through quite a haunting after moving into a home built on a cemetery.
"If you have seen the movie you probably understand why I chose to draw a silly clown choking a kid," said Kazakos. "For those of you who have not seen the movie, there is a scene where a vengeful spirit enters a clown doll that belonged to one of the kids in the movie. The clown wraps his arm around the kid and pulls him under the bed."
Kazakos graduated from CSULB in 2016 with a BFA in Illustration. Since then he's been working as a professional illustrator, alongside painting murals with The Draculas. Check out more of Kazakos' work on Instagram @jakekazakos and his website here.

Kami the Koi by Jonathan Montgomery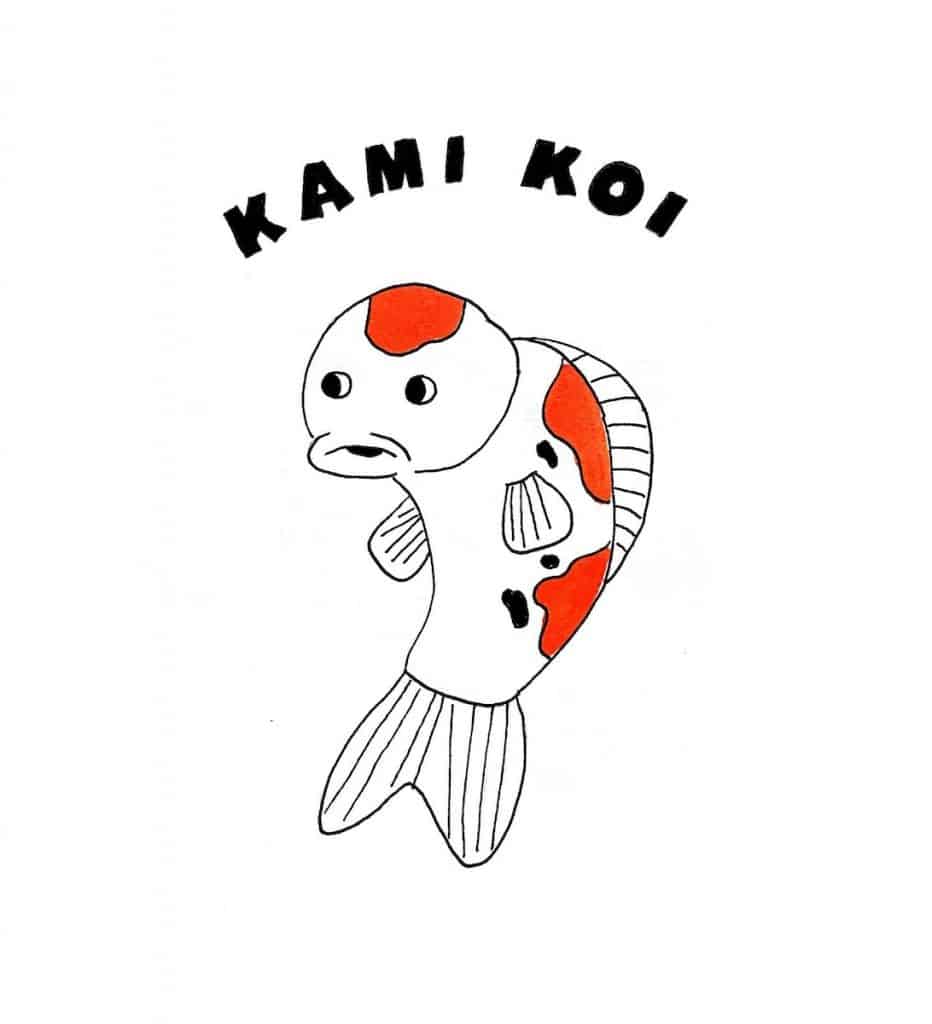 Artist Jonathan Montgomery did not go to Cal State Long Beach, but has lived in Long Beach for "a while" and enjoys walking and biking around campus.
"I drew Kami The Koi because the Japanese garden is my favorite spot in CSULB," Montgomery said in an email. "It's kind of hidden in a neat way. I think Kami symbolizes the school, as well as Long Beach as a whole, because I've always viewed this city as a little hidden gem tucked away in LA."
See more of Montgomery's work on his Instagram @jonny_bummers.

The Long Beach Light by T***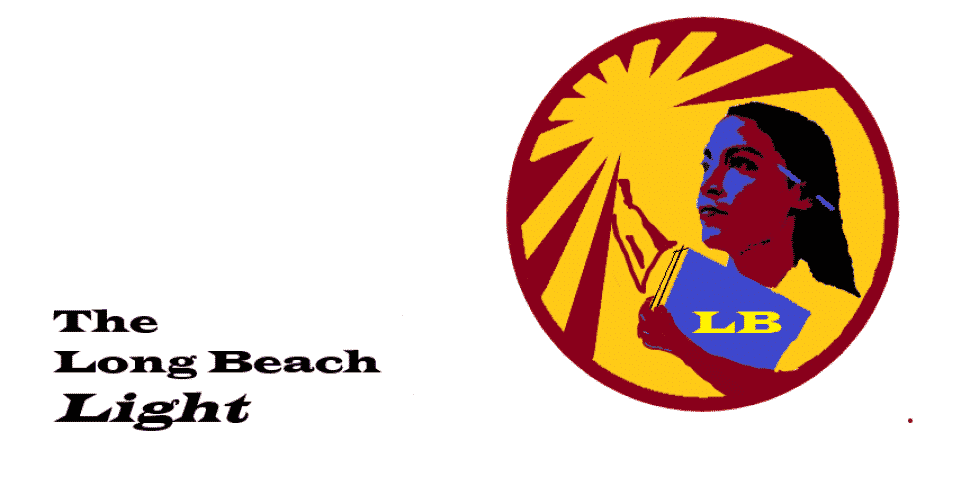 The creator of "The Long Beach Light" prefers to remain anonymous, but sent the Long Beach Post the following statement about their design:
"I am not an artist so this is just an idea that was inspired by old ideals and the new young progressive members of Congress. I think we need to return to our values, tear away the darkness of these times and search out truth and light."

The Long Beach Pharaohs by Morgan Polley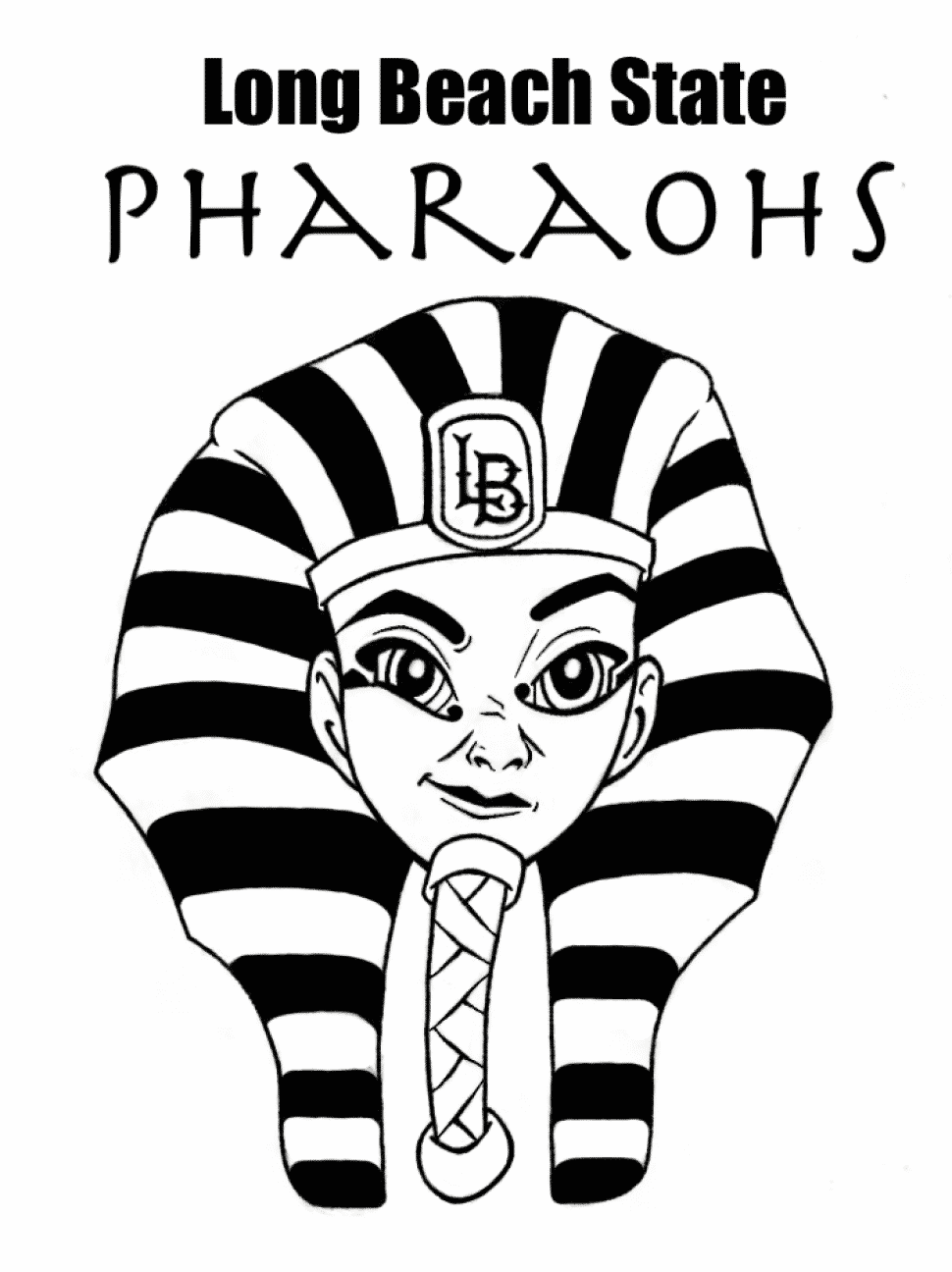 First-year Cal State Long Beach student and women's golf team member Morgan Polley came up with "The Long Beach Pharaohs" as a nod to the Walter Pyramid and to represent the university's sports culture.
"Egyptian pharaohs were the key rulers in the land, which relating back to sports, would refer to us as the strong and powerful," Polley said in an email. "As for games, students would be easily able to represent the university by dressing up as pharaohs or Egyptians.
As for the colors, pharaohs also wore black and gold, which lucky for us, are the same colors we have now. […]It would also represent gender equality, with pharaohs being either male or female. We have the powerful Cleopatra and then we also have King Tutankhamun, just to name a couple."
Long Beach-based professional illustrator Jeff McMillan chose to combine "hipsters, bikes and werewolves" for his mascot, based on his time as a student at CSULB.

The Werewolves by Jeff McMillan
"I drew this biking werewolf mascot guy up because all the classes I took at CSULB in the masters program were night classes," said McMillan. "I saw all kinds of people night riding through the campus either furiously getting to class or rushing back home."
It's also an ode to Long Beach's bicycle friendliness and bicycling culture, with CSULB's campus as no exception for a good place to pedal through, "except for that hill up to the art buildings, that hill is rough," McMillan said.
McMillan is a professional illustrator and one member of The Draculas mural-painting and design crew. His list of clients is extensive, ranging from collaborations with RVCA, to illustration work for Nike, LA Galaxy and more. See more of McMillan's work on his website here and Instagram @jeffmcmillanart.