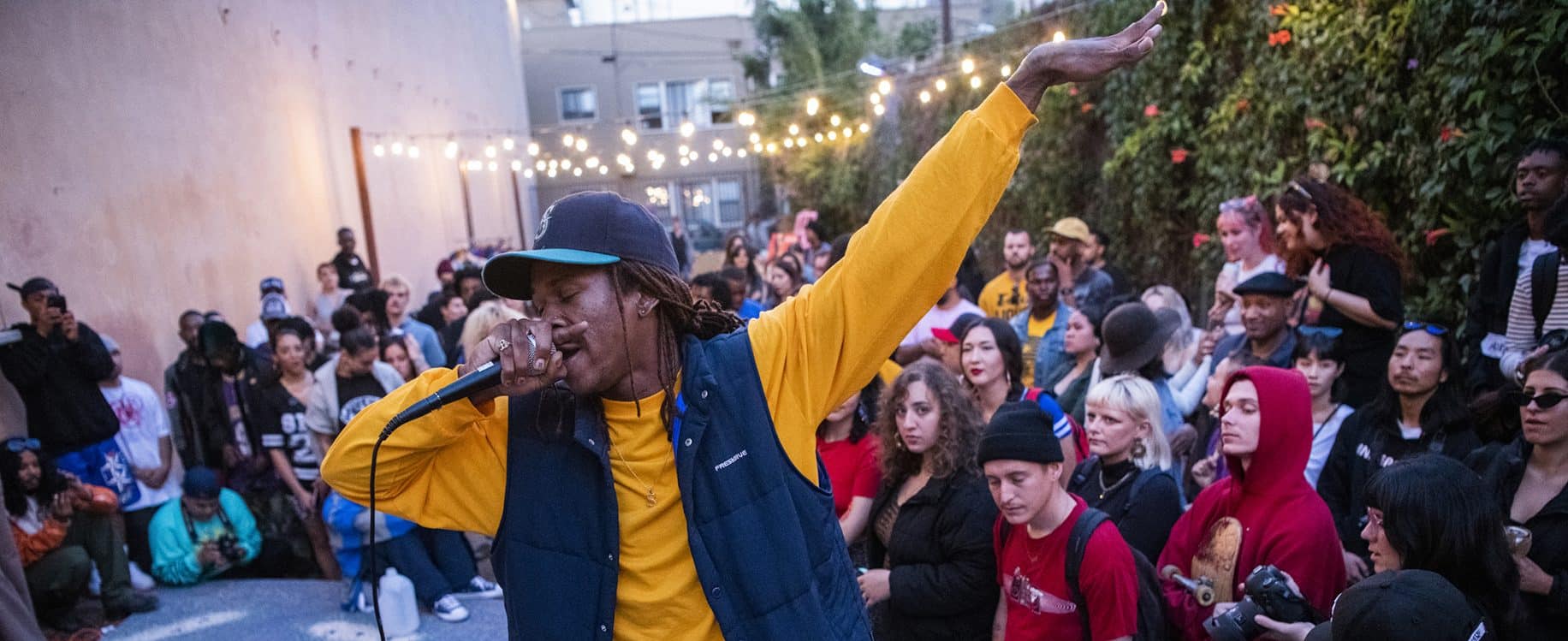 IN PICTURES: Arts Council For Long Beach brings the energy to LB Artwalk
On Saturday, a small pocket park in the East Village held most of the night's energy during the first LB Artwalk under the Arts Council for Long Beach's leadership. For Senay Kenfe, the launch of his Eddie's Liquor Collective was about providing real equity and leverage for artists in the City of Long Beach, to ensure the support of rap, hip hop, and other scenes that have been underrepresented when it comes to city programming in public spaces.
Kenfe posted on Instagram the next day, "They're always trying to sell the idea of diversity but we never see it in the programming. Whether it's intentional or not, I know the impact of that narrative and it's not to the benefit of the community I speak for." He called being able to partner with the ACLB to launch his initiative during the art walk, "a community revolution in progress." Attendees packed the space, ages five to 65, to witness the moment. Rapper Huey Briss said on the mic to a crowd of about 200, "This alley could have been another cut where I run from the police but instead they let me perform here."
Other stops on the art walk included artist-activist Carole Frances Lung opening her studio to promote the current campaign of The Institute 4 Labor Generosity Workers and Uniforms, Dave Van Patten's second exhibition in his "Blah Blah Cloudmachine" series saw plenty of viewers at MADE by Millworks, District Wine showed off the abstract paintings of Katie Stubblefield and Katrina Rocha's dimly lit neighborhoods, the Dark Art Emporium held a packed reception for "Prone to Exaggeration", while around the corner artists sold their wares and live painted an old Land Rover outside Hops & Vine
Check out the Twitter thread below for more photos and video from LB Artwalk:
First stop at @ArtsCouncil4LB's #LBArtwalk is Dave Van Patten's "Blah Blah Cloud Machine" @MadebyMillworks. Hi, Dave. pic.twitter.com/Y8FputZTRL

— Asia Morris (@hugelandmass) May 12, 2019
Support our journalism.
Hyperlocal news is an essential force in our democracy, but it costs money to keep an organization like this one alive, and we can't rely on advertiser support alone. That's why we're asking readers like you to support our independent, fact-based journalism. We know you like it—that's why you're here. Help us keep hyperlocal news alive in Long Beach.