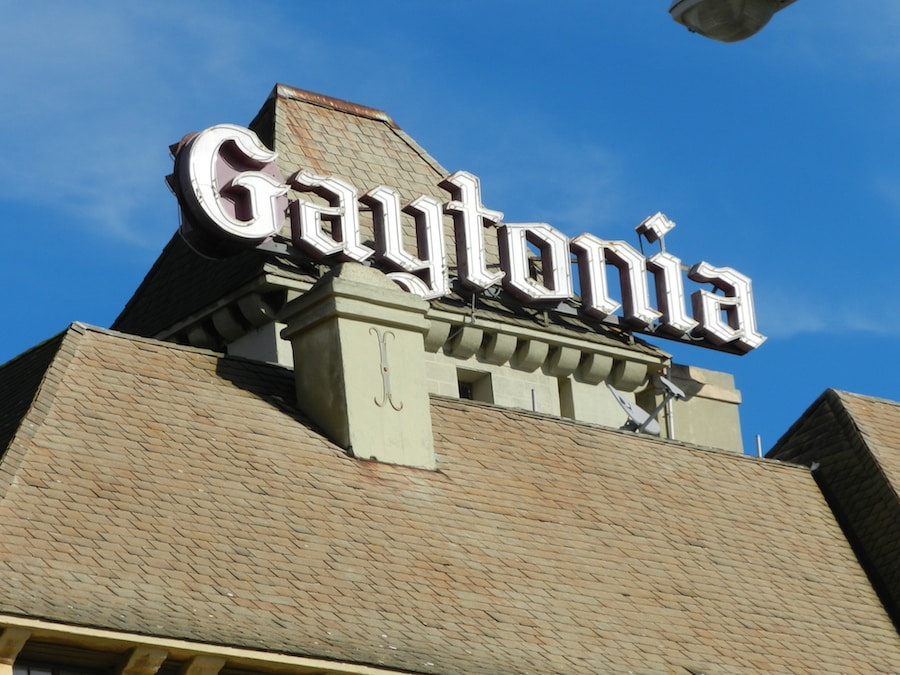 Q&A: Fun facts on famed Gaytonia castle and how you can see it this weekend
As we mentioned in "The 7" this week, unless you live there, or have friends that live there, one of the only ways to peek inside the Gaytonia, one of Long Beach's most standout historic landmarks (that out-of-place looking castle with the giant neon "Gaytonia" sign glowing just a few blocks from Second Street), is during local nonprofit Steel Magnolias' annual Home Design Tour.
Since it was founded in 1999, Steel Magnolias has raised more than $5.5 million for children with developmental delays and other special needs. Proceeds from tour tickets will go to the Stramski Children's Developmental Center at Miller Children's and Women's Hospital Long Beach.
The tour includes three other stops, a recently renovated "beach retreat," a "sustainable sanctuary" and a "Spanish beauty" all in Long Beach's 90803 ZIP code, but we asked architecture history buff and Steel Magnolias spokesperson Elizabeth Borsting—who lived across the street from the building in college—a handful of questions about the Gaytonia because, well, it's an almost-century-old gothic palace (where studios go for $1,750 and up) we thought you'd want to know more about it.
This Q&A has been lightly edited for length and clarity.
Who named the building "Gaytonia" and why, and when was the iconic neon sign installed?
The Gaytonia was named after the building's original owner, George T. Gayton. It was designed as a hotel-style apartment by local architect Reginald Freemont Inwood, who also built the Belmont Theater (now the Belmont Athletic Club).
The sign was installed when the building was completed in 1930, which makes sense since it was hotel-style housing. The Villa Riviera had a neon sign, too, at one time. When I was first married, my husband and I lived at The Villa and we discovered it hidden away—truth be told, we were snooping.
What are a few hidden details or little-known facts about the building?
For me personally, it's the history of the building and the people who once lived here, many are probably no longer with us. When the Gaytonia opened it offered maid service, valets, furnishings, a parking lot, linens (like a hotel) and dishes, too. It even had an Olympic-size swimming pool on an adjacent lot that eventually became condominiums, which is too bad.
Sadly, Long Beach hasn't done a great job preserving its architectural landmarks.
When you lived across the street from the building in college, what stood out to you?
I was fascinated by the Gaytonia. Unfortunately, I never got to know anyone who lived in the building back then, people just came and went. But that experience started me on a path and appreciation for historic architecture, which is why my husband and I lived in the Villa Riviera and which is why we purchased our 1934 home in Belmont Shore. It used to be the rectory for St. Bart's Church in the 1940s and '50s. These places from the past have character and history.
How much does the penthouse cost, as well as the other units?
The penthouse at the Gaytonia has been taken by the owner of the building—after all, he should get first choice, right? It's not huge, but it's tastefully decorated with a huge terrace overlooking Belmont Shore. All the units are rental units.
But on our tour, guests can enjoy a glass of champagne (for a nominal fee) and a playlist of torch songs while lounging on the penthouse terrace. How fun is that? We have another unit at the Gaytonia that is part of the tour, too, and it's for rent. Who knows, someone may walk away with a signed lease and new address by the time our home tour is over.
What do you think tour goers will get a kick out of on Saturday?
The Gaytonia is one of four stops on the tour—we also have homes in Alamitos Heights, Belmont Heights (not far from the Gaytonia) and Naples Island. We just added another unit to the Gaytonia stop. I think attendees will really get a sense of 'How Long Beach Lives" our theme for this year.
We have a sustainable home that produces the same amount of energy that it uses, so people who are passionate about creating a smaller footprint will enjoy seeing how it can be done. We have another house that has left no detail to chance—it's new construction with old-world charm —the owners have done an amazing job. And we also have a lovely reimagined beach retreat overlooking the canals of Naples, a former duplex now a single story home this house was made for entertaining.
Then there is the Gaytonia, an iconic structure that feels as if it belongs in a fairytale. The craftsmanship and details speak to a bygone era—it's truly amazing.
Tickets are $50 with proceeds benefiting the Stramski Children's Developmental Center at Miller Children's and Women's Hospital Long Beach. Please wear flat, rubber shoes. The tour runs from 11 a.m. to 3 p.m. and begins at 5411 E. El Cedral St. and ends with a post-tour reception. For tickets and more info, visit the Eventbrite link here and Steel Magnolias website here or call 562-331-8007.
Looking for more things to do this weekend? Check out our weekly column "The 7" here.
https://lbpost.com/life/arts-culture/the-7-things-to-do-this-weekend-long-beach/
Support our journalism.
Hyperlocal news is an essential force in our democracy, but it costs money to keep an organization like this one alive, and we can't rely on advertiser support alone. That's why we're asking readers like you to support our independent, fact-based journalism. We know you like it—that's why you're here. Help us keep hyperlocal news alive in Long Beach.