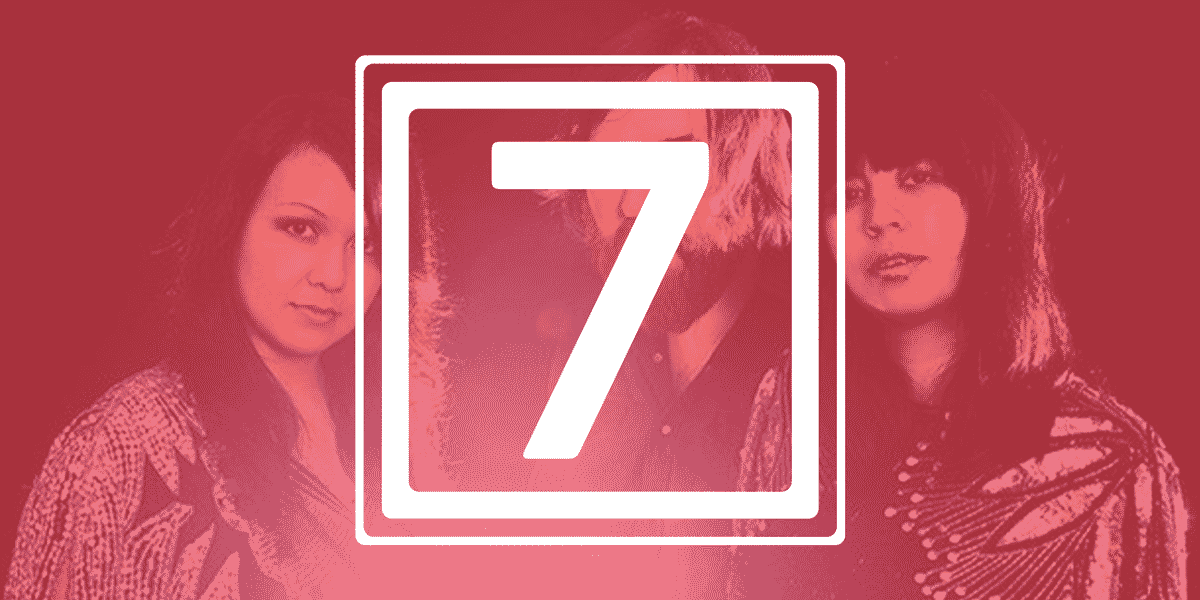 The 7: Things to do this weekend including you not blowing it!
If you came here looking for hilarious banter between myself and Asia Morris, I'm sorry, that's over. Asia apologized and we moved on.
(We move on, Asia.)
In its place, we welcome you to a new "The 7." One that will be far more focused on actual great things to do as opposed to hilarious references to intern abduction and Asia's drinking that won hearts and changed lives.
Another difference. We used to highlight happenings chronologically by day—Thursday, Friday, etc.—but grew concerned that great stuff on Saturday and Sunday always got shoved to the end, so we will list events based on the level of excitement, interest, quality, uniqueness, whatever, they bring us and, we think, you. Please, don't think of this as rankings, think of it as the action or process of giving a specified place within a grading system. With numbers attached.
OK, that's it. The new "The 7." Now, it's all about you.
Don't blow it.
1. BELLA NOVELA (Saturday)
Since it seems mandated by current law to describe bands in terms of other bands, it's instructive that references assigned to Long Beach power trio Bella Novela have ranged from Queens of the Stone Age to Linda Ronstadt, Blue Oyster Cult to Gwen Stefani, Queen to Iron Maiden. Basically, a band that makes a glorious noise fronted by a singer, with range, who can actually sing (Stefani? Hmmm…)
The band will be performing the entirety of their new album, "Incinerate," at Alex's Bar tonight. The album, which will be released Friday, is the band's fourth and, they say, their most political. "It's an album meant to reflect the change bubbling up in the current political climate, the #metoo movement, and the general despair felt by the lack of progress in equality. A musical call to arms to incinerate the patriarchy."
They also tend to scorch live stages. Drummer Jannea McClure plays the way non-drummers play when they pretend to play drums: constant pounding suffused with artistic flailing and flourishes. Glorious. As mentioned, singer and keyboardist Jackie Ojeda is of such a caliber to have drawn comparisons not only with Ronstadt and Freddie Mercury but Ann Wilson. And covering it all in a sonic sweet spot is guitarist Jacob Heath, who manages to sound like much more, much bigger than one guy, one guitar.
It is all so marvelously all over the place that one critic, eschewing the comparison crutch, described the sound as "Spaghetti Western, disco, rock opera." Yes, please. You can watch all of that tonight for 10 bucks (cheap!) They'll be playing on a bill with Fartbarf, a rather excellent outfit themselves who play in monkey masks. Really, really terrifying monkey masks.  Besides that, should be fun!
Another great thing: The bathrooms at Alex's. Have you been? You should go.
Giving us a moment's pause: I do not care for the monkey masks, as they remind me of fevered dreams I had as a child of the Zodiac Killer. Rock and roll!
Alex's Bar is located at 2913 E. Anaheim St. For tickets, click here.
2. MOTEGI RACING SUPER DRIFT CHALLENGE (Friday)
In the 13 years that formula drift has been featured as a racing component of the Grand Prix of Long Beach, it has consistently drawn large, enthusiastic crowds who dig watching racers go fast and display a level of spatial awareness and precision normally reserved for parallel parking in Belmont Shore.
The video above of a recent practice session for drifters will give you an idea of what we're talking about. If you're intrigued, or just really like the smell of burning rubber —because there will be A LOT of that—check out the Motegi Racing Super Drift Challenge which takes place Friday and Saturday.
Another great thing: People into drifting just seem like they would be way cool people. Like much cooler than most people. Are we saying that they are cooler than you? Well, we've never met you, but yes.
Giving us a moment's pause: We once had a pair of sneakers melt on a floor heater. The stink from that burning rubber stuck in our nose for days. We can only imagine the funk that this leaves, nasally. Dunno, maybe people into drifting like that funk… oh… Cool.
For tickets to the Motegi Racing Super Drift Challenge, click here
3. D9 FARM FEST/CROP SWAP (Saturday)
Every month, the Grant Neighborhood Assn. puts on their North Long Beach Crop Swap, a wonderful event that helps locals in so many ways.
"We started it three years ago," said Jeff Rowe, one of its organizers. "The idea was to encourage surplus trade, you know, if I have a whole tree full of apples and you've planted lettuce, let's everyone bring a bag of what they've grown, set it all out on all table, and we give and take from each other. There were two big objectives; one, to get people to eat healthier food. But the second was for social reasons, to bring people in the neighborhood together. People ask each other "How do you cook this?" and all of a sudden they're finding out where each other works, you know, you develop community."
The Crop Swap and the Tomato Fest, which involves the sale of at least 10 different varieties of tomatoes grown by Fullerton College Horticultural students at $1 a piece, takes place at the D9 (District 9) Victory Garden located at an abandoned fire station. The garden not only grows all manner of fruits and veggies but acts as a teaching farm. It's really kind of wonderful.
The Crop Swap and Tomato Fest gets started at 10 a.m.
Another great thing: Those 10 varieties of tomatoes, does it include Purple Dragons? Yes. And Cherokee Green? Of course. How about Paul Robesons and Godzillas? Yes, yes, they're not jerks.
Giving us a moment's pause: We always forget our reusable grocery bags at home.
The D9 Victory Garden is located at 6509 Gundry Ave.
4. COMMON GROUND: "ONLY IN LONG BEACH" (Friday)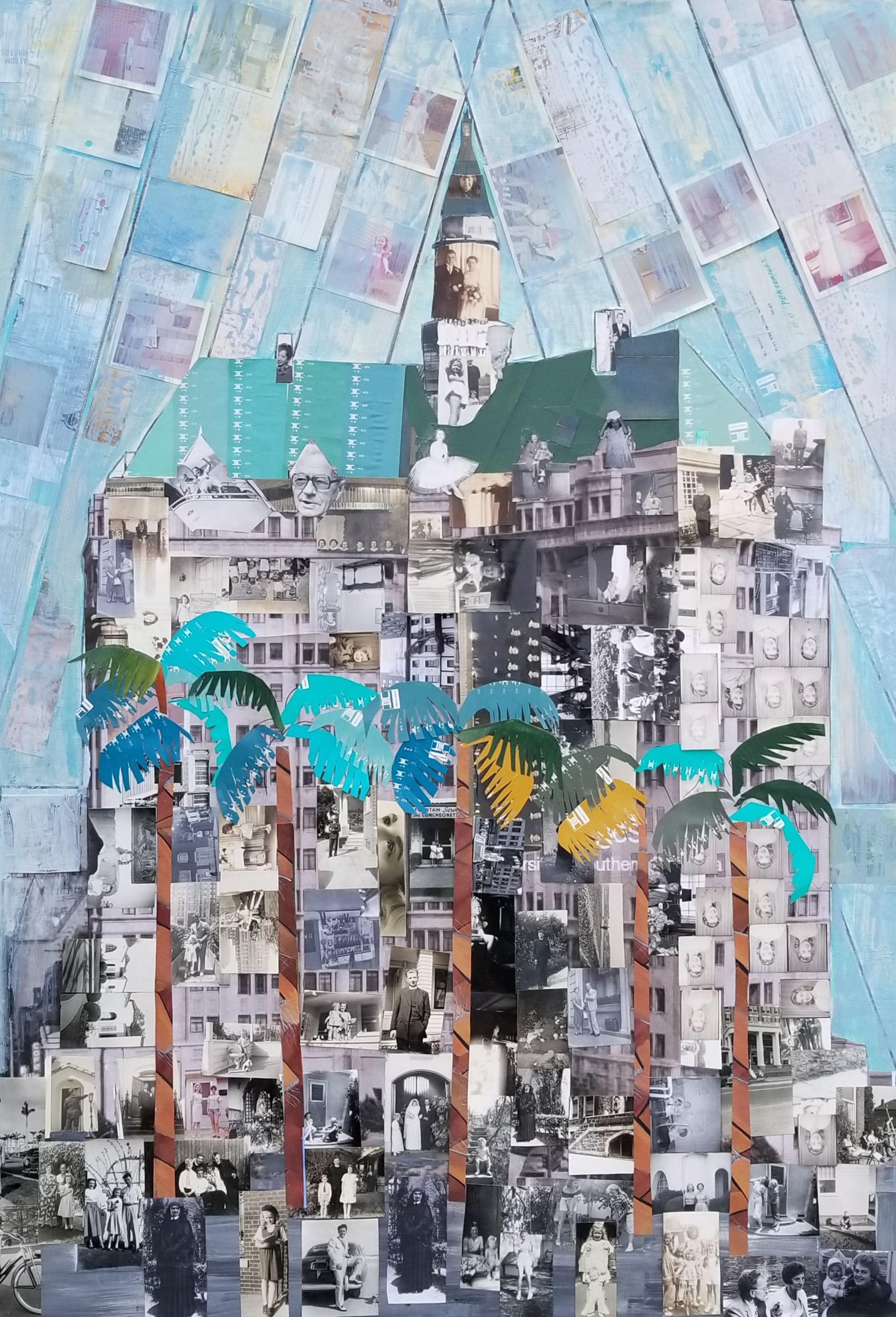 This thing sounds nuts.
So, the Long Beach Literary Arts Center has put together a free, interactive storytelling event and we can tell that right away you're saying "I listen to 'The Moth' podcast, thank you very much, I'm good." But hold on, because this storytelling, as the title implies, is all about your town, told by the people you live amongst. It has four features, and this is where it starts to get nuts.
First, "Common Ground" highlights stories unique to Long Beach. Another event has individuals paired up, given a set of questions which both will answer until they have the same response and can bond over those similarities. After they've discussed those similarities and each told their story, they can try discussing one of their differences, as there will be a list of questions to help determine differences, too. One of the organizers, Rachel Rifkin, said these will "not be about divisive, anger-inducing topics." OK, but having read comments sections online for some time, we're a bit dubious those topics actually exist.
Another activity will ask attendees to share their "Only in Long Beach" stories on sticky notes that will be placed on a wall for others to read. There will also be a "free advice" booth staffed by Ann Wellman, founder of the Long Beach Community Theater as well as an art exhibit curated by local artist Cory Bilicko, who has invited six other artists to create pieces, as well as creating a work himself.
"There's a lot of inspiration in this city, hence, the art will represent a variety of locations, like the historic Villa Riviera building on Ocean Boulevard, the dog beach, the warehouse district and the Cal State Long Beach Pyramid, as well as topics such as the skating culture here and even the city's parking problems," Bilicko said.
Each artwork will be visually accompanied by a story that inspired the piece, and the artists will be present to share additional information and answer questions.
See what we were talking about? It's like the organizers let it be known they were looking for ideas and after getting them, they carefully considered each and then surmised "Yes!" This is the kind of ambitious, unwieldy event a city like Long Beach deserves, needs; the kind with the potential to be transcendent and entertaining while also being a big pile of "What the hell?"
We can't wait.
Another great thing: Someone may have a story about the bathrooms at Alex's Bar.
Giving us a moment's pause: The explanation of that two-person event sounds like the ground rules for a '70s game show.
"Common Ground: Only in Long Beach," take places at the Expo Arts Center, 4321 Atlantic Ave., from 6:30 p.m. to 9 p.m. It's free. (Cheap!)
5. TWIN HARBORS' 26 SUNSETS CELEBRATION (Sunday)
Twin Harbors are DJs Bridget Campos and Ellen Thornton who, for the past year, have had a bi-weekly residence at The Hawk bar, playing Smooth Funk and Yacht Rock. The longtime friends created Twin Harbors while listening to Aretha Franklin cover the Doobie Brothers "What a Fool Believes" (the significance of which will be made clear later). Now, they will be celebrating their one-year anniversary the way most couples do: amidst alcohol, passive-aggressively competing for control of the music.
Campos brings the funk while Thornton is all about the dock-rock jams that, at one time, were contained under the umbrella of "Soft Rock" or "Mellow Gold" or "Wait? Really?" They do it all with vinyl from 2 to 6 p.m. This Sunday will be their special "26 Sunsets" show in honor of their first year. We shot them a few questions via email.
What is the most requested song you get? 
Ellen: If you ask any hardcore Yacht Rock fan, they'll tell you hands-down the number one Yacht Rock anthem is The Doobie Brothers' "What a Fool Believes." It all goes back to the original Yacht Rock internet show on Channel 101. We get a lot of requests for Hall and Oates, Steely Dan, Kenny Loggins, and lately, believe it or not, [Bob] Seger, who would probably ralph knowing his name is even in the conversation here. Conversely, Yacht Rock purists would ralph at his inclusion.
Bridget: Whenever I play my old-school stuff, we get a lot of requests for War. I feel like most people are thrilled that they're hearing a song they haven't heard in years and love to talk to us about it.
It's a measure of how big Yacht Rock is getting that people now argue about what IS and IS NOT Yacht. I've heard the Eagles cause a good deal of arguments in this regard.
Ellen: The guys who invented the term Yacht Rock have a whole podcast and website devoted to this: "Yacht or Nyacht," where songs are rated on the Yachtski Scale. If you go by that, the Eagles are definitely Nyacht Rock. I don't know that I could ever pull off a strictly Yacht Rock set according to the Yachtski Scale. I'd either fall asleep, or somebody would stab me.
Be honest, what's the one Yacht Rock song that people demand you play each week that you really, really don't like? 
Bridget: This will probably be a very unpopular opinion, but I can't stand Toto. Ellen doesn't play them often, but the crowd always gets excited and they should! It's a little too smooth for my taste. I'm not sure what song I play that Ellen can't stand, but I occasionally like to play songs that make her feel uncomfortable. The best example of this is Minnie Riperton's "Inside My Love." I absolutely love this song and know that it's probably a little inappropriate for public daytime play.
Ellen: I'll be honest, it takes a lot to get me to feel like, "ewww" about Yacht Rock. I'll never forget one Christmas when I woke up and put on Michael McDonald while my husband was in the shower. He walked into the bedroom and just started glaring at me. I innocently asked, "Too much?"
Twin Harbors "26 Sunsets" runs from 2 to 6 p.m. The Hawk is located at 468 W. Anaheim St.
6. MUSICA ANGELICA'S "LOVE AND DEATH IN VENICE" (Saturday)
Musica Angelica, who seem to be quite the workaholics if you ask us, is presenting another program tonight at the Beverly O'Neill Theater. It's called "Love and Death in Venice" and it celebrates, in instrumental and vocal works, the musical legacy of the city known as La Serenissima which, if you've been to Venice, you may think translates to "Hey, you smelling that?" but in actuality means "Serene."
Performing works by Gabrieli, Sammartini, Handel and, yes, yes, Vivaldi, will be the Musica Angelica orchestra under the direction of Cynthia Roberts.
Venice is the birthplace of opera and Italian opera had a significant influence on George Frederic Handel who used to travel to Venice to hire the best singers for his English Opera Company. Works of Handel and other vocal compositions will be performed by Ellen McAteer and countertenor Daniel Taylor, whose abilities as a singer were once summed up as "Part angel, part man." Good for him. When I asked to be addressed as such in the office, I got laughed at.
Another great thing: Cynthia Roberts will also perform a Vivaldi violin concerto. She's very good. So good that last summer, the Smithsonian hired her to play and record on its $12 million Stradivarius violin.
Giving us a moment's pause: We never know when to applaud during one of these things. Plus, whenever we put up our lighted cellphone to request an encore, people look at us like we're crazy. What? Have these people never listened to live music before?
"Love and Death in Venice" begins at 7:30 p.m. The Beverly O'Neill Theater is located at 300 E. Ocean Blvd.  For more information or tickets, click here.
7. LONG BEACH COUNTY FAIR/BLUE RIBBON CONTEST (Friday)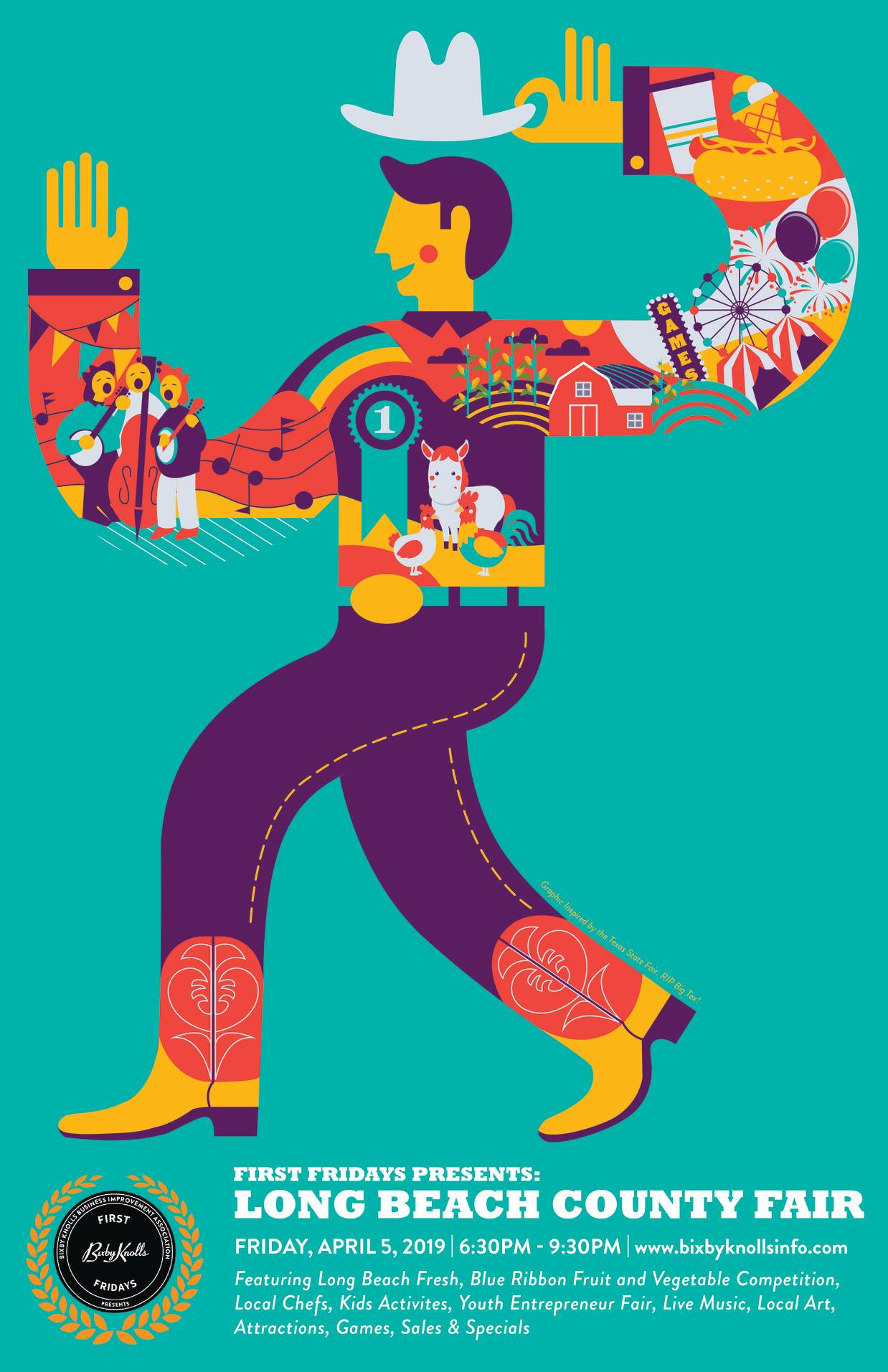 Apparently, people in North Long Beach plan on living forever, because here's another one of those healthy food/eating/living events. Long Beach Fresh and the Bixby Knolls Business Improvement Assn. are putting on the annual Long Beach County Fair event during Bixby Knoll's First Friday shindig.
The Fair is at the Expo Arts Center where folks can enjoy bluegrass music while checking out futuristic aquaponics from Our Foods, learn how to homestead from Moonwater Farms, make connections to the regional food movement with Open Silo, meet insects with the Bixby Bees, break backyard bread with Bruce Alton, peruse photos of the local food movement in 2019, bump into our good friend Jeff Rowe from the aforementioned D9 Victory Garden, learn about co-ops from the Long Beach Grocery Co-Op, hear the good deeds of the Long Beach Community Table, talk with Chef Paul and Dana from Primal Alchemy and visit low-and-slow with Shady Grove Foods.
It's a lot of stuff.
But the centerpiece figures to be the 6th Annual Blue Ribbon Contest, open to all who grow fruits, veggies, and herbs in the greater Long Beach area. Contestants will compete in five categories: fruit, vegetables, root vegetables, leafy greens and herb/flower bouquet. After submitting your entry, a suggested donation of $20 will be requested to support the mission of Long Beach Fresh. No entries will be denied for lack of funds. Donations also gladly accepted at the event via card, check, or cash.
Another great thing: If our math is correct, this event will be going on in the arts center the same time and place as the "Only in Long Beach" event. Oh baby, this whole thing just keeps getting nutsier!
Giving us a moment's pause: Look, we got nothing against bluegrass, but why is it at any vaguely agricultural event, chances are you're going to hear some kind of country-ish music. It's food. You telling us that people into EDM don't like food? That folks who like jazz, also don't like a nice radish? Can't someone like Pink Floyd and a delicious Pink Lady? Choices.
Long Beach County Fair runs from 6:30 p.m. to 9:30 p.m. The Expo Arts Center is located at 4321 Atlantic Ave.
Support our journalism.
Hyperlocal news is an essential force in our democracy, but it costs money to keep an organization like this one alive, and we can't rely on advertiser support alone. That's why we're asking readers like you to support our independent, fact-based journalism. We know you like it—that's why you're here. Help us keep hyperlocal news alive in Long Beach.