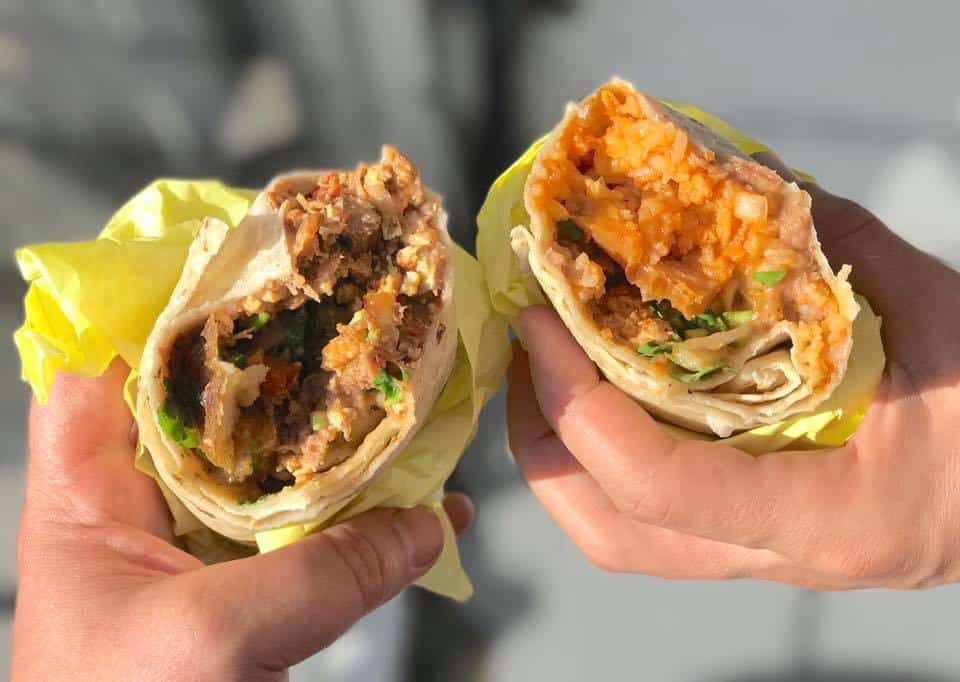 Five essential Long Beach burritos to celebrate National Burrito Day
The burrito doesn't get the attention it deserves because of its folded cousin, the taco. And it is for certain that it shouldn't need a holiday such as National Burrito Day—by the way, Happy National Burrito Day!—but it sure as hell deserves one.
While this isn't a Best Of List (by any means), here are five Long Beach joints to celebrate the wrapped Mexican wonder that is the almighty burrito.
****
Tito's Bakery (1107 E. Fourth Street)
Here, Long Beach, is the home of the best breakfast burrito in town (even our readers agree) and certainly one of the best burrito joints period.
One of the few places that isn't afraid of refried beans, any burrito of your choice—breakfast or otherwise—gets a slather of those delicious kernels of protein which is then paired with onions, cilantro, and your protein of choice. At breakfast time, that's chorizo, chicharrones (when available, they're wondrous), bacon (chopped fresh and cooked right there, request crispy if that's your preference), shredded beef, or chicken (though the pollo is not listed).
Wrapped, tossed into a small paper bag with a grilled jalapeño and your choice of red or green salsa—get both, FYI—this is the kind of burrito that by its end will be soaked, hard to hold and bring you a sense of sadness when the last bite is bitten. But that's OK, because you can always order another one—or you can just go full beached-whale and have some pan dulce.
****
Playa Amor (6527 E. Pacific Coast Highway)
I've already said the man makes the best tacos in Long Beach at both Playa Amor and Amorcito, but Chef Thomas Ortega's stellar array of burritos are often left out of the limelight that his mole tots or short rib tacos get.
In fact, that last point—his talent with short ribs—brings me to Ortega's underrated burrito: Playa Amor's gorgeous, massive, succulent short rib burrito. Chunks of braised short rib—the kind of chunks that, when you dip the points of your fork into and twist slightly, the meat beautifully collapses into countless slivers of meat—are stuffed into a giant tortilla that is slathered with two types of mole. (A nod to the OG purveyor of the green-and-red mole covered burrito, Lola's. Regard below.)
In fact, Ortega's ability to handle short rib's versatility is a true talent to behold: the aforementioned short rib tacos are topped with caramelized onions, cotija cheese, and a brightly colored, outright addicting ají rojo sauce. And his short rib birria—a wondrous take on the classic Mexican dish typically served with goat—is a dish which elevates what can be done with the backbone that is the creation of a birria.
Just don't forget the burrito.
****
Rivera's (2901 E. Seventh Street)
Rivera's doesn't quite get the love, at least on a media level, that it should, especially as it approaches its 20th anniversary here in Long Beach.
And, if all truths are being spoken, this isn't necessarily the go-to spot for burritos; it's just a go-to spot for solid, northwestern Mexican food as well as home to what is arguably the city's best bowl of pozole.
Owned and operated by Chef Virgizio Rivera Castillo and his son George, Rivera's first came about in Compton in 1994. Its success—plates of massive wet burritos slathered in their house-made ranchero, delicate but hearty stuffed poblanos, camarones al mojo de ajo…—brought the Rivera family a bounty: In 2000, they opened their Seventh Street location in Long Beach followed by a Bellflower shop in 2005, and a fourth location in Santa Fe Springs in 2010.
It is a Long Beach staple that deserves love, fake national holiday or not. (And not pictured is their genuinely delectable chile verde burrito, a wonder filled with succulent chunks of pork that have been pan fried before soaking in a tart chile verde and stuffed into a tortilla.)
****
Lola's Mexican Cuisine (2030 E. Fourth Street; 4140 Atlantic Avenue)
If there is something to be said about Lola's, it is the fact that it introduced Long Beach to a side of Mexican food that moved beyond the $8.95 enormous platters of meat served with rice and beans and free chips'n'salsa. And one of the ways they did that is with their spectacular mole burrito.
Chef and owner Luis Navarro—constantly facing the skills of his mother Lola, who came from Guadalajara in 1972 and eventually opened Lola's before passing—is always wanting to challenge what Mexican food in California means. This mean trips to Mexico City to see what Chef Enrique Olvera is up to at Pujol. It means inviting the nephew of Frida Kahlo to cook up some lengua mole tacos at Music Tastes Good.
But what it ultimately translates into is a creation like this.
Mole, for the most part, has been a new thing in Long Beach. Oaxaca Mio, the only restaurant to focus on Oaxacan food in Long Beach, shuttered its windows much too quick in 2010 just a few years after it opened near Tenth Street and Orange Avenue. And, in a way, it was Navarro who came back with it, followed by the aforementioned Ortega.
Two moles are offered and, yes, you can have both slathered in an edible ode to the Mexican flag. I'm quite sure most are expecting mole negro since it is the most common form of mole and also the most complex: using chocolate as its base, most purveyors of mole negro, at least on this side of the border, create a chalky concoction that deviates away from the smooth complexity of the Oaxacan original. Therefore, it's smart that Lola's offers mole verde and mole rojo instead because they are, simply put, great examples of each.
As for mole negro, one still has to go up to K-Town in Los Angeles and visit Guelaguetza for what is quite possible the perfect representation of one of Oaxaca's many culinary trophies.
****
Coffee Cup Cafe (3734 E Fourth Street)
And now, for something a little different for National Burrito Day.
Whether it's breakfast or not, Coffee Cup Cafe's Baja Breakfast Burrito is one of the restaurants's best offerings. And it should be noted that the cafe is one of the true staples of Long Beach breakfast—y'know, up there with The Breakfast Bar and The Potholder.
It has a California influence—the avocado and sour cream on top with black beans inside are a dead giveaway. Though the steak and soyrizo protein options are delicious, the chicken wins as the protein of choice, impressive considering the former two are typically the most flavorful. I also ask for it to be drenched in their spectacular chicken chile verde, a fiery, super-spicy concoction whose heat depends on the level of love the cooks had when they make each batch every morning. (In all honesty, I hope one day they take their chicken chile verde and convert it into a burrito because I would be on Cloud Nine.)
Oh, a few more tips: Order the potatoes well-done, get the toppings on the side (because you might not finish and you won't be taking home a soggy burrito), and ask for their spicy salsa instead of the house salsa.
Brian Addison is a columnist and editor for the Long Beach Post. Reach him at [email protected] or on social media at Facebook, Twitter, Instagram, and LinkedIn.
Support our journalism.
Hyperlocal news is an essential force in our democracy, but it costs money to keep an organization like this one alive, and we can't rely on advertiser support alone. That's why we're asking readers like you to support our independent, fact-based journalism. We know you like it—that's why you're here. Help us keep hyperlocal news alive in Long Beach.