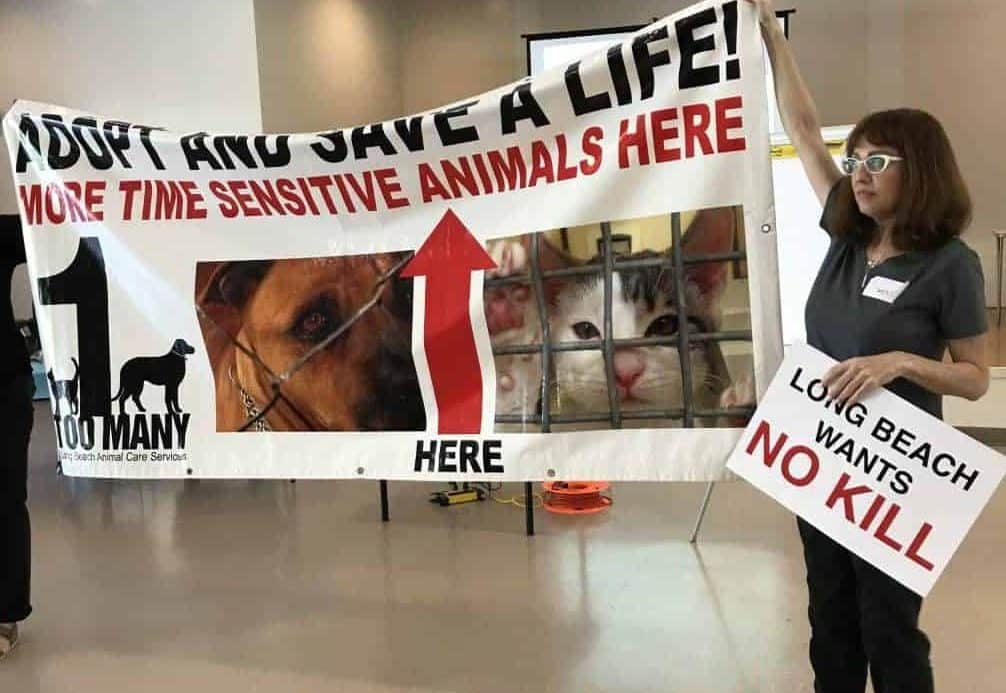 City leaders get an earful at community workshop about how to save animals
A public-input workshop that was part of the process to develop a strategic plan for Long Beach Animal Care Services drew heated debate over how to care for the city's animals and save as many as possible.
The workshop, held the afternoon of March 3 at the El Dorado Park West Community Center, drew a full house. There were 150 people and at least one dog in attendance.
The No Kill Equation, as laid out by Nathan J. Winograd, comprises the following elements: a trap-neuter-release program for stray and feral cats, low-cost high-volume spay/neuter resources, rescue-group transfer, foster programs, adoption programs, assistance for people to retain their own pets, addressing and preventing medical and behavior problems, a sturdy volunteer program, proactive returning of pets to homes, a compassionate shelter director, and public relations and community involvement, which was the point of the meeting.
Phase One and Phase Two of the Animal Care Services audit includes all these factors in form if not in exact name as both strengths and weaknesses of Long Beach Animal Care Services.
Independent of what their views were, the attendees were present for the well-being of animals. The newly hired shelter director, Staycee Dains, introduced herself and expressed pleasure at the considerable attendance.
"Animal care and services in any city cannot succeed without the support of its residents," she said.
Parks, Recreation and Marine Department Director Gerardo Mouet gave background on the audit process and introduced the assessment team: Jyothi Robertson, Betsy McFarland and Laura Maloney. McFarland and Maloney are consultants at JVR and are also principle directors at Adisa, a developmental group that assists in project implementation. JVR and Adisa have complementary skills and work as a team to help assess the shelter's stakeholders.
The audit-process team conducted the meeting after Mouet stated four questions for the attendees to address:
What do you see as the biggest issue facing dogs, cats and other animals in the Long Beach community?
What do you see as LBACS mission? What impact do you hope LBACS will make/achieve in the community?
What would you like to see LBACS do more of? What do you see as their highest-value activities?
What big strategic questions do we need to answer through the planning process?
"Today is about a strategic plan for Animal Care Services," Mouet said. "It's always recommended that you engage with key stakeholders and get feedback."
Get feedback they did, and copiously. The meeting ran its full two-and-a-half impassioned hours, with several speakers getting up more than once to speak to loosely address the posed questions.
Most of the respondents were dressed in black and holding signs in support of no-kill; many of the comments expressed outrage at the spcaLA's practice of pulling pets from the shelter and collecting adoption fees, and the partnership between spcaLA and the shelter was brought into question. There were allegations that spcaLA discourages people from adopting pets from the shelter and encourages people to adopt from them. There were also calls that they "leave town" altogether.
"There's a conflict of interest here," Robert Harmon said.
Signage, said several attendees, is confusing and does not clearly indicate where the spcaLA ends and Long Beach Animal Care Services begins, to the advantage of spcaLA. Visitors to the P.D. Pitchford Companion Animal Village have been bewildered about where the shelter facilities are and are unaware that there are two entities in the building, one public and one private.
Questions arose as to why an unknown amount of money was being spent on consultation when it could be going toward no-kill practices, and there were loud calls for transparency regarding how funds are spent. Several speakers were firm about the shelter having a foster program and being allowed to conduct its own adoptions instead of being obliged to go to spcaLA and complete the paperwork. Adoptions are further snarled and put off by holds on pets.
"The number-one priority should be adoption," Beverly Leifer said. "Let LBACS do its own adoptions, not spcaLA."
Attendee Sheila McLalin said that the state of California in general is the worst in the nation for pet euthanasia and that 110,000 cats and dogs, including healthy and treatable ones, are killed in California shelters, mostly in Southern California.
McLalin is the regional manager Pacific for Best Friends, a national organization that provides and facilitates multiple life-saving strategies for animals and gives grants to ensure that, as their mission states, "there are no more homeless pets." The organization gives a 90 percent save rate as a benchmark for shelter pets. McLalin offered a balanced view of the progress at Animal Care Services.
"Long Beach Animal Care Services has come a long way, but we think it's important for them to have ownership of their life-saving programs such as adoption, foster, rescue, kitten life-saving, volunteering, and community cat programs," she said.
In a separate interview, McLalin explained that she envisions Long Beach's shelter creating and implementing the aforementioned programs to help support and benefit the shelter's animals.
"If they adopt these programs as their own, they'll have autonomy to drive the success and sustainability of their shelter," she said.
There were specific constructive suggestions as well as criticism. Kristie Mamelli, who called for transparency from the city on shelter practices, also suggested that the volunteer force could be built through attracting military veterans and members of other community groups. A shelter volunteer agreed with the signage problem and also stressed the need for WiFi installment and a more colorful and inviting atmosphere in the Cat Cottages.
"And we need another major adoption event like Kitty Hall," he said, to much applause. "It was a major adoption event. It would be good to have it when kitten season begins and the shelter is at high capacity."
Mayor Robert Garcia hosted three Kitty Halls in City Hall, which met with great success. However, a fourth did not take place in 2018. The mayor and spcaLA president Madeleine Bernstein were called out for not being at the meeting; the mayor was criticized by the no-kill advocates for falling short on his promise to bring no-kill practices to the city shelter.
"Why are we fearful of no-kill?" one attendee asked.
"We're all no-freaking-kill—don't you get it?" Judy Crumpton retorted during her three minutes. "I've seen shelters that were quite awful, and Long Beach Animal Care Services is not one of them. Do we have to keep making improvements? Of course we do! But we have come a long way! Let's work together and stop bashing each other."
Crumpton is also a Task Force member and has several decades of experience in humane education, rescue and animal-related legislation.
Another Task Force member, Pamala Machado, was an spcaLA volunteer for several years before transferring to her present volunteer position at spcaLA. She offered insight about some of the details of spcaLA's partnership.
"Back in the day when we were just animal control, animals were brought in, and if they weren't accepted by spcaLA or a rescue, they were euthanized," she said. "They increased their rescue staff, changes were made, and it did make a difference—look at the stats. The spcaLA was asked to do the adoptions, and whether you like it or not, they have the staff and the infrastructure. If you think it doesn't cost money, it does. SpcaLA takes about 1,000 to 2,000 animals a year. How is that a bad thing?"
Wendy Aragon, founder of Pet Assistance Foundation, said that attention should be focused on what goes on outside the shelter as well as inside. The Pet Assistance Foundation had its beginning in 1955, and Aragon has had decades of providing low-cost spay/neuter procedures to needy families and also dealing with pets who, as she said, never see the inside of the shelter.
"They're just passed from one bad home to another," she said. "One of our foremost efforts is community outreach and humane education. We want to work with the shelter. We need to work together—we all have good ideas."
Emily Ann Peters also saw the need to come together with ideas instead of keeping within the confines of one's own convictions. Peters is the founder of Live Love, an organization that has pulled a great number of dogs from the city's shelter. She thanked the team for coming together and offered a welcome note of Zen om her three minutes.
"We have differences," Peters said. "But we are all here to save lives. Since we're all sharing our feelings, no-kill starts with the need to learn and come together to be a community that supports a no-kill shelter, because we're not there now.
"But it's so divisive," she continued with a disheartened laugh. "Until we can get over that, until we can make our mistakes and move forward in the right way, it won't happen. But I hope it will happen."
Support our journalism.
Hyperlocal news is an essential force in our democracy, but it costs money to keep an organization like this one alive, and we can't rely on advertiser support alone. That's why we're asking readers like you to support our independent, fact-based journalism. We know you like it—that's why you're here. Help us keep hyperlocal news alive in Long Beach.