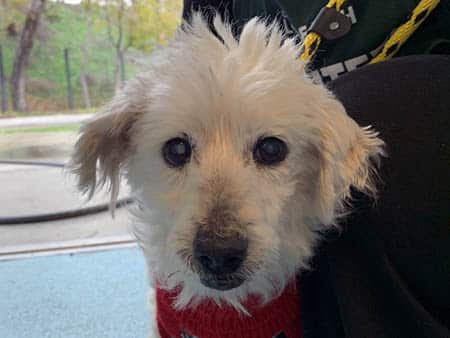 District 2 sponsors big woof-ti-do spay/neuter event at Bixby Dog Park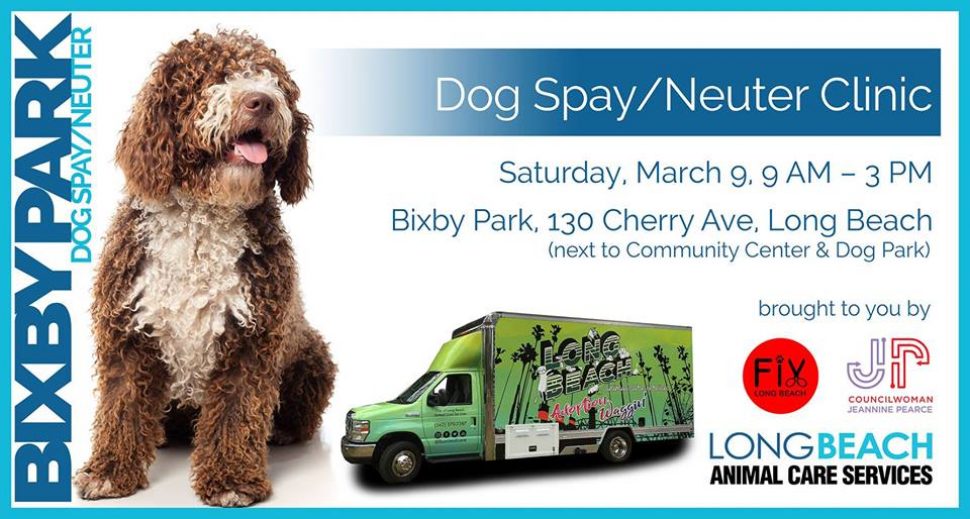 Bixby Dog Park will host a family-friendly Fix Long Beach spay/neuter event this Saturday, thanks to the sponsorship of District 2 councilwoman Jeannine Pearce and her staff. Four-legged canine family members will directly participate for their fixes, vaxxes and microchipses; dogs and cats may come in without an appointment for free microchips and very low-cost shots—$10 each. The farmers market will be going on at its regular hours, so there'll be cheese by the pound, too. Who doesn't like cheese?
Long Beach Animal Care Services' Adoption Waggin' will be rolling in (see photo), bearing a cargo of cuties, a few of whom are featured below. Coconut, the white cat featured last week, has had an eye removed because of a tumor, but she can see just fine and will be there as well. Her ID number is A619028. Also present will be Lavender the husky (ID#A619676), whose tail was amputated because of an injury she had before she was brought in to the shelter.
Also in the kennels will be Springy, the bouncy Chihuahua boy (ID#A620678); Barnaby, a sweet senior poodle (ID#A620435); Meowzer, an adorable black kitten who quickly overcame her shyness and trepidation with all the attention from volunteers and staff (ID#A621249); and Trinket, a terrier who isn't a terror at all—she's pretty low key (ID#A622419).
Some injuries that shelter animals sustain are invisible to both naked eye and X-ray. They're in the shelter because they've been abused, neglected or unwanted. You can change that for them. Even if you don't have a cat or dog in the need-to-spay race, you can sure pick up one who's been fixed, vaxxed and just needs to relax in a forever home.
Things to do, pets to support
Please send any Long Beach or Seal Beach pet-related events or projects to [email protected]. Posting subject to approval.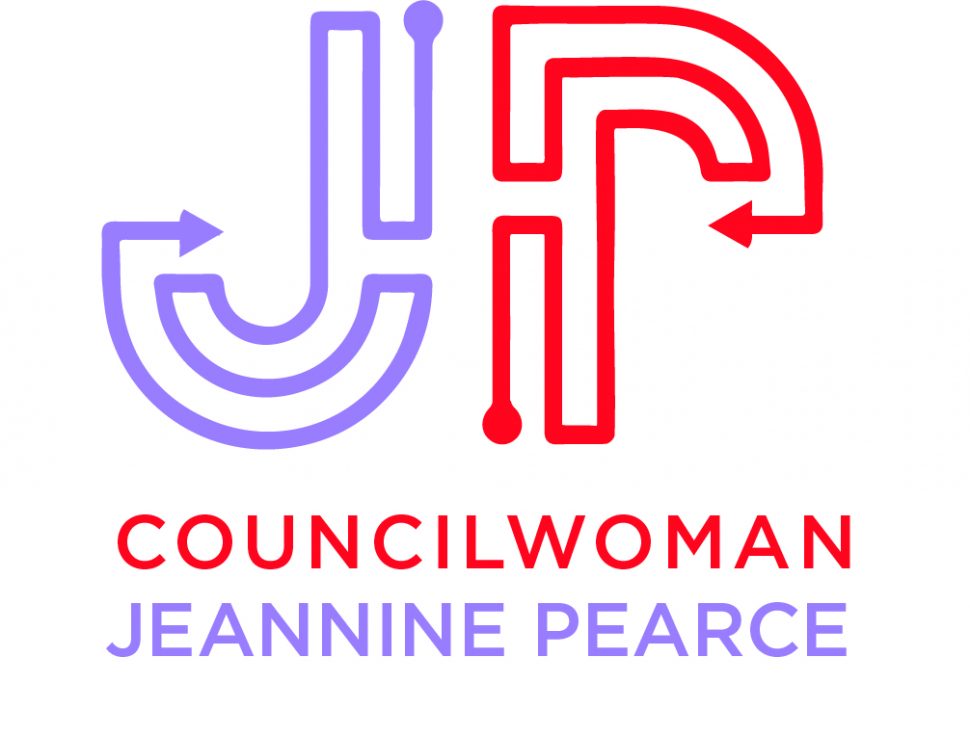 Fix Long Beach Free Spay/Neuter Clinic, sponsored by Councilwoman Jeannine Pearce and District 2: Saturday, March 9, 9 a.m.–3 p.m., Cherry Park, 1901 E. 45th St., Long Beach, free spay/neuter for qualifying Long Beach residents, with appointment; free microchips, shots, flea-med doses, dewormers and nail trimmings $10 each—no appointment necessary. Appointments available for future clinics. Long Beach Animal Care Services' Adoption Waggin' will be there with adoptable pets, and kids will have fun with games and coloring activities that teach humane education.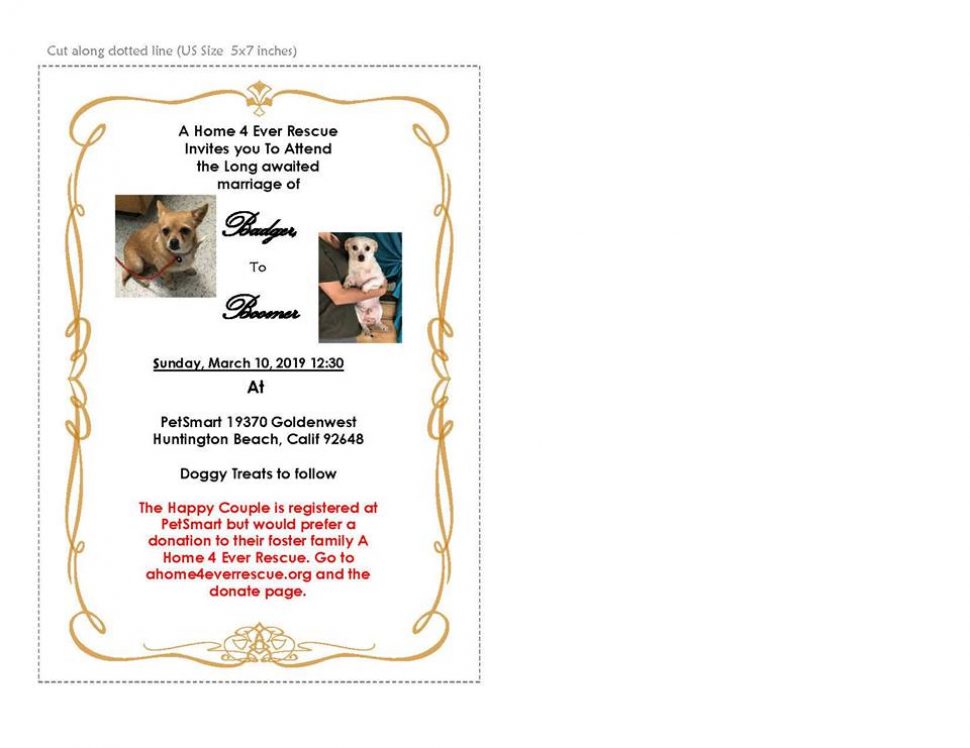 Badger and Boomer's Wedding: Sunday, March 10, 12:30 p.m., PetSmart, 19370 Goldenwest, Huntington Beach, adoption fees and "wedding gift" prices apply.
Tony and Tina got nuthin' on this. A Home 4 Ever Rescue has two adorable little dogs that are extremely bonded, so they thought it would be fun to get them married and invite friends. Hosts will serve doggie treats following the ceremony instead of those ghastly pastel Jordan almonds.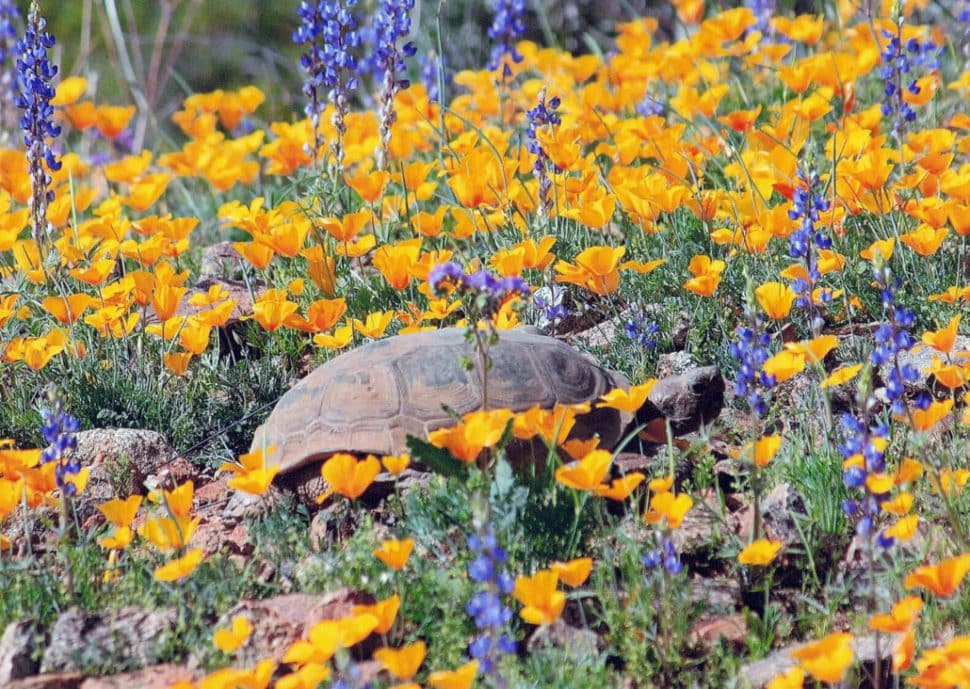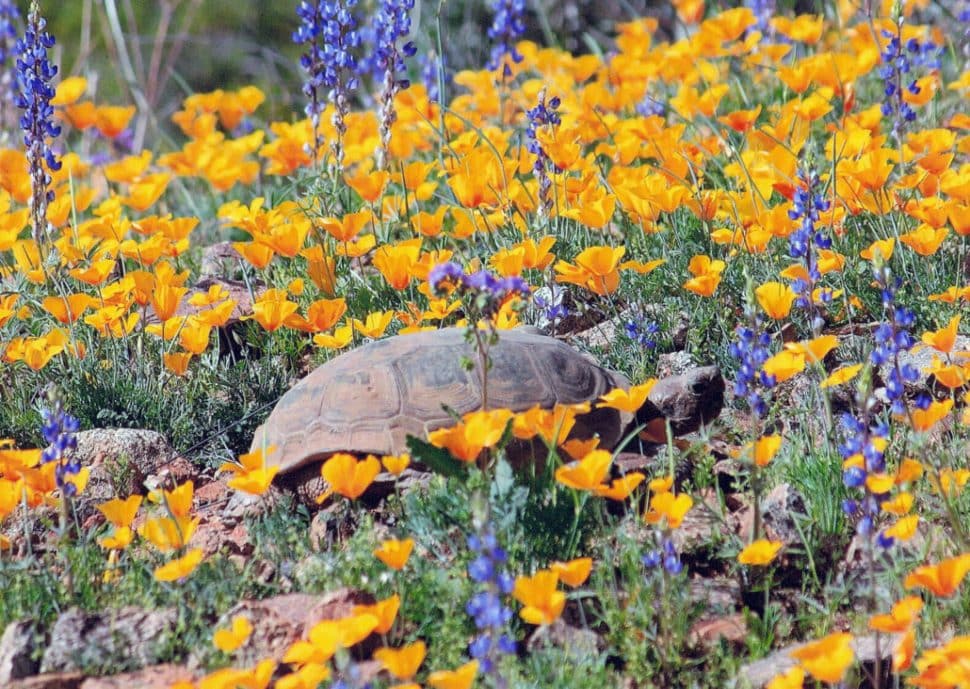 Turtle & Tortoise Care Society, CTTC Long Beach Chapter: Friday, March 15, 7:30 p.m., University Baptist Church, 3434 Chatwin Ave., Long Beach, free.
Biologist Ed LaRue, board member of the Desert Tortoise Council, will speak on his advocacy for conservation of desert tortoises to avoid impacts of conservation projects, his work with tortoises as a consulting biologist, and other aspects of his work.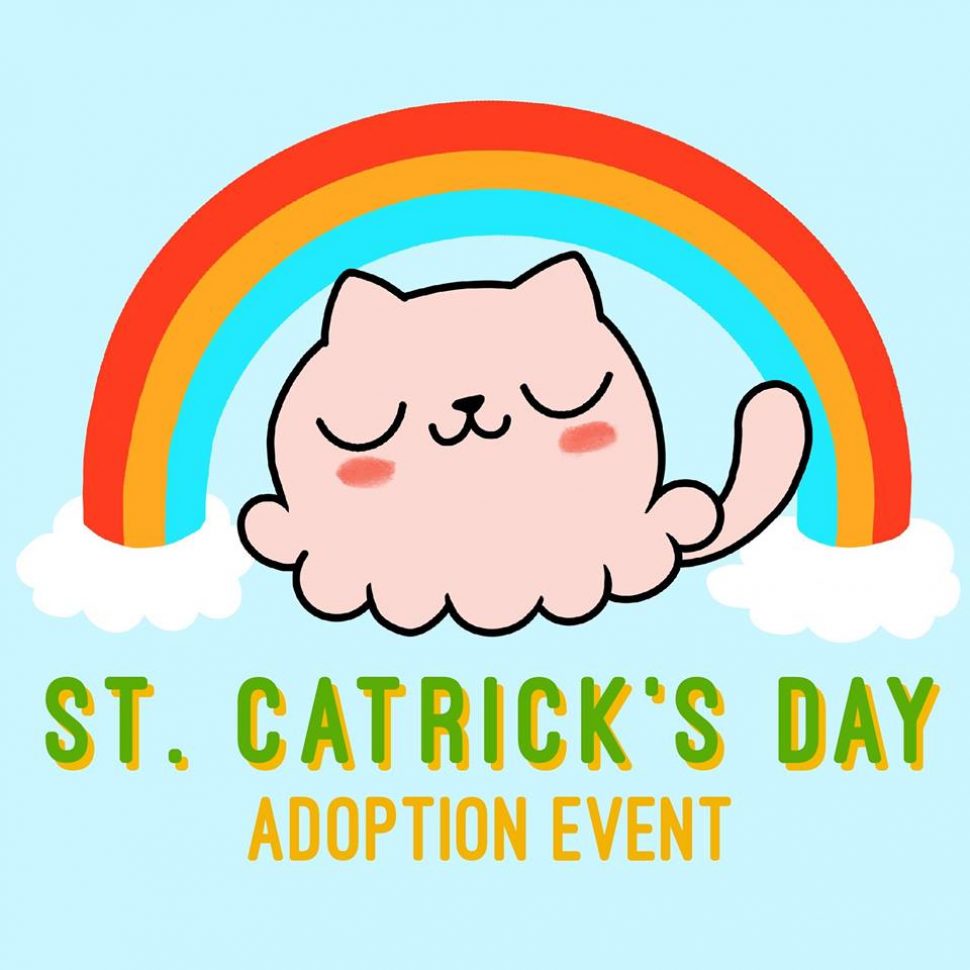 St. Catrick's Day: Sunday, March 17, noon–4 p.m., Long Beach Creamery, 4141 Long Beach Blvd., Long Beach, menu prices and adoption fees apply
Lap up all the Irish Whiskey Vanilla ice cream that your belly can hold as you check out the kitties up for adoption at this fund-raiser. The Little Lion Foundation will be there with paddy-paws you can take home—all cats have been vetted and either spayed or neutered. Pet Food Express will have a booth showcasing the best in cat food and treats and will answer all your cat questions. Best of all, 50 percent of ice cream sales will go to Little Lion to help them with their bills and to help the new Kitten Nursery raise up the wee ones.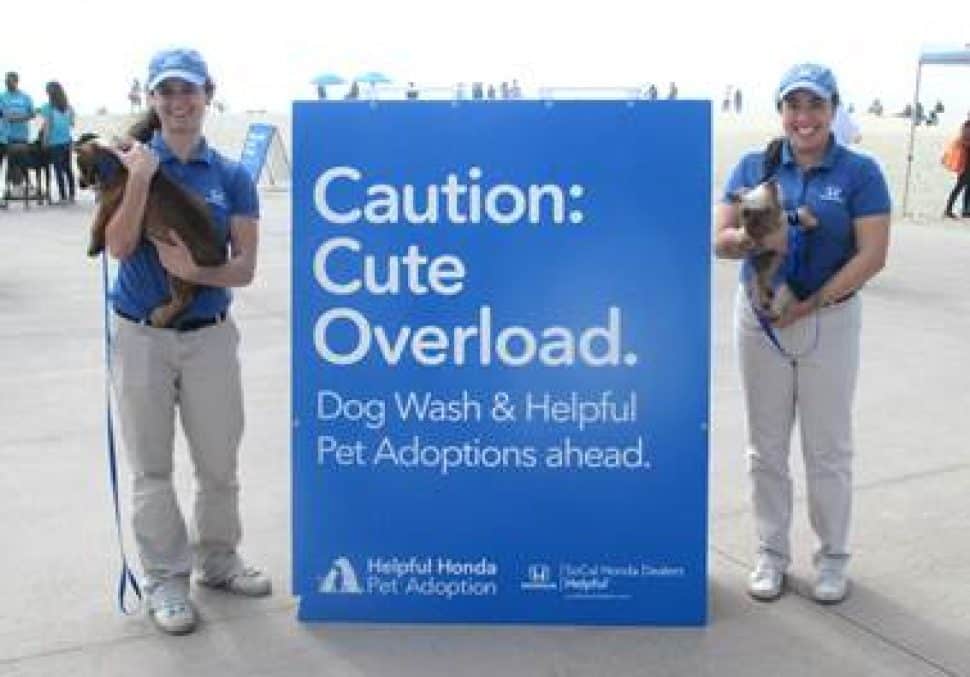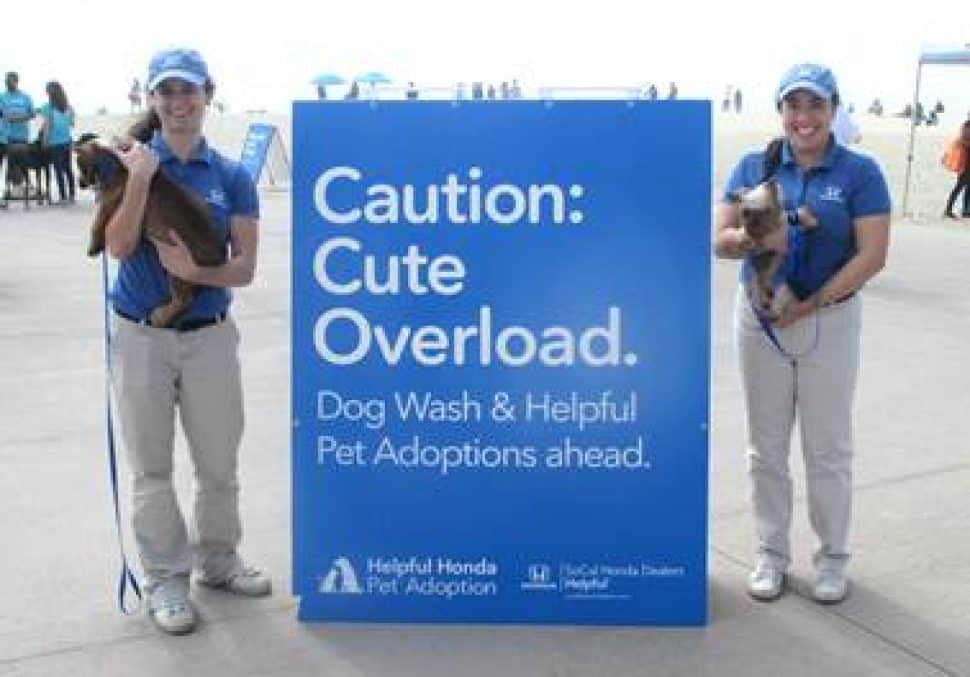 Helpful Honda Pet Adoption Event: Saturday, March 23, 11 a.m.–3 p.m., concrete launch area of Rosie's Dog Beach, 1 Granada Ave., Long Beach, adoption fees apply.
The Helpful Honda folks want to remind you that as of Jan. 1, pet stores in California have been required to only sell dogs, cats, and rabbits that come from shelters or nonprofits. [Author's comment: Yay!]. This will help reduce the number of pets who wind up in shelters and help more of them find their forever homes. To continue helping our four-legged (and some three-legged) friends find forever homes across the Southland, the Helpful SoCal Honda Dealers and the Guys in Blue are hosting their eighth Helpful Honda Pet Adoption events with local shelters and rescue groups throughout the month of March. Helpful Honda Pet Adoption partners include City of Long Beach Animal Care Services, Rescue from the Hart, Foxy and the Hounds, German Shepherd Rescue of Orange County, Southern California Bulldog Rescue, I.C.A.R.E. Dog Rescue, Los Angeles City East Valley Animal Services Center, Inland Valley Humane Society & SPCA, and Ventura County Animal Services. For the family dog, the Helpful Honda Guys will be providing free dog washes, a fun pet-photo booth, complimentary leashes, food bowls, and doggy bags to those who visit and adopt! A supplies donation will also be made to each participating local shelter or rescue group.
Mayor's Animal Care Visioning Task Force meeting: Tuesday, March 26, 3:30 p.m., details to follow.
Agenda details to follow.
Ongoing
The following pet-related businesses regularly feature cat, dog and rabbit adoptions. If you're a Long Beach-area rescue and don't see your adoption event listed here, please email [email protected].
Chase Bank, 5200 E. Second St., Long Beach
 Gelson's Market, 6255 E. Second St.
Kahoots Pet Store, 18681 Main St. #102, Huntington Beach
Petco Animal Supplies, Marina Shores, 6500 Pacific Coast Highway, Long Beach
Pet Food Express, 4220 Long Beach Blvd., Long Beach:
PetSmart Cerritos, 12741 Towne Center Drive, Cerritos
PetSmart Compton, 1775 South Alameda St., Compton
PetSmart Garden Grove, 9835 Chapman Ave, Garden Grove
PetSmart, Long Beach Exchange, 3871 Lakewood Blvd., Long Beach
PetSmart Signal Hill, 2550 Cherry Ave., Signal Hill
PetSmart Seal Beach, 12341 Seal Beach Blvd., Seal Beach.
Unleashed by Petco, 600 Redondo Ave.
Long Beach Little Paws Project needs donations
The most vulnerable animals in the public shelter system are kittens under 2 pounds. These fragile babies, especially those not yet eating on their own, are typically euthanized on intake at most public shelters. In an effort to change the fate of far too many kittens, two non-profit rescue organizations, The Little Lion Foundation and Helen Sanders CatPAWS, have launched a joint effort to create and operate a kitten nursery. This nursery will give kittens too young to be adopted or those who need medical care a safe place to heal and grow. Newborn kittens are fragile and vulnerable. You can tell by those photos—if you look closely, you'll see the beautiful cat that each of them will grow to be. Please read all about them here, and please, please donate.
Low-Cost Pet-Vaccination Clinics: For schedule, visit this link
Pet owners must be 18 years or older, all pets must be on leashes or in carriers, and only healthy and non-pregnant animals will be vaccinated. Please bring prior vaccination information with you to the clinic.
Free Pet Food Distributions
Pet food is available at Beacon for Him Ministries, 439 W. Anaheim St., Mondays from 9 a.m. to noon and Saturdays from noon to 3 p.m. A dog-washing station with a stainless-steel tub is also available onsite at these hours. Donations and supplies such as shampoo, flea control meds and pet food are always gratefully accepted.
The Pet Food Bank is sponsored by Christian Outreach in Action, located at 515 E. Third St., Long Beach. Hours are Thursday from 9 to 11 a.m.
Pets of the Homeless provides many collection places across the country to help homeless people to feed and care for their animals. Please support them through a cash donation, or bring pet food to the Long Beach-area drop-off center, Trendi Pawz Grooming, 3726 E. Seventh St., Long Beach. Access this link for resources and donation areas in SoCal and across the country.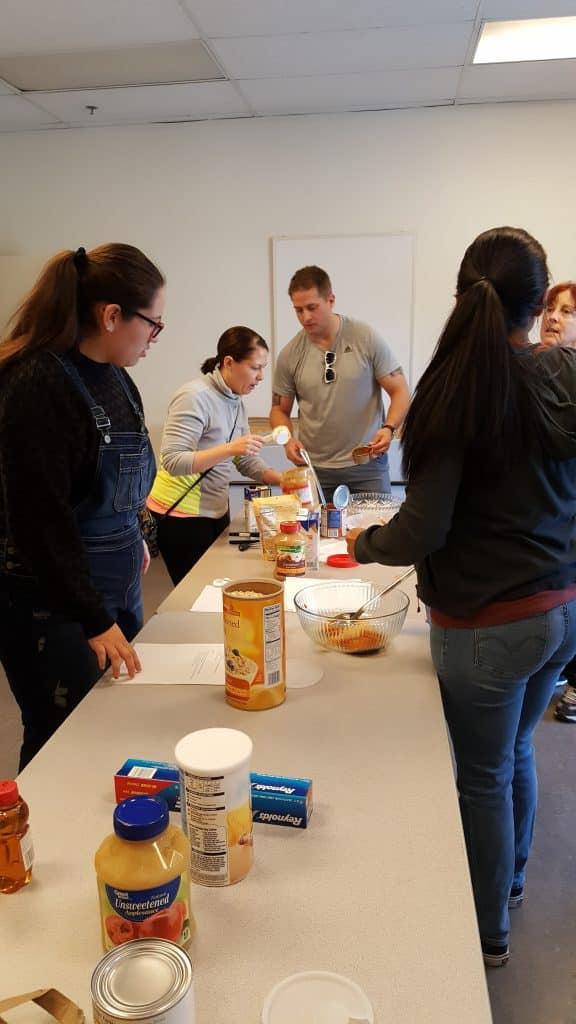 Shelter-enrichment supplies requested for ACS's cats, dogs and rabbits: drop-off Wednesdays through Fridays, 10 a.m.–4 p.m., shelter side of P.D. Pitchford Companion Animal Village, 7700 E. Spring St., Long Beach.
Creamy peanut butter, yogurt, beef and chicken broth, pipe cleaners, toilet-paper and paper-towel rolls, catnip, canned pet food, wine-bottle corks (for cat toys) and ice cube trays all are needed. Donations are tax deductible.
Support our journalism.
Hyperlocal news is an essential force in our democracy, but it costs money to keep an organization like this one alive, and we can't rely on advertiser support alone. That's why we're asking readers like you to support our independent, fact-based journalism. We know you like it—that's why you're here. Help us keep hyperlocal news alive in Long Beach.