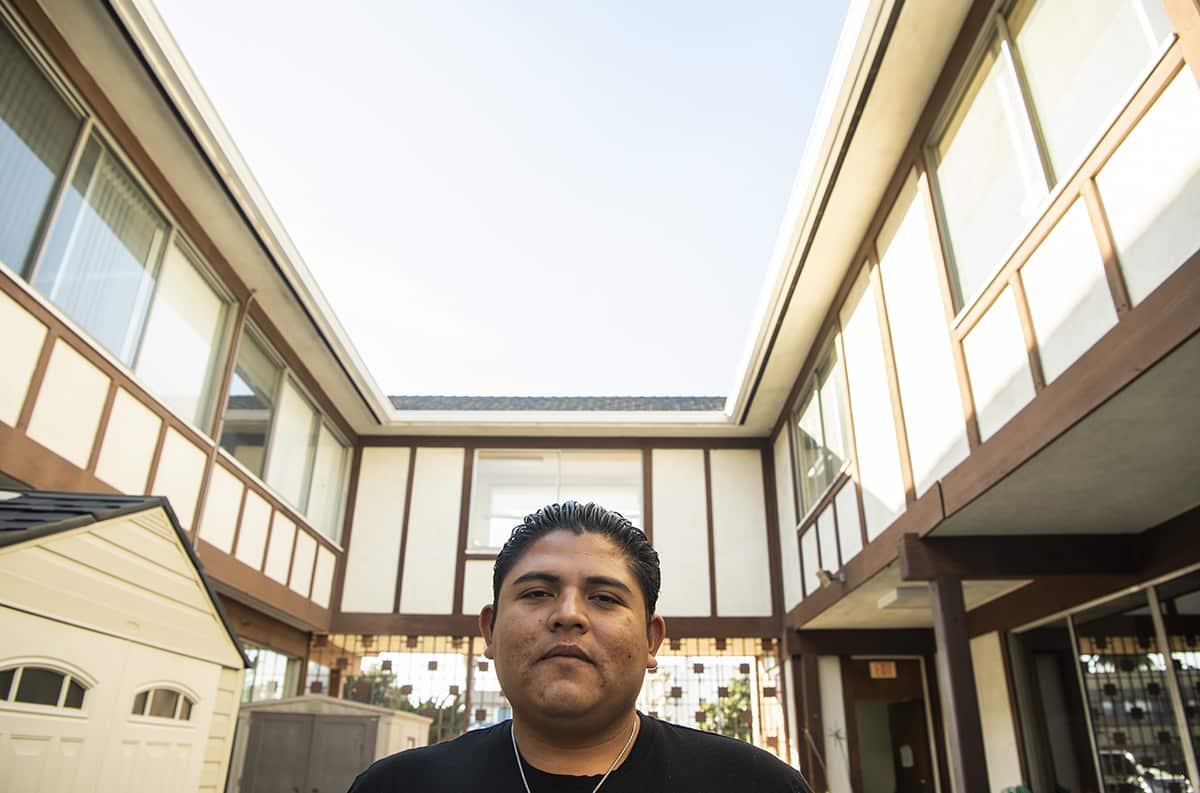 Escaping violence twice, and now in asylum limbo, Honduran immigrant finds refuge in Long Beach church
This story is the second in a two-part series looking at how St. Luke's Episcopal Church in Long Beach helps immigrants. Read the first story here.
In Honduras, choosing to live a straight and narrow path may come with gang taxes, threats, extortion and, ultimately, death.
Alexander Burgos knows this reality intimately. It's the reason he fled his native country over two years ago and eventually ended up in St. Luke's Episcopal Church in Long Beach where he has been living for more than a year as he seeks asylum.
"For me, it was many things," the 29-year-old said. "Like [the local gangs] wanting me to work for them, and I would always say no."
For years, Burgos tried to avoid the gang life—and any harm to his family, including his three children—by switching jobs. It's common for gangsters, or those connected to the local maras or narcotraficantes, to give orders to workers, inevitably forcing them to work for a gang or risk getting killed. Sometimes, he said, he had no choice but to comply.
Once, in the first week of a new job, Burgos was given a car and told by a local gang member to transport drugs.
"I told him I couldn't leave my job and he said my supervisor already knew I would be leaving at that certain time so I had no other option but to do it."
Refuge in a church
It has now been over a year since Burgos has been living in a converted bedroom at St. Luke's Church, which rents out offices to organizations and nonprofits and offers weekly showers and bi-monthly meals to the homeless. He spends his days volunteering with the onsite groups, taking English classes at Long Beach City College and trying to understand life here.
"He helps everybody in this church," said Ann Burdette, a church volunteer who has come to be like a mother to Burgos.
Burdette said Burgos is not obligated to volunteer, his stay comes with no strings attached. "It's what Christ says we're supposed to do," she said.
"I feel very blessed here because despite everything that has happened I found a big family that supports and loves me," Burgos said.
St. Luke's made headlines in 2007 when it declared itself a place of sanctuary. Subsequently, it provided shelter for an undocumented Mexican woman threatened with deportation and being separated from her U.S. citizen family, and that sanctuary extends to accommodate cases such as  Burgos'.
Burgos is legally allowed to be in the United States (a judge is scheduled to hear his asylum case December 20, 2019) he just needed a place to stay while he sought asylum, said Burdette. Still, the current administration's immigration policies that have restricted those who seek asylum have not made it easy.
In November, a federal judge barred the Trump administration from refusing asylum to immigrants crossing the southern border illegally—a proclamation President Donald Trump issued after reports surfaced of a Central American migrant caravan heading to the U.S. to seek refuge.
In December, a federal judge blocked Trump administration policies that prevented immigrants who suffered gang violence or domestic violence in their home countries from seeking asylum.
"It has compounded our anxiety," said Burdette.
Despite these obstacles, the church remains firm in its mission to help those in need. It's also personal to some, such as associate rector, the Rev. Nancy Frausto, who is a recipient of the Obama-era Deferred Action for Childhood Arrivals program that was briefly under threat in 2017 by then-Attorney General Jeff Sessions.
"As a DACA recipient I know that any day it could easily be taken away from me, and it's just not about me it's about my family," said Frausto. "Alex had to leave everything behind just like my parents left everything behind. Neither Alex nor my parents did it because they woke up one day and said well I'm bored with my life, let me just turn everything upside down and risk my life, the life of my children."
Working for the maras
Forcing people to perform tasks is how the local maras keep people entangled in the drug world and some are too scared to leave for fear of getting killed, Burgos said.
It was in early 2016, shortly after a friend was killed for refusing to sell marijuana on behalf of the local mara, that Burgos was finally ordered to work for them.
"They gave me a certain time to meet them and said if I did meet them nothing would happen to me," Burgos said.
After thinking it over, Burgos met up with a man who led him to the top of a hill where armed men stood. One of the men in charge ordered the others to keep guard while the other spoke to Burgos.
"First he told me to sell cocaine and I told him I couldn't," Burgos said. "Then he told me to sell marijuana, and again I said I could not. Then he said to sell crack and I just said no."
Angry, the man ordered Burgos to be a banderin, a person who posts up at a main street and sees who comes in and goes out, and he would start the next day.
When Burgos reported for duty he was given a phone and placed at his post, in front of his dad's gambling business where people play dice and card games. While these types of games are technically illegal in Honduras, the government is corrupt, Burgos said, and the local mayor and judge are paid in exchange for running the business.
When Burgos failed to report the arrival of two policemen, the mara questioned him about it.
"They knew I didn't want to work for them; they were keeping an eye on me," Burgos said.
Finally, on the third day, Burgos called a friend who said he could help get Burgos and his family out of the country the next morning.
Coming to America
The murder rate in Honduras remains the highest in the world despite a downward trend in recent years, according to a report from Human Rights Watch. While journalists, activists and LGBTQ individuals are the most vulnerable to violence, many people, including unaccompanied youth, flee the country due to gang-related violence.
"Marred by corruption and abuse, the judiciary and police remain largely ineffective," according to the organization.
It's not just crime. Hondurans have cited economic hardship as reasons for fleeing. Two-thirds of the labor force is either employed or underemployed, according to a report in December from the Los Angeles Times.
From 2011 to 2016 asylum seekers from Honduras increased 166 percent, according to Transactional Records Access Clearinghouse, a Syracuse University think tank that uses federal data. During that time, a total of 80.3 percent of the 7,350 individuals were denied asylum.
It took Burgos nearly a year to reach U.S. soil. Early in his journey he and one of his children were deported from Mexico back to Honduras for not having the proper documentation, then he and his partner separated and she took their children with her on her own journey to America.
At one point, with no money and living in the streets of Oaxaca for over a week, Burgos considered returning home. When he was eventually swayed into asking for asylum, he was denied twice, the second time receiving a tourist visa from the country instead.
He was constantly in fear of retaliation from gangs back home who he believed wanted him dead for fleeing. He was suspicious of people he encountered, thinking they were the sicarios hired to kill him. Burgos said that a few days after he and his family fled, he was out eating with his daughter when a last name in the newspaper caught his eye. The friend who helped Burgos flee was killed by the local gang when they found out about his escape.
"We were part of a group of people who got along well together," Burgos said of the friend. "We didn't like people who robbed, we informed the authorities, but the authorities were corrupt. So they killed him."
Unfortunately, it didn't get easier for Burgos once he arrived in the U.S.
He and a young Salvadoran man he met while briefly living and working in Tijuana decided to cross the border and ask for asylum. It took about 20 minutes for immigration officials to find them. Burgos said they were held in a detention facility for about five days, during which he lost all notion of time and was served frozen burritos among other foods.
From there they were sent to a privately run immigration center in the city of Adelanto in San Bernardino County.
"That's where it all started," Burgos said of the cruelty he experienced there. "When I arrived, they handcuffed me as if I was a criminal."
During his eight months in Adelanto, Burgos ended up being part of a hunger strike comprising a handful of detainees protesting their inhumane living conditions, the way they were treated by guards and the food they were given.
Those detained at the Adelanto ICE Processing Center were provided with dirty and unwashed underwear worn by other detainees, they were given foul meals, mistreated and humiliated by staff while communications with families and attorneys were severely limited, according to a lawsuit filed on behalf of Burgos and seven other plaintiffs from El Salvador and Honduras, last May.
The court document revealed how Burgos was brutally attacked at Adelanto, doused in pepper spray and slammed against a wall by staff. It further described the facility as "the deadliest immigration detention center in the country" with multiple recorded suicides "as a result of the deplorable conditions."
When Burgos found out they were being asked for $30,000 in bail he considered asking to be deported back to Honduras.
Despite the setbacks in his journey, Burgos acknowledged many blessings along the way—a fellow deportee gave him 100 lempiras, the equivalent of about $4 in U.S. currency, to buy a bus ticket out of the deportation center in Honduras; a oficiales posted along the Guatemala-Honduras border let him pass through without paying the taxes they regularly impose on immigrants illegally crossing. He credited it as God's will when he was denied access on a bus in Guatemala because on the next bus he was able to get on he passed by that first one—it had flipped over.
Then there was the help he received from Pueblos Sin Fronteras, a nonprofit that provides humanitarian aid and legal advice to migrants and refugees. With the help of his immigration attorney, Burgos' bail was eventually reduced to $9,000. Soon after, heeding the call for help from the Clergy & Laity United for Economic Justice (CLUE), St. Luke's offered Burgos a place to stay.
"I didn't believe it," Burgos said of the help he has received. "I wasn't able to rely on my family and because I knew I didn't have anything, I had asked for several deportation requests."
Frausto says the entire congregation is behind Burgos and the church's efforts to help him.
"He has really won the hearts of a lot of the congregation so everybody is kind of looking out for him and making sure that he is not doing anything that may jeopardize his case," she said.
During his time at St. Luke's, Burdette has taken Burgos to appointments, either medical or with lawyers, and has provided companionship to him along with other congregants. The Episcopal church's vestry has helped with funding those efforts.
While Burgos' case isn't about sanctuary in the traditional terms, he needed a place to stay, Frausto said. The church not only houses him but acts like a sponsor, writing a letter of support to the judge. Burdette and others also had to deal with the bail bond company that strapped a GPS device to Burgos' ankle for months until the church had paid 80 percent of his bail.
"Our hope is that his case will move on," Frausto said. "That he will get asylum, that he will be able to work and have his own place and that the space will be ready for someone new."
Stephanie Rivera covers immigration and the north, west and central parts of Long Beach. Reach her at [email protected] or on Twitter at @StephRivera88.
Support our journalism.
It's been one year since the Long Beach Post began asking you, our readers, to contribute to keeping local journalism alive in the city.
Thousands have contributed over the past year giving an average contribution of $12.39 a month.
Please consider what the news and information you get every day from the Post means to you, and start a recurring monthly contribution now. READ MORE.