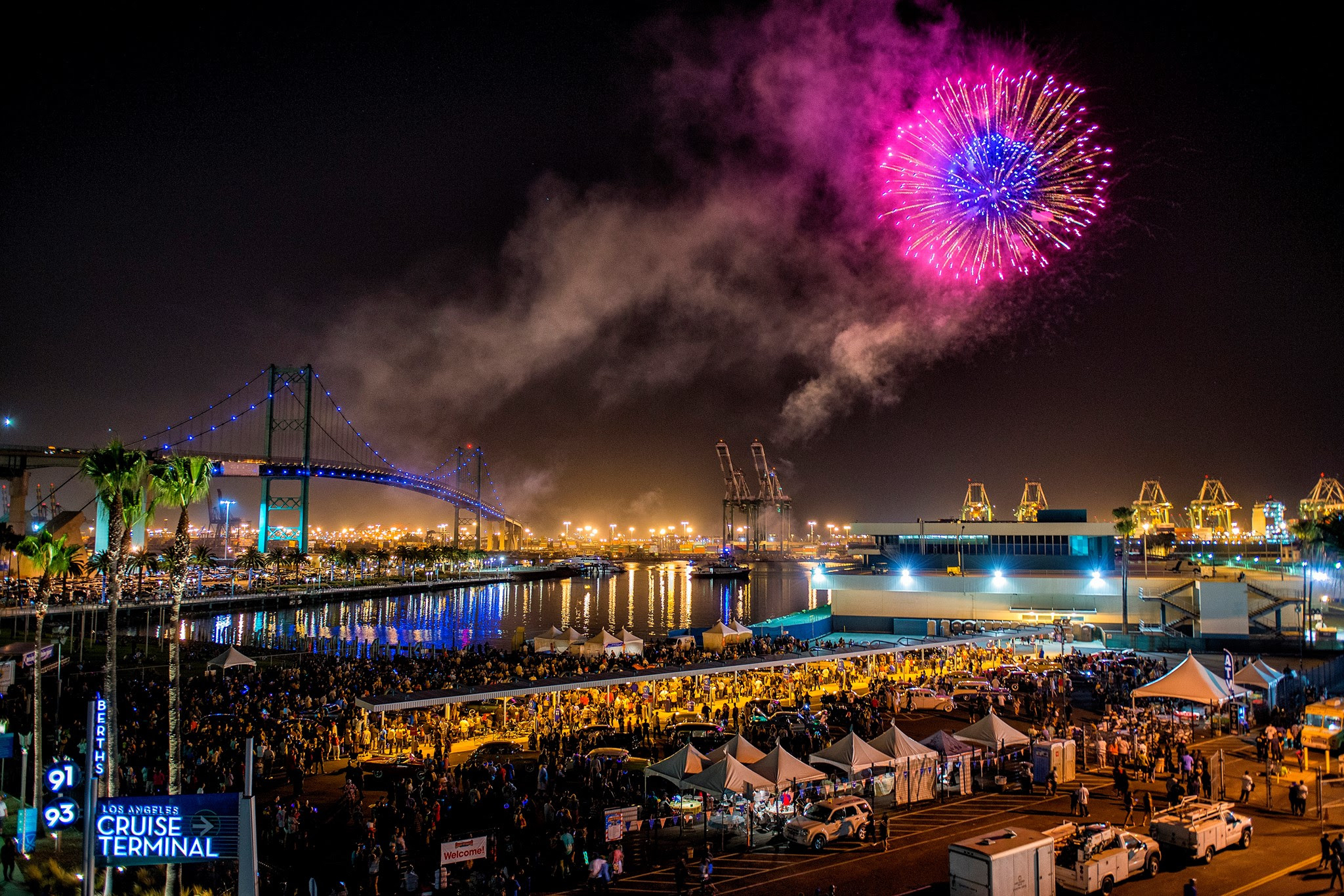 Queers and allies fight haters and coalesce to create the first Pride event on L.A. waterfront
Husbands and San Pedro residents Aiden and Daniel Garcia-Sheffield watched with pain and humiliation as their neighbor, an openly gay Air Force veteran, had his name and home address strewn across town with fliers calling him a pedophile.
While tensions between the veteran and his neighbors had always been taut, it wasn't until the the man hung a Pride flag in his window that it became slander. The homophobic myth that gays are pedophilic has long existed (and long been disproven) but this particular slander against someone he knew made Aiden want to focus on something worthwhile.
"So I worked with Councilman Joe Busciano of the 15th District to raise the Pride flag over Welcome Park—simple as that," Aiden said. "But something so simple became so much more."
That "much more" became his nonprofit, Bridge Cities Alliance, that will head and direct a full-fledged, first-ever Pride event on the Los Angeles waterfront. Yes, Aiden and his crew will be launching Pride on the Port of Los Angeles on June 15, and not only to gather revelers from the entire region to party atop the Battleship USS Iowa but to bring new awareness to the Harbor Area's tiny-but-mighty queer community.
Rallying behind both his neighbor and the small-but-active LGBTQ community in San Pedro proved to Aiden that more needed to be done in this quest for awareness. Add onto this the fact that Aiden was met with resistance by his neighbors when he requested an LGBTQ-focused ad hoc committee be created for the Central San Pedro Neighborhood Council.
Having grown up on a farm in Georgia, Aiden knows all-too-well of the uphill battle gay men can face when empathy is lacking. It was groups like the First City Network in Savannah, the state's oldest LGBTQ organization, that helped him along and it was the memory of being able to be open about who he was in a sometimes restrictive South that prompted Aiden to move forward with Bridge Cities Alliance.
"San Pedro has a small but very loud group continually fighting progress and it's been harmful if not destructive," he said. "It's the group who calls me both pro-homeless and pro-gentrification—a combination I didn't even know could exist but my frustrations with their actions led me to believe that we all simply need our supporters to be more present and vocal. Because right now, unless we stand up to these people, they will feel empowered to be, well, jerks."
Aiden isn't alone in his criticism: San Pedro's loud group of anti-housing residents have come under scrutiny, with one particular Facebook group, Saving San Pedro, often sharing photos of homeless people while mocking them or seeming to revel in their displacement. It has even prompted the creation of a counter group, Saving San Pedro from Saving San Pedro.
This 'Saving San Pedro' Group Is Dedicated to Bashing on Homeless Folks and Advertising Their Presence
But these vacuous online comment threads and digital spats between neighbors aren't the stuff of substance, which is exactly what Aiden wants to achieve with Pride on the Port.
"We're approaching the 50th anniversary of the Stonewall riots," Aiden said. "Surely, we've come a long way but even in the bastion we think is Southern California, dark things lurk in communities, and I refuse to let that rule our everyday existence."
And what better way to fight that darkness than with a Fairy Ferry that will bring festival-goers from Long Beach, through the harbor, and onto the steps of the L.A. waterfront for the event. And those steps will be onto the Battleship USS Iowa—which shouldn't be lost on symbolism given the ship's motto is "Our Liberties We Prize, Our Rights We Will Maintain."
"I plan to Uber to Long Beach just so I can ride the Fairy Ferry over," Aiden said. "I mean, come on: A boat party with a beautiful ride with amazing views of both the Port of Long Beach and Los Angeles sounds too good to pass up. Plus, my husband and I met each other in Long Beach and fell in love in Long Beach, I know the entire Long Beach community will come out to support us."
Pride on the Port of Los Angeles will take place on Saturday, June 15 near 250 South Harbor Blvd. in San Pedro. Early bird tickets are currently available for $15 and can be purchased here. For more information on the entire festival, click here. 
Brian Addison is a columnist and editor for the Long Beach Post. Reach him at [email protected] or on social media at Facebook, Twitter, Instagram, and LinkedIn.
Free news isn't cheap.
We believe that everyone should have access to important local news, for free.
However, it costs money to keep a local news organization like this one—independently owned and operated here in Long Beach, without the backing of any national corporation—alive.
If independent local news is important to you, please consider supporting us with a monthly or one-time contribution. Read more.