Feral caregivers Failsafe-4-Felines, Best Friends, In Defense of Animals and Stray Cat Alliance are joining forces tonight, Dec. 11, 7–9 p.m., in a candlelight vigil against euthanasia and trapping of the cats at the Rancho Los Amigos campus. According to Downey-based Failsafe-4-Felines' website which can be found here, the Los Angeles County Chief Executive Office, Department of Capital Projects and Debt Management, has ordered a mass trapping and euthanasia of over 100 cats on the campus, despite a trap, spay/neuter and release program that the Failsafe group has in effect.
According to Long Beach feral rescuer Dr. Patricia Meredith, Los Angeles County and the office of Don Knabe have surrounded the old buildings on the Rancho campus west of Imperial Highway with a padlocked chain-link fence. On Monday, the crawlspaces were boarded up, trapping the cats under the old buildings, with only one crawlspace per building remaining open.

"There is no assurance that these spaces open up to the remainder of the underground passages under the buildings," Meredith said. "Only one cat was observed yesterday; the remainder are entombed under the buildings and have been left by the county to die. The cats have now been 72 hours without food and water."

To participate in the vigil, bring candles to the Rancho Los Amigos campus at the corner of Imperial Highway and Rives Avenue.


No Shades-of-Gray Here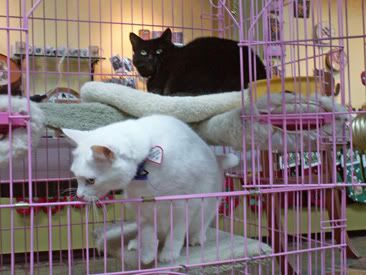 Ivory and Ebony, for adoption at Wiskers. We leave it up to you to guess who's who.
Ivory and Ebony were rescued by Friends of Long Beach Animals and brought to our shelter at Long Beach Animal Care Services. The cats were abandoned at ACS by their owner, who was planning to move. They spent most of their lives together, have firmly bonded, and love each other very much. So, it's there in black and white: Adopt them both—between them, they have a full spectrum of love to give their new human friend.
See Ebony and Ivory at Wiskers, 4818 E. 2nd St., Long Beach, CA 90803
(562) 433-0707

Precious Gem Appeals to Hearts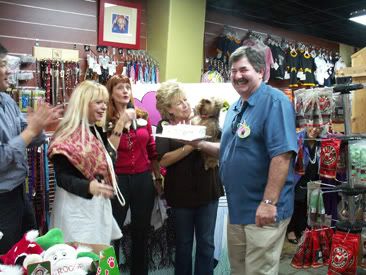 Pearl Lou Van Duren poses in the arms of her "grandmother" and waits for cake. From left, Wiskers owner Michael Oh, Debora Van Duren, MC Tracey Wiltse, Van Duren's mother, Pearl Lou, Craig Van Duren.

Pearl Lou Van Duren, the big-hearted little dog who lives with Mood Swings jewelry storeowner Debora Van Duren, hosted a birthday party for the rescued pooches of Hearts for Hounds. The party took place Nov. 30 at Wiskers in Belmont Shore and featured prize drawings and a silent auction, with donations from such local businesses and even sets from Mood Swings' Pearl Lou Accessories collection for fashionable puppies, snacks, guest speakers, clever patter from MC Tracey Wiltse and a special doggie birthday cake for all present pooches, donated by Wiskers owner Michael Oh. The event earned over $1,200 for Hearts for Hounds rescues.
"I say 'let them eat cake' only if it's one of those nutritious ones that Wiskers has," Pearl Lou told us. "And as long as they're eating it in a warm, loving forever home."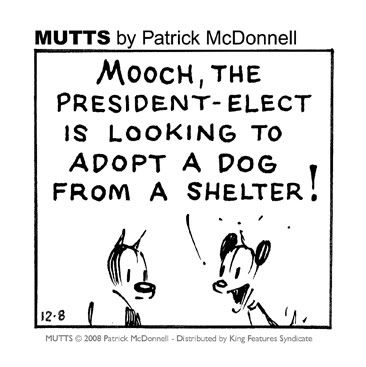 Fans of Mutts comics will notice that this week's strip is weighing in on the Obama family's adoption of a dog. Lead characters, Mooch the cat and Earl the dog, discuss the family's desire to adopt a dog from an animal shelter—of course, Mooch wonders why cats aren't considered (as do some of us). The unusually topical storyline, which runs through Sat., Dec. 13, mirrors the nation's excitement over president-elect Barack Obama assurance to his daughters during his victory speech that they "have earned the new puppy that's coming with us to the White House." Cartoonist Patrick McDonnell is a longtime advocate of humane treatment of animals and is actively involved with the Humane Society of the United States in shelter adoption. To see all the strips, visit here and click Subscribe. Note that there is a two-week delay in viewing the strips because of syndication restrictions.