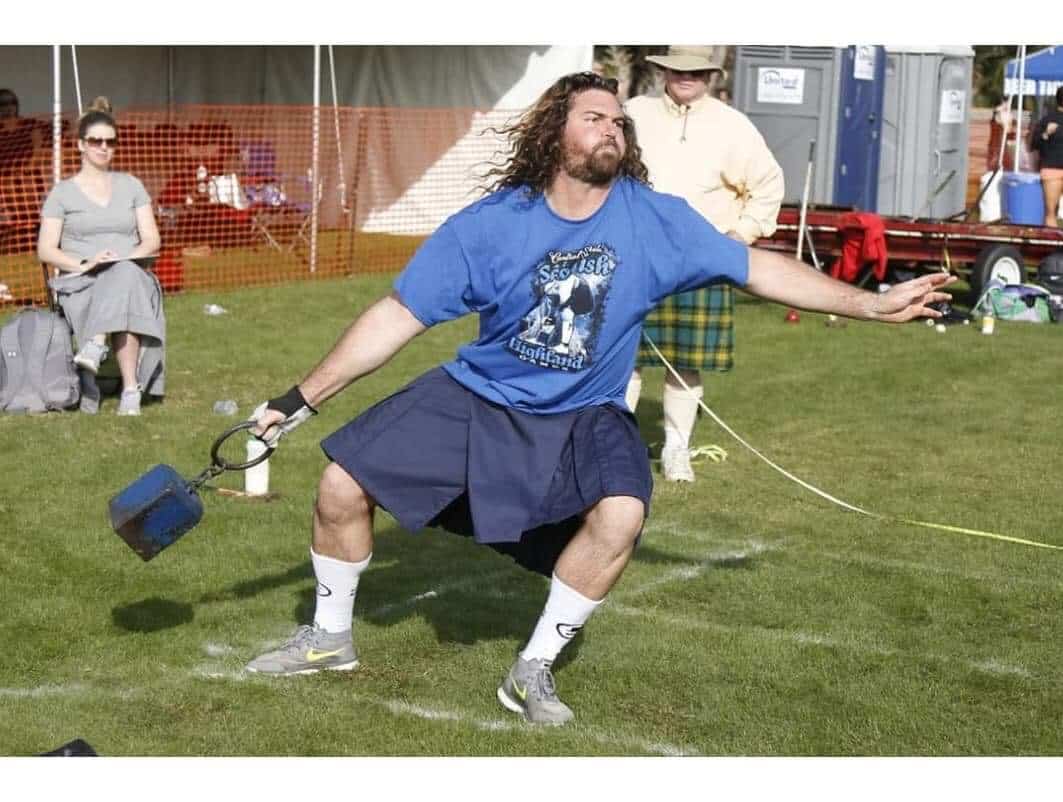 Colin Dunbar will throw his weight around at the Highland Games this weekend at the Queen Mary
Colin Dunbar, a former track and field star at Long Beach State, is really good at throwing things.
For a decade, Dunbar has been perfecting his throws in shot put, discus, javelin and hammer. Twice, he has competed in the Olympic Trials in the hammer throw. And in 2016 he won the 35-pound weight throw at the USATF Indoor Championships.
Dunbar is of Scottish descent—"The story goes that my grandfather is the bastard son of Scottish royalty"—and given his athletic ability, one might think he was born to compete in the Highland Games, which takes place this weekend, Feb. 16 and 17, at the Queen Mary as part of its annual ScotsFestival. It looked that way in 2017 when, taking part in his first  Highland Games, he won six out of the eight events he entered.
Still, he admits that he's not good at everything.
"I still am just terrible at caber and the sheaf."
The caber toss, perhaps the best known Highland event, involves a competitor hoisting a long log, resembling a telephone pole, vertically and then running forward and tossing it in an attempt to flip it end over end. Easier said than done—or practiced.
"It's not like you can just walk into the forest and cut down a tree to train in Southern California," Dunbar said.
He takes the competition very seriously and says he really fell in love with the environment surrounding the games. The Highland Games are Scottish heavy athletics, games that were traditionally held in Scotland as a way of testing strength, skill and the technique of ancient Scottish warriors.
Most of what is known to have become emblematic of Scotland, such as bagpipes, the kilt and the heavy athletic events come straight from the Highland Games. And the Queen Mary's ScotsFestival and International Highland Games is everything Scottish, from whiskey tasting to competitive bagpiping.
Throughout the weekend there will be tons of traditional Scottish dishes sold by vendors, border collies will show off their sheep herding abilities and even the wee laddies and lassies will get a chance to participate in a wee version of the Highland Games.
(If you're wondering why the Queen Mary hosts the ScotsFestival, it's because the ship's heritage traces back to Clydebank, Scotland in 1930, where its construction first began.)
"It's cool to have that many people in that kind of environment where there's loud music and so much going on around the field surrounding you," Dunbar said. "There's really no other sporting event like it. These festivals are like a circus, and people, when they are at the circus, want to see the circus animals. We are the circus animals."
The Queen Mary's ScotsFestival and International Highland Games takes place Feb. 16 and17 from 9 a.m. to 6 p.m. Tickets are on sale now and start at $25 (ages 12+) and $12 (ages 4-11), for one-day general admission. Click here for more details and to purchase tickets online.
Support our journalism.
It's been one year since the Long Beach Post began asking you, our readers, to contribute to keeping local journalism alive in the city.
Thousands have contributed over the past year giving an average contribution of $12.39 a month.
Please consider what the news and information you get every day from the Post means to you, and start a recurring monthly contribution now. READ MORE.