UPDATE: Scented with the decrepit, rare Corpse Lily expected to bloom Friday at CSULB
Cal State Long Beach botany technician Brian Thorson describes the smell as "worse than roadkill," but when "Phil" blooms this week on campus, it will be a sweet reward after 10 years of careful cultivation.
Thorson, the university's botanical curator, expects the rare corpse lily to bloom Thursday or Friday at the latest, permeating the immediate area with the noxious smell of decomposing animals or rotting flesh.
"The intensity is so strong it can make you feel sick," he said.
The species, Titan Arum, blooms only once every seven to 15 years and lasts for about 24 hours. It is native to the rain forests of Sumatra and is billed as the world's largest flower, but it is technically an "inflorescence," or a cluster of flowers.
It can reach more than 6 feet in height when it blooms, opening to a diameter of 3 to 4 feet. When in one of its ultra-rare blooms, it gives off the stench of rotting flesh, attracting insects that pollinate the flowers deep inside.
Thorson has been caring for this flower, which he nicknamed Phil after his late botany professor Dr. Philip Baker, since 2009. This will be Phil's first bloom.
"Laura," the campus' other corpse flower, bloomed in 2015. Baker said the flowers require careful tending, including yearly repotting.
"It's a special feeling when you've nurtured something for this long and it finally rewards you," he said.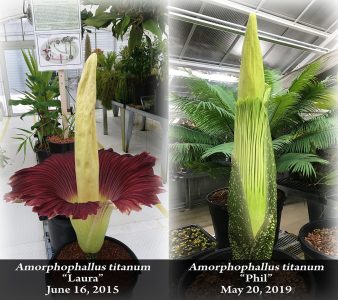 The flower was first displayed in the United States in 1937 at the New York Botanical Garden.
Want to see the corpse lily?
Phil will be on display today through Friday from 9 a.m. to 4 p.m. in the corridor between HSCI and MLSC. Check here for updates on the bloom. Parking is free this week for commencement. Here is a campus map.
City News Service contributed to this report
Support our journalism.
It's been one year since the Long Beach Post began asking you, our readers, to contribute to keeping local journalism alive in the city.
Thousands have contributed over the past year giving an average contribution of $12.39 a month.
Please consider what the news and information you get every day from the Post means to you, and start a recurring monthly contribution now. READ MORE.