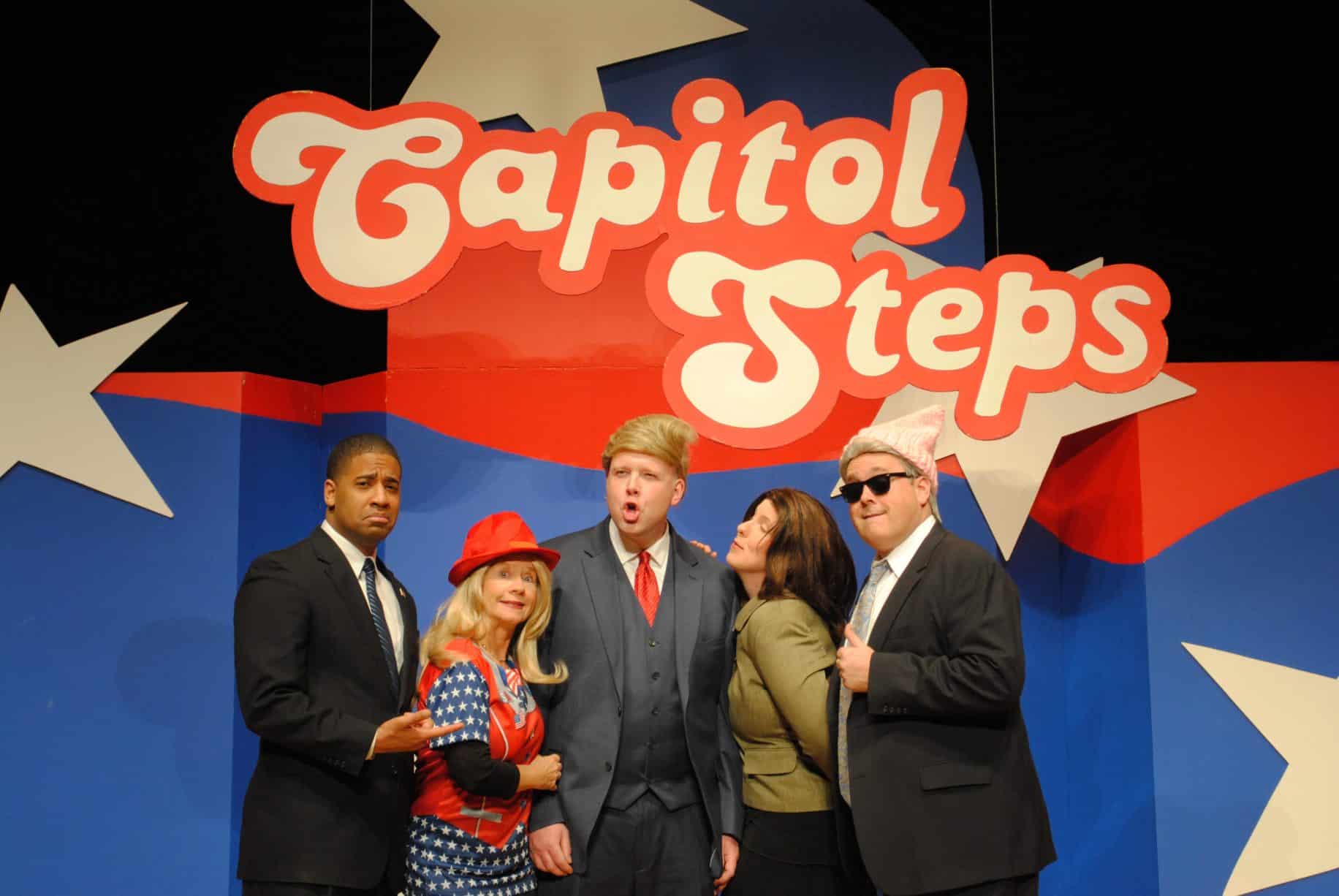 Politics by the pun: Capitol Steps take aim at Trump and current events in annual Long Beach show
In these turbulent times, when political discourse often rises or falls to the level of farce, comics have never seemed to have it so good. Whether it's Alec Baldwin playing Trump on SNL, the daily late-night monologues or even "Fox and Friends," seen through the right prism, there is no shortage of folks making use of a glut of mock-worthy material.
But, says Mark Eaton of the satiric political parody troupe, Capitol Steps, this can be a good and bad thing.
"At times," he said, "it's hard to be funnier than what's actually happening."
The Capitol Steps return for their mostly annual Long Beach performance this Saturday, Jan. 12 at the Carpenter Center, with shows at 2 p.m. and 8 p.m. The fast-paced, sorta fact-based, show will feature about 30 songs and skits—Eaton describes it as "Weird Al meets politics"—and characters ranging from a milieu of Trumps to Paul Manafort to Chuck Schumer, Nancy Pelosi, Elizabeth Warren and "a cavalcade of characters," according to Eaton, who says the Steps are "equal opportunity offenders."
The show bounces across the stage with a plethora of puns and an abundance of alliterations; the closing Spoonerism-laced rant is a true—and rather blue if you can keep up—delight.
It is said that turbulent times provide the best fodder for comics. When bellicosity replaces reason, Eaton says, "If you don't laugh it will drive you crazy and just make you cry."
In 1981 the Steps were founded by a group of Senate staffers. It is said they wanted to do a nativity play but in all of Congress they couldn't find three wise men and a virgin. And so, the legend was born. Six presidential administrations later, they're still at it.
Composed in various iterations of a cast of 25 members, of whom about five will tour to any given show. Elaina Newport, a former staffer for Senator Charles Percy, is the lone founding member still active, although she will not be in Long Beach.
The Capitol Steps, have recorded 38 albums, the latest being "Make America Grin Again," and are a  darling of PBS. Although they have been performing for more than 35 years, and consist of mostly middle-aged white people, Eaton says the Capitol Steps are able to stay relevant and fresh thanks to the churn of political news and coverage, which Eaton calls "a never-ending source of subject matter."
"Anytime we get a little thin, there's a new election coming," Eaton said. "When we first started, people said you'll never find anyone as good as Ronald Reagan (to lampoon)."
And now, after the Georges, Bill and Hillary and Obama, along comes Trump, who has single-handedly brought a new level of mockery from the comedy world. You want current in the events the Capitol Steps address? Well, there's a piece with Paul Manafort. There's a Vladimir Putin character doing "Trolling on the Twitter" to "Proud Mary."
Musically, the Steps are rooted in the '80s and Broadway show tunes, which may limit their reach. Eaton said the group is currently working on a rap number or two but haven't done anything much more modern than Vanilla Ice and "N Sync. A comedy "Hamilton" they're not.
But if a dose of that old-time political "pun-ditry" is your thing, few do it better than the Capitol Steps.
For more information click here.
Support our journalism.
It's been one year since the Long Beach Post began asking you, our readers, to contribute to keeping local journalism alive in the city.
Thousands have contributed over the past year giving an average contribution of $12.39 a month.
Please consider what the news and information you get every day from the Post means to you, and start a recurring monthly contribution now. READ MORE.