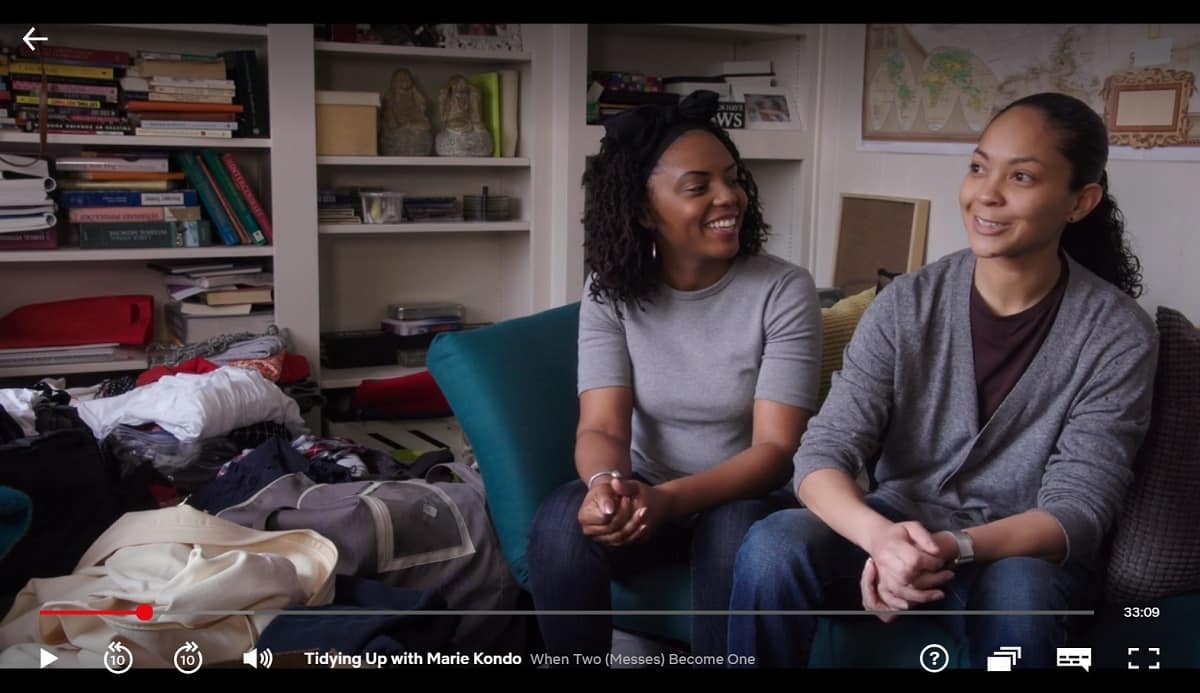 Twitter responds to Long Beach couple on Netflix's 'Tidying Up with Marie Kondo'
SPOILER ALERT: One of the most feel-good episodes on Netflix's "Tidying Up with Marie Kondo"—where Japanese joy-inducing organizational expert Marie Kondo helps tidy people's homes—features Long Beach couple Angela and Alishia. The newlyweds had just bought a condo in town and needed some assistance organizing their belongings without bickering (sound familiar?).
We learn during episode eight—"When Two (Messes) Become One"—that Angela, a veterinarian, and Alishia, a flight attendant, met five years ago on a flight Alishia was working from Vegas to Atlanta.
"Prior to Angela I was considered a nomad," Alishia says.
"I feel like I literally grabbed her out of the sky and brought her down to earth," Angela says.
I'm not crying, you're crying.
Theirs seems to be the most heartwarming story, as the two end up more in love than when they started their de-cluttering journey, and Twitter seems to agree for various reasons.
i was all salty that marie kondo only had a white gay couple but i should have know my girl was gonna come through with the black lesbians pic.twitter.com/X53zpFbyX4

— #3 sisterwife but #1 in his heart (@TamikaVST) January 2, 2019
the only couples on Marie Kondo that I genuinely believe will stay together after tidying:

– the one with the super hot Guatemalan big boy
– the Black lesbians
– the old Japanese

everyone else is FUCKED

— taber (@taber) January 3, 2019
there are lesbians in the new marie kondo special……i'm scream

— Poor, poor baby Ⓥ (@herpeteloser) January 3, 2019
Okay I'm on the last episode of Tidying Up with Marie Kondo and so far these two cute ladies are basically the only people I haven't judged super harshly. 😬 Then again, I'm only 10 minutes in. So we'll see. pic.twitter.com/UgtnwqUSKL

— MJ (@SoManyJets) January 3, 2019
Awwww @MarieKondo now has a Black lesbian couple!! Yay for representation.

— Huma Not Abedin (@hoomie24) January 2, 2019
every episode of tidying up w/ marie kondo is a delight. the episode with lesbians? a double delight, watered my crops and made my bed

— monster mashdison (@cephalopodcosmo) January 4, 2019
Asia Morris is a Long Beach native covering arts and culture for the Long Beach Post. You can reach her @hugelandmass on Twitter and Instagram and at [email protected].
Support our journalism.
It's been one year since the Long Beach Post began asking you, our readers, to contribute to keeping local journalism alive in the city.
Thousands have contributed over the past year giving an average contribution of $12.39 a month.
Please consider what the news and information you get every day from the Post means to you, and start a recurring monthly contribution now. READ MORE.