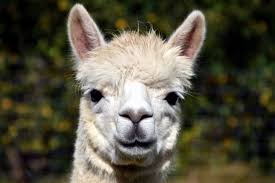 Our Man in Hollywood, location scout John Robinson, is constantly asked by homeowners how can they get their houses a nice movie deal. Or at least a TV role. Failing that, some work in a commercial. Chances are, they can't. Robinson's company Long Beach Locations already has a pretty impressive roster of sites, ranging from mansions to vacant bank building to abandoned factories that are perfect for gunfights and villains' headquarters.
He gets plenty of odd requests from studios, but few are as strange as one that arrived this week from a production company looking for an apartment in which it can film a llama in the living room.
The shooters, for a nationwide hamburger chain, are looking for a "starter" apartment; nothing fancy or gaudy. In fact, if the apartment isn't gray or beige, they're going to need to paint it one of those colors. The carpet should also be gray or beige. Look, it's about the llama. Your apartment isn't going to be the star in this one.
The filmers note that the apartment should be on the first floor or should be in a building with an elevator big enough to hold a 350-pound, 6-foot-tall llama (llamas aren't good with stairs).
Finally, they advise, there may be an exterior shot with the talent (human actor) walking the llama, so exterior should also look like "starter" apartments, possibly with a yard in front or back where the talent can throw a Frisbee to the llama.
All of this is merely advisory and meant to get you all fired up for the llama/burger commercial. Finding a drab apartment is no problem for a location scout.
Tim Grobaty is a columnist and the Opinions Editor for the Long Beach Post. You can reach him at 562-714-2116, email [email protected], @grobaty on Twitter and Grobaty on Facebook.
Free news isn't cheap.
We believe that everyone should have access to important local news, for free.
However, it costs money to keep a local news organization like this one—independently owned and operated here in Long Beach, without the backing of any national corporation—alive.
If independent local news is important to you, please consider supporting us with a monthly or one-time contribution. Read more.