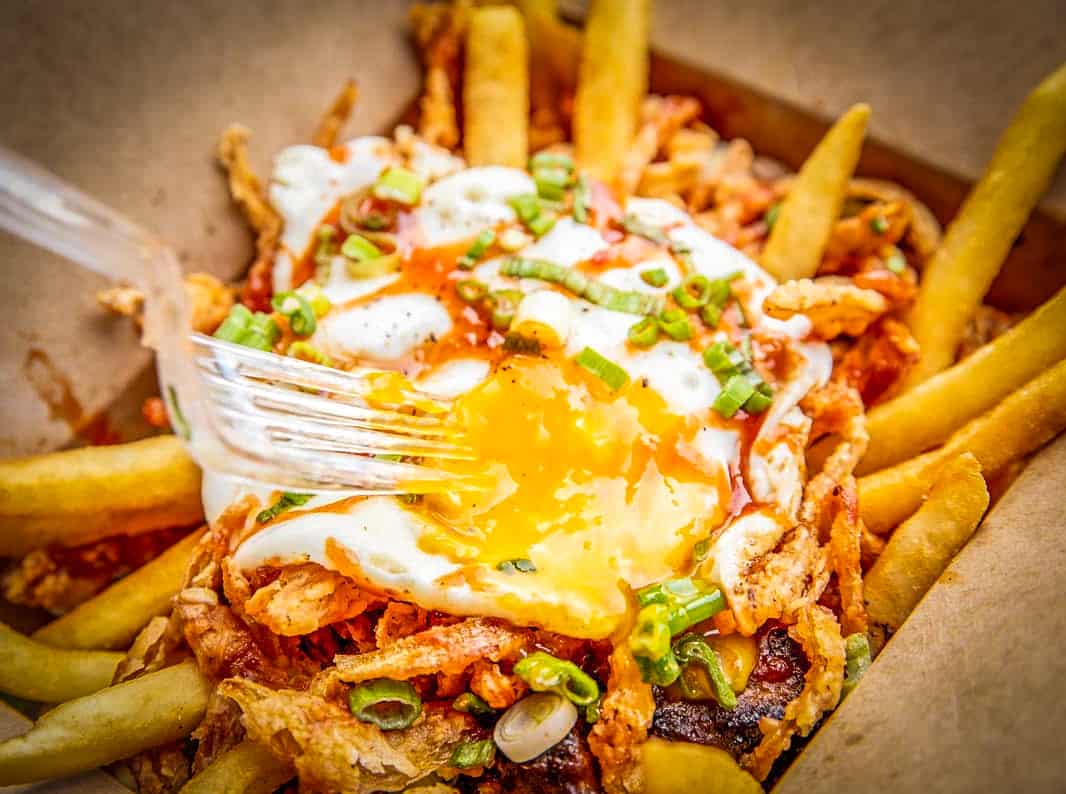 After building a mass of over 60,000 devoted followers on Instagram, The Kroft became an Orange County obsession when it simultaneously opened its first two locations in 2014 at the Packing District in Anaheim and another in Tustin—and it will officially open its Long Beach location inside The Hangar at LBX on Saturday, March 16, at noon.
This gastropub-y, pseudo-chain—it will open yet another location in Downtown L.A.'s Chinatown—specializes in various forms of poutine, the Canadian dish where fries are traditionally topped with cheese curds and gravy. The Kroft, per the gastronomical zeitgeist of the current generation, takes it over the top.
Their Loco Moco Poutine is slathered with brown gravy and cheese curds, of course, but further paired with a beef-and-pork meatloaf, green onion, a ketchup glaze, and a fried egg. Their Japanese Curry Poutine comes with a curry gravy and cheese curds paired with panko-crusted fried chicken cutlets, radishes, togarashi, and green onions.
The list goes on: Cheeseburger fries poutine, country fried chicken poutine, short rib poutine…
To celebrate the Long Beach location, the first 100 guests will receive free poutine and sandwiches (as long as said guests are following The Kroft on Instagram; the business have its branding power down to a T and that's part of it).
"We double-fry our fries to perfection and try to create toppings that reinterpret the Canadian classic," said owner Stephen Le. "To further entice your culinary senses, we have market-driven sandwiches and every single one of our sides, dipping sauces, soups and refreshments all made from scratch, in-house at The Kroft. Long Beach seems like a perfect extension of our craft."
The Kroft is located inside The Hangar at the Long Beach Exchange is located at 3991 N Lakewood Blvd.
Brian Addison is a columnist and editor for the Long Beach Post. Reach him at [email protected] or on social media at Facebook, Twitter, Instagram, and LinkedIn.
Support our journalism.
It's been one year since the Long Beach Post began asking you, our readers, to contribute to keeping local journalism alive in the city.
Thousands have contributed over the past year giving an average contribution of $12.39 a month.
Please consider what the news and information you get every day from the Post means to you, and start a recurring monthly contribution now. READ MORE.