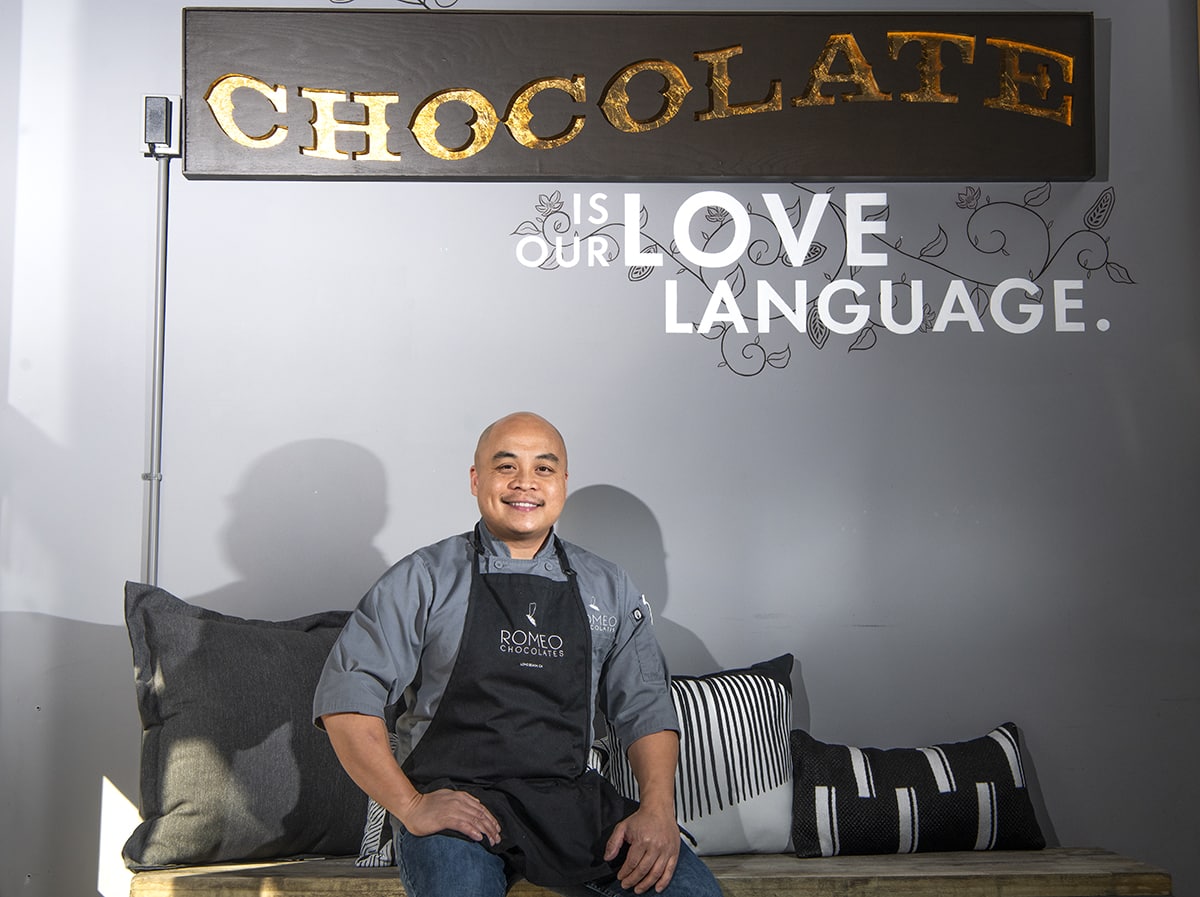 VIDEO: A delicious secret; Master Chocolatier Romeo Garcia shows you how to eat a chocolate
You may love chocolate; Romeo Garcia lives it.
To hear him tell it—and oh, how he loves to tell it—it was chocolate that saved his/gave him life. A decade ago he was working long, stressful hours as a dean in higher education. It was then, while taking weekend cooking classes in an attempt to decompress, that he was introduced to the art of making fine chocolates, an event he speaks about as being equal parts ecstatic and meditative.
"I don't think I would have ever fathomed that I would transition into this career, but the thing is you don't know where passion takes you," Garcia said when his Romeo Chocolates opened in October of 2017. The store, a mainstay of Pine Avenue's Decadent Row, is a study in whimsy and industry; the chocolates he and his artisans produce appear like micro-sculptures, so sumptuous in design, color and fragrance that you almost feel guilty for biting. Almost. The flavor released is nothing short of knee-buckling.
Yet, as it turns out, you could be getting more from each bite. Romeo showed us a way to eat fine chocolate that enhances the experience significantly. I know, we didn't believe it either. But we tried it and, well, it worked. It is, quite literally, a breathtaking experience.
With Valentine's Day chocolates just hours away, we thought we'd share Romeo's delicious secret.
There are other ways to enhance the experience. One is to be around someone like Romeo who has not only made chocolate their art but a contemplative way of life. He carefully sources the flavor profiles of his creations in the same manner vintners choose grapes.
Speaking of wine, another way to further enjoy the chocolate experience is to allow Romeo and his staff to pair chocolates with the various wines and beer they stock. An unexpected but popular pairing is stout beer. Who knew?
Well, Romeo did. Here's a little more about drives the Master.
Romeo Chocolates is located at 460 Pine Ave.
Support our journalism.
It's been one year since the Long Beach Post began asking you, our readers, to contribute to keeping local journalism alive in the city.
Thousands have contributed over the past year giving an average contribution of $12.39 a month.
Please consider what the news and information you get every day from the Post means to you, and start a recurring monthly contribution now. READ MORE.