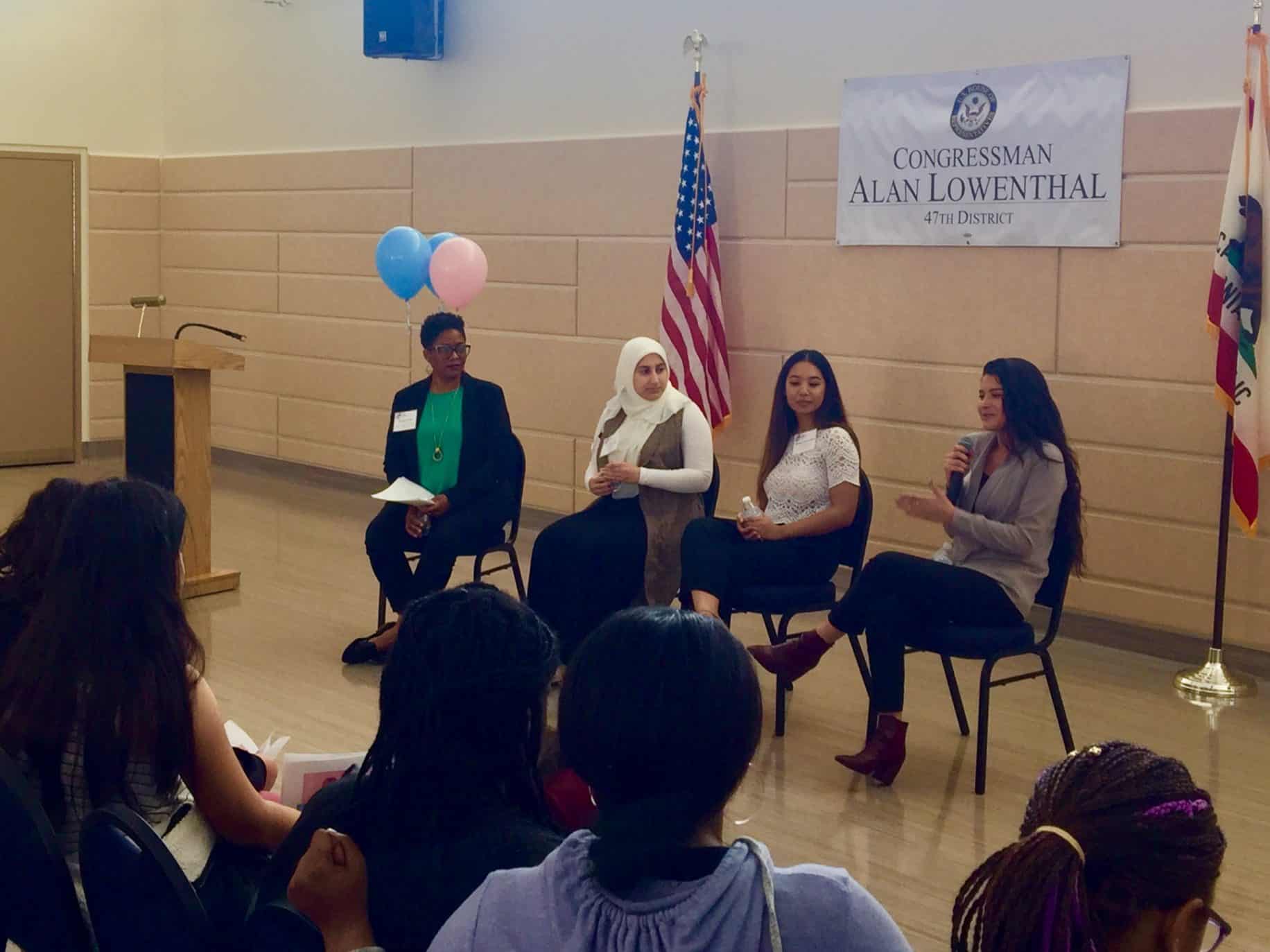 Like most girls her age, 12-year-old Calafia Hill, a seventh-grader at Hughes Middle School, struggles with self-confidence.
"I really want to boost my self-esteem, but it's hard," she said. "I'm hoping I can learn from other women."
Hill was one of about 200 seventh- and eighth-graders to participate in the third annual Young Women's Empowerment Conference on Saturday at Browning High School.
The day-long event, hosted by Congressman Alan Lowenthal, D-Long Beach, draws middle-school girls throughout Long Beach for career advice, support and guidance from women in a range of careers.
Lowenthal said the event is more important than ever in a time when a record number of women were sworn into Congress this year.
"This gives our girls the opportunity to meet and learn from women who are very successful," he said.
The event featured breakout sessions including: "Running for Public Office," "Making a Smooth Transition to High School," "CSI: The Work of a Coroner," and "How to Survive as a Working Artist."
Girls also participated in "career café" stations where they chatted with women in the areas of STEM (science, technology, engineering and math), the arts and entrepreneurship.
In a breakout session called "Screen Time and Social Media," girls learned about the impact of social media and screen time on their mental health.
"Don't worry it's not just you, parents and adults are addicted, too," said host Sara Myers, president of the Volunteer Center South Bay-Harbor-Long Beach.
Myers noted how phone addiction can trigger dopamine in the brain, much like drug addiction. She explained how the blue light from iPhones can suppress melatonin production and disrupt sleep.
The girls also talked about how the carefully crafted images on social media create FOMO (fear of missing out) and how that can impact self-esteem.
Myers used an example from one of her wedding day photos. While she may have looked happy and glowing in the picture, she said, she actually had been crying at the time from a "bridezilla" moment.
"These images don't show you the story behind the picture," she said.
For Simra Saeed, a seventh-grader at Newcomb Academy, the session was helpful.
"This is something I can really relate to," she said. "I definitely need to not use my phone so much."
Support our journalism.
It's been one year since the Long Beach Post began asking you, our readers, to contribute to keeping local journalism alive in the city.
Thousands have contributed over the past year giving an average contribution of $12.39 a month.
Please consider what the news and information you get every day from the Post means to you, and start a recurring monthly contribution now. READ MORE.