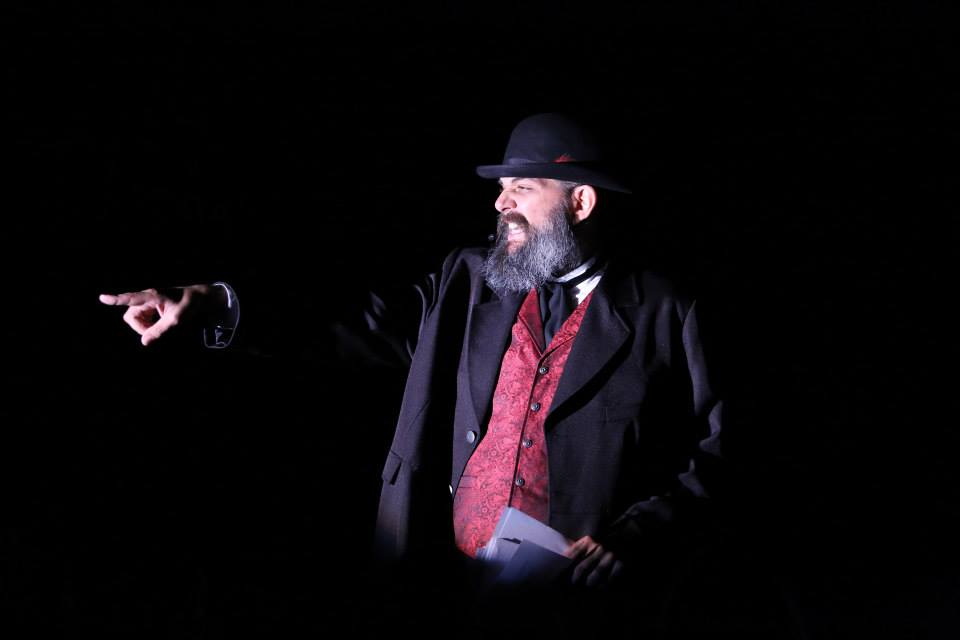 Josh Fischel lives on through The Fiction's 'Quixotic', which debuts Saturday at DiPiazza
For those who worked closely with the late Josh Fischel, it is understood that the Long Beach musician's stubborn and off-kilter brand of meticulousness bred some of his greatest legacies, such as the annual Music Tastes Good festival and rock 'n roll troupe, Riot Stage.
It was also his meticulous nature that is why, in large part, the debut album of his music project The Fiction took nearly a decade to complete.
This Saturday—nearly 10 years after its original conception and two years after his death—The Fiction's 11-track album, titled "Quixotic," will finally be released.
On behalf of Fischel, a rotating group of 25 musicians and members of Riot Stage will perform the album in its entirety from top to bottom at the "Quixotic" release show this Saturday at DiPiazza. The night will also feature sets from some of Fischel's favorite bands and past collaborators, including Rothchild, Jared Andrews (of The Meat Flowers), Spare Parts for Broken Hearts, Sutton James, Bert Susanka and Stallion, a Ween tribute band that Fischel, a diehard fan, started.
"The idea of The Fiction was to have a rotating set of musicians that was his fictional band," said Abbie Fischel, his spouse. "I thought we'd turn that on its head and have a rotating set of lead singers because Josh isn't here anymore, and we'd have the Riot Stagers do that. I'm really grateful—I don't think we had a single 'no.' We have people from out of state flying in on their own dime. They're just amazing."
Fischel, who in the early 2000s toured widely with his band, Bargain Music, formed The Fiction a few years after Bargain Music's dissolution in 2006. With himself and musician/producer Kris "Natureboy" Jackson as the fixtures, The Fiction had many different incarnations in its lifespan.
"Anything from a seven-piece band to just me and Josh with synthesizers and drum machines," Jackson said. "It was a really eclectic rock-soul-experimental band with Josh as the singer-songwriter and frontman."
The two of them began the recording project in Jackson's old apartment in Long Beach. The concept was to combine old school and new school recording techniques, pairing drum machines and a digital recording workstation with analog and vintage equipment and instruments. To accomplish this, they launched a Kickstarter campaign in 2011, raising more than $16,000 from 110 backers.
"He wanted to do it like we had a million dollars on a $15,000 budget," Jackson said. "[We had to obtain] all the equipment and microphones we needed, which is one reason it took so long. Everything had to be just perfect. If you know Josh, he's very particular about every aspect from the mix to the parts to the tones to the songwriting, of course."
Other life events interfered with the progress of the album following the Kickstarter campaign, including multiple deaths in his family and the couple's wedding in Montana.
"[But] absolutely his goal was to get it out there in the world," Abbie said. "One of the final promises I made to him was to get it out there because I knew it was important to him."
Recorded primarily in Jackson's home studio, Fork N Spoon Studios, and in Fischel's living room, the two of them set out to experiment with sound in unlimited ways. Jackson recalls one time when they wrapped a microphone in a plastic bag and placed it inside a glass of iced water for a specific filter effect. It didn't end up working, he adds with a laugh, but at least they tried.
Another time, they borrowed a friend's entire vintage keyboard rig, including an organ, a Leslie and a Rhodes. "My whole living room was filled with keyboards for months while we were doing the keyboard parts," Jackson said. "Lots of stuff like that over the years … he's a great producer in his own right."
The album—which features more than a dozen other musicians—was mixed and mastered to completion in late 2013. However, Fischel got hung up on the graphic design; specifically, the font. And as other projects, such as the inaugural Music Tastes Good festival, increasingly demanded more of his attention, the search for the perfect font took a backseat.
"But it was something that was always on his brain," Abbie said. "Even in his final days, there were emails about the artwork he was sending."
When Fischel passed away from liver disease a few days after the festival in the fall of 2016, the task of releasing the album shifted to Jackson and Abbie. They tapped Corey Watson, a good friend of the Fischels and graphic designer for MTG. He suggested stylizing the font after Fischel's own handwriting.
"Josh was super messy," she said, laughing. "He'd leave stuff everywhere. And the things I'd always find were these scribbles of songs or setlists, all these little scribbles with lyrics and stuff written down. Those are some of my treasures now that he's gone … that's what it looks like on the album, like stuff he just threw and left around the house. I think it's a cool memorial to him in that way."
So how will it feel once the album is finally out, after 10 years and thousands of hours in the studio? Jackson, who has been consumed with coordinating rehearsals and ironing out last-minute details, said he honestly hasn't had a chance to think that far ahead.
"I think it's always gonna be bittersweet because, of course, in an ideal world, Josh would be performing with us at the release show and we could keep the band going," he said. "But at least we can get the songs out there, and I know a lot of people really wanna hear it."
The Fiction's debut album "Quixotic" will be available on all digital platforms, and hard copies will be available at Fingerprints Music and at the album release show on Saturday, Jan. 19 at DiPiazza. For more information, visit the Facebook event page.
Support our journalism.
It's been one year since the Long Beach Post began asking you, our readers, to contribute to keeping local journalism alive in the city.
Thousands have contributed over the past year giving an average contribution of $12.39 a month.
Please consider what the news and information you get every day from the Post means to you, and start a recurring monthly contribution now. READ MORE.