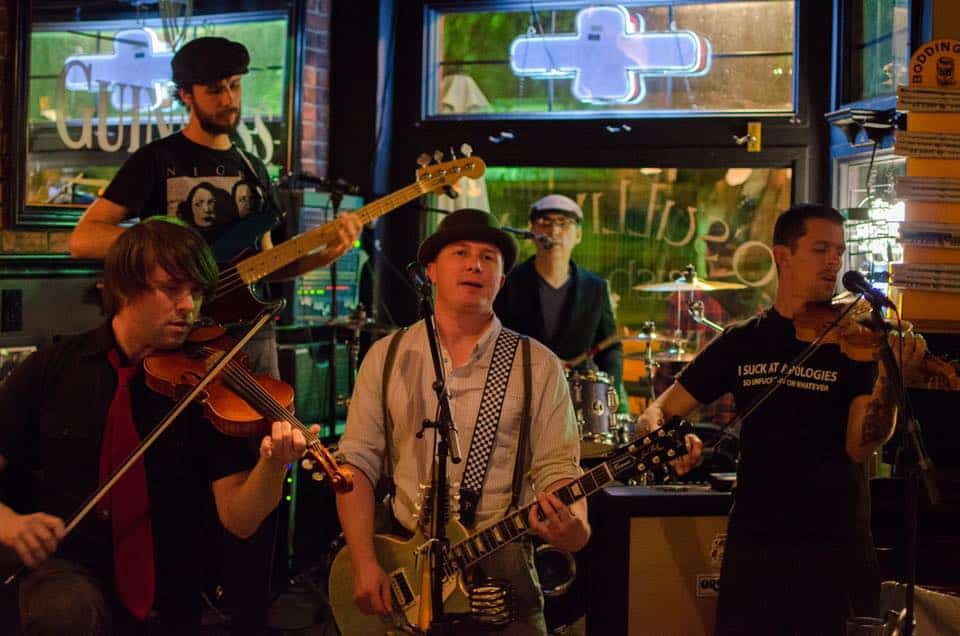 Vagrant Nation and other Irish bands set to sham-rock St. Patrick's Day
For Southern California punk/folk band Vagrant Nation, March means one thing: St. Patrick's Day.
"It's what we call our harvest time," said Chris Hellings, a mandolin and guitar player for the band. "We tell [band members], tell your day job you'll need the weekend off. We've had years when we had to take the whole week off."
The band, which plays Gallagher's on St. Patrick's Day, has its roots sunk deep in both traditional Irish music as well as the Pogues, Flogging Molly and Dropkick Murphy's. Hellings recalls one year when the band played three days of two-a-day gigs on Fremont Street in Las Vegas, then jumped in their cars to return to Southern California for St. Patrick's weekend gigs.
"We'd like to keep that kind of tempo," Hellings said. "We've done some recording and we'd like to get back to full steam ahead."
This year, Vagrant Nation has a more sane schedule, playing Friday night at Silky Sullivan's in Fountain Valley and a Saturday hooley of traditional music at Yorkshire Square. Irish music at a place with as English a name as that; go figure.
On St. Patrick' Day, Sunday, the Nation will be the house band for Gallagher's, playing from breakfast to last call.
While Vagrant Nation will be pumping up the volume at Gallagher's, the folksy Whooligans will be playing at the Auld Dubliner. Shenanigans offers its own take on the day with Flogging Seagulls, which advertises its music as '80s "Shamrock," with Irish instrumentation for music from bands like Eurythmics.
Although Hellings knows the band won't be able to get through the day without several versions of Wild Irish Rose, Irish Rovers and Fields of Athenry, he says the band easily has five or six hours of Irish music in its repertoire and never uses song setlists. Instead, they try to tailor the music to the mood and vibe of the crowd. That might include some jigs and reels, Irish punk or even Social Distortion or Bad Religion with an Irish twist.
The five-piece band was founded by Nick Morgan and, according to Hellings, each member brings unique qualities and training, even if none of them are from the Auld Sod. Band founder Morgan, who plays guitar and some fiddle, comes from a jazz background. Hellings and violin player Seth Hansen, are classically trained, bassist Juan Acosta comes from a metal background and drummer Norm Antonini cut his teeth with '80s cover bands.
When not playing at Gallagher's in Long Beach, the band often plays at the Auld Dubliner in Long Beach or pubs throughout the South Bay and Orange County. They also do the occasional house party, birthday or wedding. Like many such groups, Vagrant Nation has gone through a number of iterations and line-ups and its members also play with other bands, wherever gigs can be had. But Hellings thinks the current line-up is especially solid. So much so that the Army vet quit his day job to concentrate on music.
"We have a group that fits together well," he said. "We don't just want to be just a once-a-year around St. Patrick's Day band. We want to do this every week, learn new material and write new songs. Vagrant Nation has always been my number one band. It's the band I'd really like to see succeed. "
Five places to get your Irish on, on Sunday:
Gallagher's Pub and Grill
2751 E. Broadway
What's on tap (musically): Vagrant Nation (1 p.m.)
For more information, click here.
Auld Dubliner
71 S. Pine Ave., Long Beach
What's on tap (musically): The Whooligans (11 a.m.)
For more information, click here.
Red Leprechaun
4000 E. Anaheim St.
What's on tap (musically): Assorted acts (9 a.m.)
For more information, click here.
Shenanigans Irish Pub & Grille
423 Shoreline Village Drive
What's on tap (musically): Flogging Seagulls (6 p.m.)
For more information, click here.
O'Malley's on Main
140 Main St., Seal Beach
What's on tap (musically): The Lads (6 p.m.)
For more information, click here.
Support our journalism.
It's been one year since the Long Beach Post began asking you, our readers, to contribute to keeping local journalism alive in the city.
Thousands have contributed over the past year giving an average contribution of $12.39 a month.
Please consider what the news and information you get every day from the Post means to you, and start a recurring monthly contribution now. READ MORE.