Yeah Yeah Yeahs, MGMT headline Just Like Heaven festival at Queen Mary, May 4
If you were into poppy electronic/alternative rock between the ages of puberty and quitting your first soul-sucking adult job in the mid-2000s, the newly announced lineup for the Just Like Heaven festival in May probably looks divine.
Phoenix, Yeah Yeah Yeahs, MGMT, Beach House, Passion Pit (touring for the 10th anniversary of Manners, no less), that one band with the annoying whistling song that you're now nostalgic for, and a host of other acts that were on your iPod Mini back in the day are all coming to Long Beach's Queen Mary Events Park on May 4.
It'll be a chance to watch MGMT begrudgingly perform an eight-minute version of "Kids" to make up for the years they refused to play it and realize how few songs by The Faint you actually know despite telling people you've loved them for the last decade. You'll be able to dance your heart out to Miike Snow while spending the last $12 of your tax return on a Modelo. Then sing along to the chorus of "Tear You Apart" by She Wants Revenge even though you used to know every word to that whole record because of that one roommate who loved them back in college.
And all of it will be happening right next to everyone's favorite uber-haunted maritime attraction.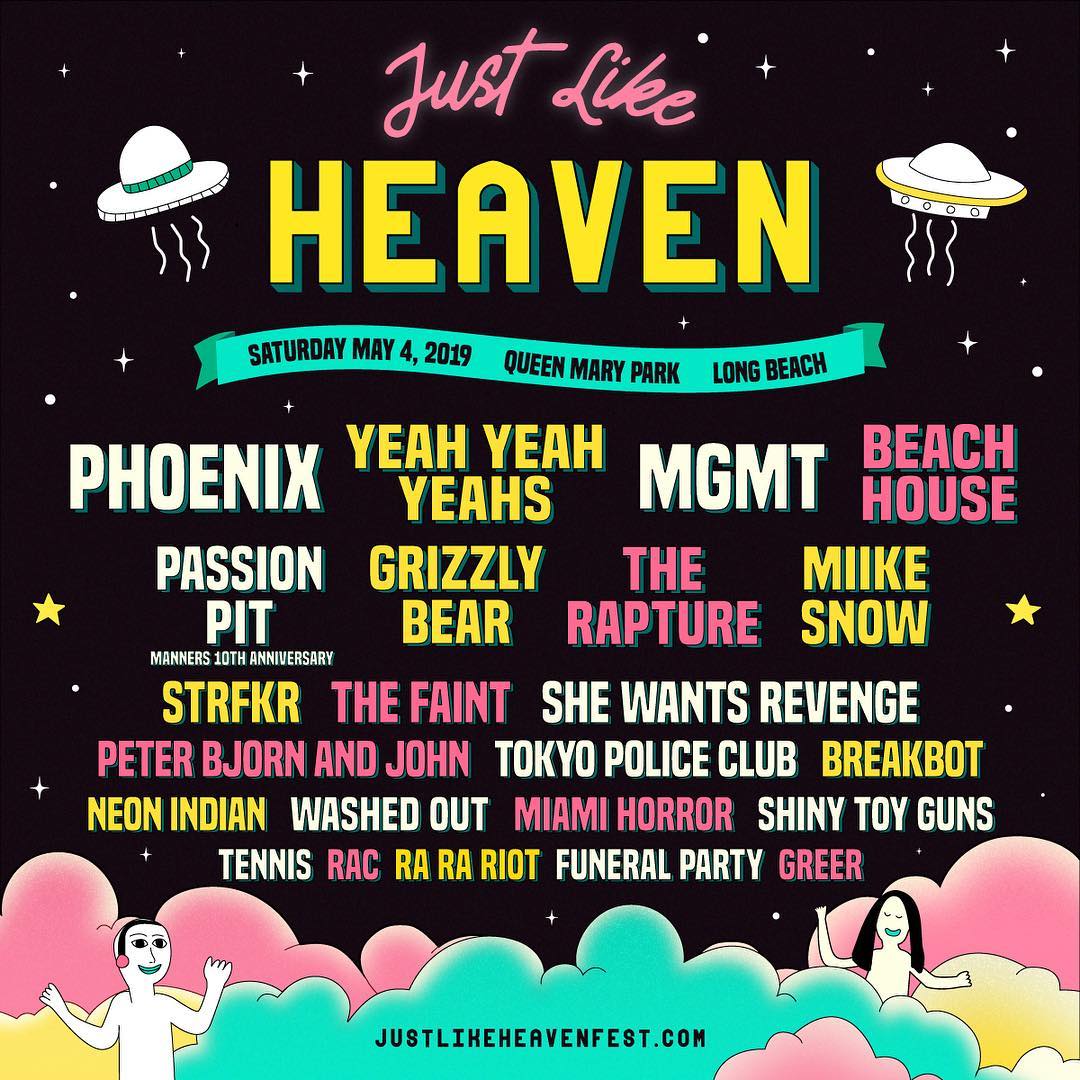 Just Like Heaven will surely be the perfect day-long dose of musical nostalgia while you marvel at how much older your favorite bands, and their fans, look before going home, only to realize you're closing in on how old your parents were when Yeah Yeah Yeahs' Fever to Tell came out, causing you to ponder your own mortality.
As with virtually any festival that size at the Queen Mary these days, those big names come with the type of price tag that only the juggernaut of AEG/Goldenvoice (cue "Imperial March") can bring to the Southland. Of course, the distinct lack of diversity at Just Like Heaven means there probably won't be anywhere near the same level of controversy surrounding it as there was for last year's Tropicalia, but it still would've been a nice opportunity for the massive music empire to pander to the hometown crowd a bit outside of their Summertime in the LBC festival.
But perhaps the widespread geographic lineup will bring in some out-of-state tourists instead of the usual LA/OC crowd that fills Pine Avenue with comments like "It's too expensive to Uber all the way here, but we should totally visit Long Beach more!" and "I haven't been to Long Beach since we took a field trip to the aquarium in third grade." After all, it looks like there are as many acts from both Sweden and France as there are from Southern California so that practically makes Shiny Toy Guns seem as local as Warren G.
Regardless of what kind of crowd it draws, or what issues people take with it, Just Like Heaven shows that AEG is willing to continue to expand its festival offerings in Long Beach, and that's a whole lot better than the alternative. The huge events may not make up entirely for the radius clause hell that Long Beach sits in, but introducing the downtown area to people who've only experienced the city through Snoop Dogg and/or grade school trips can only be a good thing in the long run. For the fans, it's also a much improved non-L.A. option over the zombie apocalypse-like situations that have occurred in the Observatory's Santa Ana parking lot (see: Soulquarius) or the logistical disaster that Oak Canyon Park proved to be.
As for the locals who aren't amused by the ridiculous increase in traffic, trash and drunkeness that comes with festivals, it's an understandable position. But if we're going to have to work three jobs to afford the $3,000 monthly rent to live within earshot of the Queen Mary anyway, we might as well be able to hear Karen O remind us that they don't love us like she loves us while we do it.
Support our journalism.
It's been one year since the Long Beach Post began asking you, our readers, to contribute to keeping local journalism alive in the city.
Thousands have contributed over the past year giving an average contribution of $12.39 a month.
Please consider what the news and information you get every day from the Post means to you, and start a recurring monthly contribution now. READ MORE.