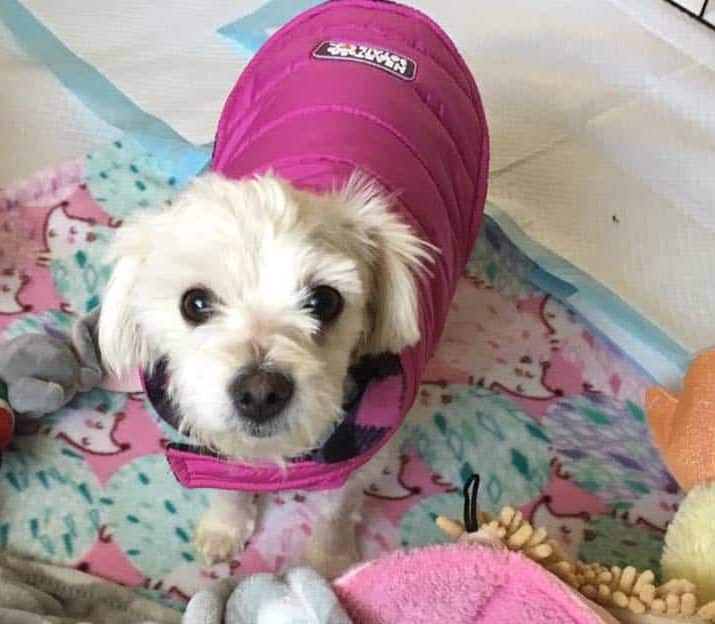 In December 2018, the Long Beach Post broke a story about an animal-cruelty case that one veterinary assistant said was the "worst case I'd seen in 30 years." Little Chloe, a white terrier with some Maltipoo likely mixed in, was found in a dumpster on Dec. 8, nearly dead and coated in garbage and human urine. Someone pulled her out and brought her to a Fix Long Beach volunteer, who rushed her to a veterinary clinic. [Disclosure: I've been an active core volunteer with FLB since 2013.]
Chloe's story has gone viral on TV, radio and news media, so there's a good chance that you're familiar with it. As of this week, the Long Beach Police Department's Violent Crimes Division is following up on leads, and Chloe is staying with a medical foster. The little dog's well-wishers have responded with gifts, goodies and cash donations. Some of them even paid off her entire expensive veterinary bills.
FLB set up a Facebook page, titled Saving Chloe, which chronicles her recovery. Innumerable good wishes and inquiries pour in daily as well as posters' comments about what they want to do to the abuser. For their own sake, it's hoped that the police catch him or her first.
There are requests upon requests to adopt the dog, and there's just one Chloe. Or is there? One active member of the animal community posted the following on Chloe's page:
"While I do so love to see poor little Chloe being spoiled, please remember that there are tons of dogs (and cats, and bunnies, and other pets) that also need to be saved, loved and spoiled, at shelters all over the world. Chloe has a lot of toys and love—please reach out to your local rescues to see how you can help other animals too."
The poster went on to say that she wasn't begrudging Chloe any of the good things she's getting, and neither am I. Chloe has brought out not so much a celebrity cult but hundreds of people from the area and across the country and globe who react the way anyone with enough empathy for anyone voiceless and vulnerable would do.
But most cruelty and neglect cases rarely make it to public attention. When they do, there's a reaction. In August 2018, a dog was found near death in Los Angeles; rescuers named her Precious Cargo. She later died of her injuries at a veterinarian's office—it later transpired that Precious Cargo had been adopted in Orange County and somehow wound up in downtown L.A. People responded with a huge social-media protest and a physical one at the Orange County shelter.
A lesser known case concerns a cat who was abused at only a few months old. He'd been badly beaten, and his little head was slammed against a wall, leaving him with what seems to be a permanent facial deformity. He was taken in by Long Beach Animal Care Services as an abuse case. Cat rescue Helen Sanders CatPAWS stepped up to pay his medical bills, and the cat is now enjoying a safe life with a loving foster. The foster says that the cat doesn't have a mean bone in his body. Go figure.
Chloe is a poster puppy for cruelty in as much as she exemplifies what any helpless creature, animal or human, suffers from deliberate inhumane acts. Last year, there were 27 calls in Long Beach alone and four from Cerritos, one of the cities in LBACS's jurisdiction. There have been two Long Beach cases reported so far this year, and the month isn't over. Shelter Manager Ted Stevens said that every case is investigated, and although some are unfounded or relatively minor, others are serious and are referred to the L.A. County District Attorney or Long Beach's city prosecutor for prosecution, with LBACS's assistance.
Furthermore, the connection between animal cruelty and violence to humans have been so closely linked that they're inarguable. One study reported that 60 percent of domestic violence offenders had also abused animals at some point and that 70 percent of violent offenders in federal prisons had seriously abused animals in the past. Statistics like these, not to mention prodding from animal advocates, led the FBI in 2016 to classify animal abuse as a felony.
As for us animal advocates, it's enough that an animal is deliberately maimed or killed by someone who gets jollies from hurting the helpless. That goes for helpless humans, too—no life is worth more or less than any other (except perhaps fleas, ticks and mosquitoes—there's always a line). But animals don't have a voice, and if they did, their words would shatter hearts everywhere.
Solomon would likely have retreated to the throne room if he'd had to deal with as many claims to the baby of biblical lore as there are numbers of sincere offers to adopt Chloe. Everyone can't have her. Fix Long Beach hopes that people who sincerely want to give her a home would channel their compassion and openheartedness to other pets who so need and would welcome it.
In this spirit, the Saving Chloe page intersperses its reports on Chloe's progress and that of the investigation with photos and bios of other unfortunate pets who need homes. FLB doesn't need to look far–besides their own fosters, there are pets in shelters and rescues everywhere. Friday's adoption column featured Sparky and the Gang's rescue of 72 dogs in a hoarding situation, and I just got word of one more.
The Saving Chloe page will post a date when applications will be accepted. Chloe's spirit hasn't been broken, but it, along with her body, has been damaged. She needs time, and she has that luxury now. Other animals don't. Please wish Chloe well every day, and adopt another pet in her name.
Anyone who may have information regarding this crime should contact the Long Beach Police Department Violent Crimes Detail at (562) 570-7250. Anonymous tips may be submitted through LA Crime Stoppers by calling 1-800-222-TIPS (8477), downloading the "P3 Tips" app to your smart phone (available at the Apple App store and Google Play), or visiting www.lacrimestoppers.org.
Support our journalism.
It's been one year since the Long Beach Post began asking you, our readers, to contribute to keeping local journalism alive in the city.
Thousands have contributed over the past year giving an average contribution of $12.39 a month.
Please consider what the news and information you get every day from the Post means to you, and start a recurring monthly contribution now. READ MORE.