Long Beach is a great city made up of great people. The sum of the many helping the few, our diversity, our drive, and our passion gives this place the potential to be even greater. However, some have the passion and the ability to drive such a diverse crowd in a direction of service, action and greatness.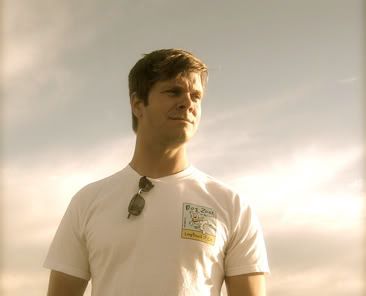 For knowing that everyone can play a role in making Long Beach great; for putting words and ideas into action impacting not one person but thousands of people; for being a public citizen who represents the best in community activism; for being the one who believes that character is all about doing what's right; for being The Explorer, The Dreamer, the person who gives more then he takes, for being the everyday event man for every year events; the LBPOST.com Person of the Year for 2007 is community "do-gooder" Justin Rudd.
One of our many comments below captured what we see in Justin. This comment came from LBPOST.com contributor Dennis Smith:
"Justin Rudd personifies what community involvement and betterment is all about. I do not think the phrase, 'what you should do…' is in Justin's repertoire. Instead with Justin it is 'what can I do?' or 'what will I do?' From Haute Dogs to Beach Clean Ups to community weight loss challenges to parades and more, Justin does not wait for someone to get an idea and then get it started—he just gets it started and finished. If you want to get tired go to his website (www.justinrudd.com) and click through his events and programs and where he is involved. I can think of no one in Long Beach who has given more time and energy to make this city a better place just because he can."
We could not agree more.
Because you can give more of your time and energy to make this city a better place is why Justin is our first Person of the Year. Justin has proved that one person can make a direct and quantifiable difference in the lives of not just one person but thousands of people. Justin inspires and makes us work harder. His programs have made Long Beach a better place, and has forced us to re-think the idea of community activism.
Long Beach needs more doers, and less talkers. We need more Justins.