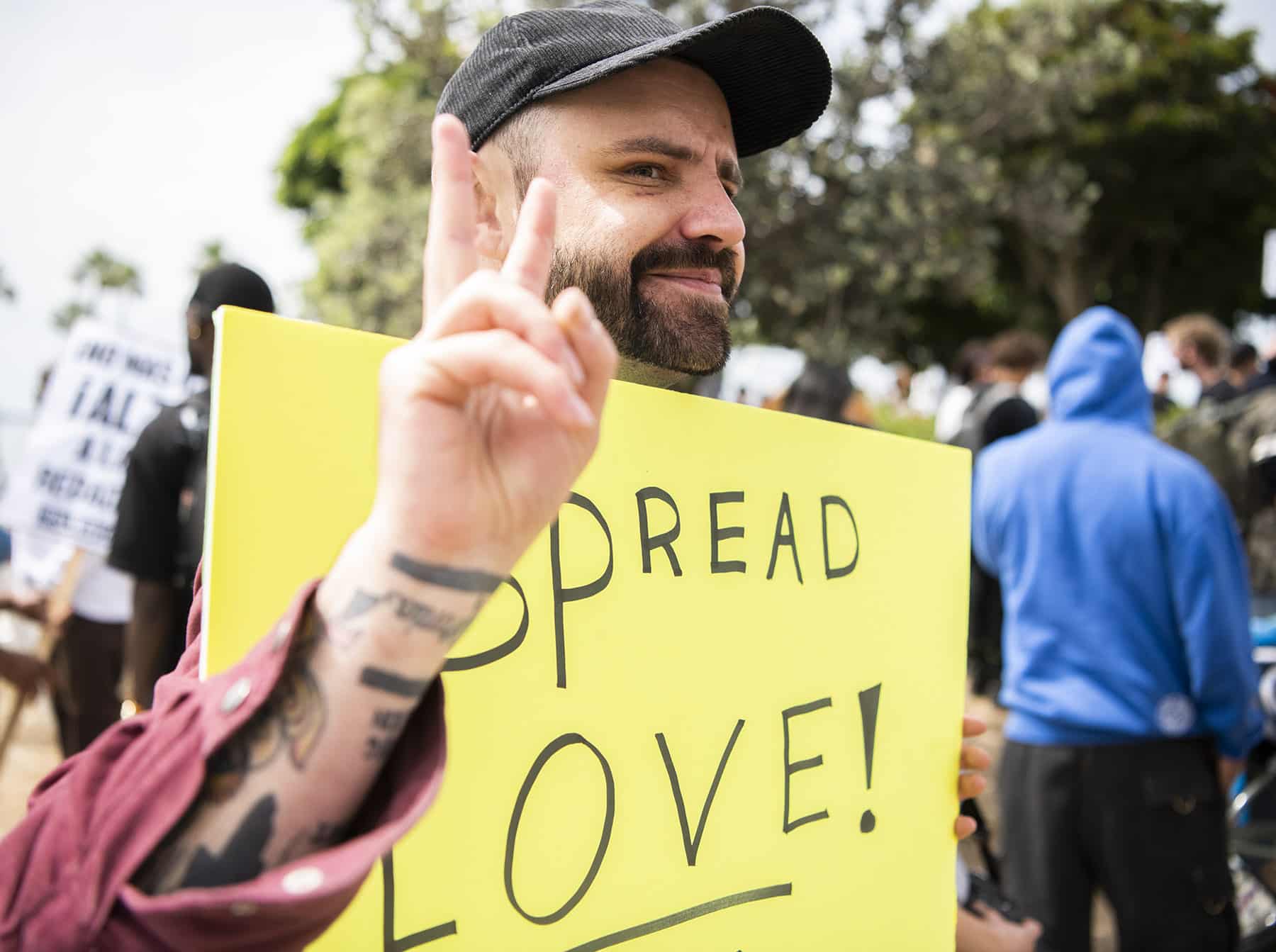 A close call for Long Beach—yet another place where this shouldn't happen
This is the world we live in today, as told by the FBI, when a rumor of a rally in Bluff Park sparked by white nationalists draws a crowd of counter-protesting anti-hate groups along with an accused Jihadist terrorist intent on committing mass murder with an improvised explosive device. That's a lot of ideology to pack into a relatively small park.
This city, at least for a moment in time on Sunday, was again one of the most diverse cities in the country, and I'm not talking about ethnicity or country of origin.
You had people linked to white nationalists, increasingly emboldened by an accommodating president, but still savvy enough to cancel their appearance Sunday at Long Beach's Bluff Park;
you had members of several anti-hate groups, including, presumably, a smattering of socialists.
And you had Mark Steven Domingo, a former U.S. Army infantryman allegedly turned pro-ISIS crackpot, providing the darkest possible undercurrent with his plans (according to the FBI) to plant an IED near the rally in a zealous quest to kill or maim scores of gatherers, who were otherwise unchallenged in their chants of acceptance and love.
Based on court documents, Domingo appears to be, at base, a man bent on murder. Reading through the criminal complaint against him, it was apparent that while he couched much of his rage at Christians and anti-Islamists, he was all over the map in terms of choosing victims of his violence.
He's accused of wanting, for instance, to murder his neighbor as sort of a trial run before a bigger act of mayhem. The complaint mentions him wanting to shoot an LAPD officer through the window of his patrol car and then, perhaps, set the car on fire to destroy its camera and just "make life more difficult" for subsequent investigators.
If the Bluff Park plan didn't pan out, Domingo considered placing the IED at a rally in Huntington Beach, or perhaps the Santa Monica Pier on any given crowded day, according to the FBI.
America is a country where nowhere is safe: Music festivals, movie theaters. Places that have always been sacred havens—churches and schools—are increasingly in headlines as death traps, and they're found frequently in small towns and suburbs "where things like this aren't supposed to happen." Nice places to live: Littleton and Sandy Hook, Squirrel Hill and Sutherland Springs.
The perpetrators cross all lines of ideology, as well, though white supremacists are involved in more cases than their numbers would seem to indicate. And anti-Semitism continues to run rampant as we've just seen in Poway on the last day of Passover.
The FBI said Domingo expressed admiration for the killers involved in Las Vegas and the Boston Marathon. That was the sort of big event he's accused of planning for Long Beach.
And it seems these days as if the world is littered with people like that. They're out there now, holed up in their apartments and motel rooms, squatting near a cache of guns piled up like cordwood, or the cluttered makings of explosive devices, planning America's next horrible event.
Thankfully, Long Beach hasn't been put up on the gruesome map of mass-murder sites, and that's because of the fine work the FBI did in keeping its eye on Domingo from the very outset of his plot and arresting him before he could carry it out, per their court filings.
But this is the world we live in today, where terror can come where you don't expect it—where businesses (including the Long Beach Post) must carry terrorism insurance.
Any place people gather to enjoy whatever it is people enjoy, whether it's running in the streets or seeing a movie or attending a concert or going to church or school.
It's profoundly sad to admit that these days agoraphobia isn't a phobia anymore. It's a survival tactic.
Support our journalism.
Hyperlocal news is an essential force in our democracy, but it costs money to keep an organization like this one alive, and we can't rely on advertiser support alone. That's why we're asking readers like you to support our independent, fact-based journalism. We know you like it—that's why you're here. Help us keep hyperlocal news alive in Long Beach.