Animal Control: Turning A Corner
It was going to cost about $4,000 to have the garage converted into a temporary cat shelter. That would cover air conditioning, walkways and tubes on the wall, and a refrigerator. It was a hefty sum, but Darlene couldn't allow all of the animals she'd scooped off the streets to be put down. They deserved to find homes. But first they'd stay in hers, if she could pay the bill.
"I had two Sea-Doos on a trailer behind the garage," says Darlene, who runs the animal rescue group Kitty Katchers from her home in Lakewood. "I told the contractor, 'They're yours.' And he finished the job for me."
She currently houses twenty kittens and cats, all comfortable in their temporary residence as Darlene tries to find suitable adopters. A TV in the corner of the garage is fixed on Animal Planet.
"This year is the worst," she says. "But it's my passion. I see so many cats dying. We find kittens left out there and dying. It's the same with the dogs."
Darlene has a full-time job, and runs Kitty Katchers in—what is left of—her spare time. She deals with the same problems that any shelter does: diagnosing medical problems, ordering and issuing medicine, purchasing food and generally maintaining the health of her cats. Oh yeah, and a credit card used for vet expenses that's now reached $8,000. Darlene holds on while hopefully awaiting a favorable ruling for her request to be recognized as a 501(c)3 nonprofit, which would make her eligible for grants.
Until then, it's still better than the alternative.
"Unless the animal is lying in the street, [Animal Control] won't do anything," she says. "Someone called me to pick up some stray kittens, and told me that Animal Control just chased them all around the yard until the kittens ran up a tree. Then they gave up. In a way, I'm glad they couldn't do their jobs. Because the kittens would've been euthanized."
*
It's almost hard to believe that some of the things that happened at Long Beach Animal Control actually happened. So when reports of inhumane practices and outright indifference surfaced with a District Weekly report revealing a brutal death that turned out to be the tip of the iceberg, the public was shocked. And angered. There was no shortage of anger.
Some people showed their frustration by commenting on the story, but even more dealt with the disappointment by losing all trust in Animal Control. City Manager Pat West called a press conference to address the issue almost immediately, announcing a major staff overhaul that removed several higher-ups and suddenly left Long Beach Animal Control without a director, and little direction.
So the community took direction. There are several local animal rescue groups, mostly run by people who use their free time and a good chunk of their income to help animals because they love to. In the wake of mistreatment reports, local rescue group leaders took charge and formed the Coalition for Humane Animal Treatment (CHAT). Faced with a problem that seemed to know no depths, CHAT searched for a solution. They found a pretty simple one:

Stop killing animals.
Shortly after organizing, CHAT wrote up a letter urging Animal Control to become a no-kill shelter and e-mailed it to community organizations, all levels of local government and Animal Control itself. The idea came to Lorraine Fishman, founder of the Long Beach Spay & Neuter Foundation and one of CHAT's founders, after attending a seminar that explained the process of turning a shelter into a no-kill.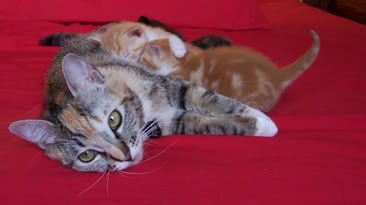 A rescued mother and her kittens. Photo by Diana Lejins
"Previously, you just had to accept the fact that this was going on," she says. "It's not humane. It's not cost-effective. It's just not ok."
The it that Fishman is adamant about changing is Animal Control's penchant for putting animals down. Very adamant.
"If the community knew the truth—the real truth—about what's going on in there, they'd go crazy!" Fishman says. "No one is interested in a place that is basically a killing machine. I always tell people, 'If you don't want the animal to die, don't take it to the shelter.'"
It's language like that, the disgust and rage from the public, that makes John Keisler's stomach churn. Bring up some of the accusations made about LBAC and watch his face genuinely contort with hurt. He doesn't dodge questions and acknowledges mistakes. Keisler—all skinny six-foot-four of him—was working in the office of City Auditor Laura Doud when he was assigned by the city to the interim position of Animal Control Acting Business Manager when the reports surfaced. All of a sudden, Keisler was in charge of an organization that residents were ready to put to sleep.
"It's been tough," he says. "The hardest part is hearing things that are said about the staff, because they work so hard and genuinely love their jobs. I think the main thing is establishing a dialogue with the community, and letting them know that we're here and we're open."
So far, the verdict has been a good one. Even Fishman is a fan.
"John is really trying to clean things up," she says, pointing to Keisler's eagerness to communicate with community groups like CHAT as Animal Control continues the search for a new, full-time director. Sometimes it's as simple as updating the organization website (click here to view it), promoting spay and neuter vouchers, having adoption days or advertising to problem areas of the city.
Without question, all of those things should have been done before.
But they're finally being done.
Fishman and Keisler, and their respective organizations, have been in near constant communication since the search for a new director began. Fishman hoping that CHAT will be included in the decision-making process, Keisler hoping to leave the program in able hands. Still in the exploratory process, both sides are waiting for City Manager West to call the next shot. For his part, West has been open about the process and stresses that he is "eager to engage the community," and Keisler praises West not only for managing the tough questions he's faced with, but also working to get information to the public.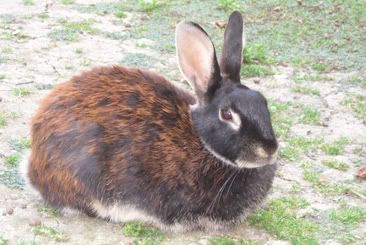 One of the dozens of abandoned rabbits that roam the LBCC campus. Photo by Diana Lejins
The Animal Control debacle is the first crisis that West has had to face since accepting the position in September 2007, so he's new to the situation, too. He and Keisler were just as shocked as everyone else when the accusations surfaced, and they have the same questions and concerns:

How could this be allowed to happen?
Who is responsible?
Was this an individual case or an ongoing problem?
Where does Animal Control go from here?
The difference is that West and Keisler have to find answers. They're both new to the situation and have been visibly hurt by the scandal. Which may make them perfect for the job of fixing it.
And though Fishman speaks favorably of both men, she still points out problems that have yet to be solved:

LBAC is only open from 10am-5:30pm Wednesday through Friday, and 10am-4pm Saturday and Sunday.
Fishman: "By the time you get off work and get down there, they're closed. How are you supposed to adopt?"
Keisler: "It's largely a resource issue, there's always been a demand for more hours. We're taking the first steps by providing 24/7 access to information online."

LBAC has no full-time veterinarian on staff.
Fishman: "They don't even have a vet. They hurriedly got someone attached to them, she doesn't work there."
Keisler: "We have a part-time vet on contract with the city to do on site visits, making sure everything conforms to her liking."

Committing to a No-Kill policy
Fishman: "How do you think the public would feel if they knew that 75 kittens were killed in one day? There was outrage when that dog was killed —that happens all the time! We don't have anything, we have a place to kill animals and we want more."
Keisler: "It's currently 'kitten season' in the city, and we're just flooded. Someone delivered 25 kittens in a box today with upper-respiratory infections. We had to put them down—they can't be introduced to other cats in the shelter in that state. We'll receive hundreds of kittens that we just don't have room for in the next few weeks."

Just looking for a good home. Photo by Diana Lejins
Despite their differences, both sides have been working together to achieve solutions and will share ideas in a meeting between Animal Control and several local rescue groups next week, the search for a new director continues.
Meanwhile, Keisler is making up for lost time by implementing ideas that—in all honesty—should have been in place long before he got the job.
"Right now we're testing the use of PetFinder on our site, and through better promotion hopefully we'll find more volunteers," he says. "You know, if we can't find a home for an animal we'll often pass it off to SPCA or transfer it to a partner agency if they feel they can help it get adopted. If we can do this, we can reduce the number of euthanasias. But it all comes back to the community."
There are still unanswered questions—most notably, SPCA's role and a discrepancy in reported and actual euthanasias performed in the past year—but there is finally some level of transparency and some level of change at Long Beach Animal Control. You just have to wonder, why weren't these efforts made sooner?
Keisler returns your perplexed look.
"You know, some things just aren't as obvious to some people as they are to me and you," he says.
By Ryan ZumMallen, Managing Editor
Support our journalism.
Hyperlocal news is an essential force in our democracy, but it costs money to keep an organization like this one alive, and we can't rely on advertiser support alone. That's why we're asking readers like you to support our independent, fact-based journalism. We know you like it—that's why you're here. Help us keep hyperlocal news alive in Long Beach.