Bike pools were provided yesterday as part of Bike To Work Day, celebrated throughout Los Angeles County to promote healthy lifestyles and encourage alternatives to commute driving. Free Starbucks coffee was offered to riders outside City Hall, and Long Beach Metro and Transit gave free rides to passengers with bicycles or bike helmets.
The Long Beach Cyclists hosted a pit stop at the Belmont Veterans Memorial Pier, and similar stops were held at Portfolio's Coffee House and the Starbucks on Willow Street.
All photos courtesy of City of Long Beach.

Jill Bourget and Dan Rosenfeld of Long Beach Transit, and City of Long Beach Employees Steven Gerhardt and Paul Heuchert participate in Bike to Work Day by taking the Aqualink water taxi to Rainbow Harbor in Downtown Long Beach, and then pedaling to the office.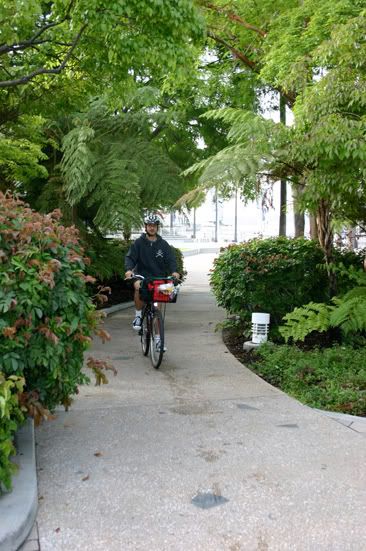 Dan Rosenfeld of Long Beach Transit uses green pedal power to commute to Long Beach Transit.
By Ryan ZumMallen, Managing Editor
Free news isn't cheap.
We're

21%

of the way toward meeting today's goal!
We believe that everyone should have access to important local news, for free.
However, it costs money to keep a local news organization like this one—independently owned and operated here in Long Beach, without the backing of any national corporation—alive.
If independent local news is important to you, please consider supporting us with a monthly or one-time contribution. Read more.