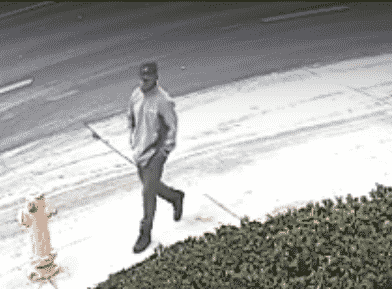 Police search for sexual battery suspect who body-slammed, groped woman
Long Beach police today asked for the public's help identifying a man suspected of attacking and groping a woman on Feb. 26.
The woman was walking at around 7:15 a.m. in an alley near Long Beach Boulevard and Pacific Coast Highway when the suspect struck her on the back of her head with an unknown object and "proceeded to 'body-slam' her onto the ground,'" police said.
Police said the man then reached underneath her clothing and groped her breast.
"The suspect's attack was interrupted when the victim began to yell for help and a bystander came to her aid," police said. "The bystander told the victim to run as he chased after the suspect."
The victim later got medical attention for head pain, according to the LBPD.
Police have released security-camera video of the suspect.
The man is described as Hispanic and in his 20s with a thin build. He was wearing a burgundy baseball cap with a diamond  stitched on the front. The victim described the diamond as a "wedding diamond." He was wearing a gray jacket with black on the sides, dark-colored pants and black shoes.
Anyone with information should contact Det. Adriana Jaurigui at 562-570-7372. Anonymous tips may be submitted through Crime Stoppers by calling 1-800-222-TIPS or visiting www.lacrimestoppers.org.
Free news isn't cheap.
We believe that everyone should have access to important local news, for free.
However, it costs money to keep a local news organization like this one—independently owned and operated here in Long Beach, without the backing of any national corporation—alive.
If independent local news is important to you, please consider supporting us with a monthly or one-time contribution. Read more.