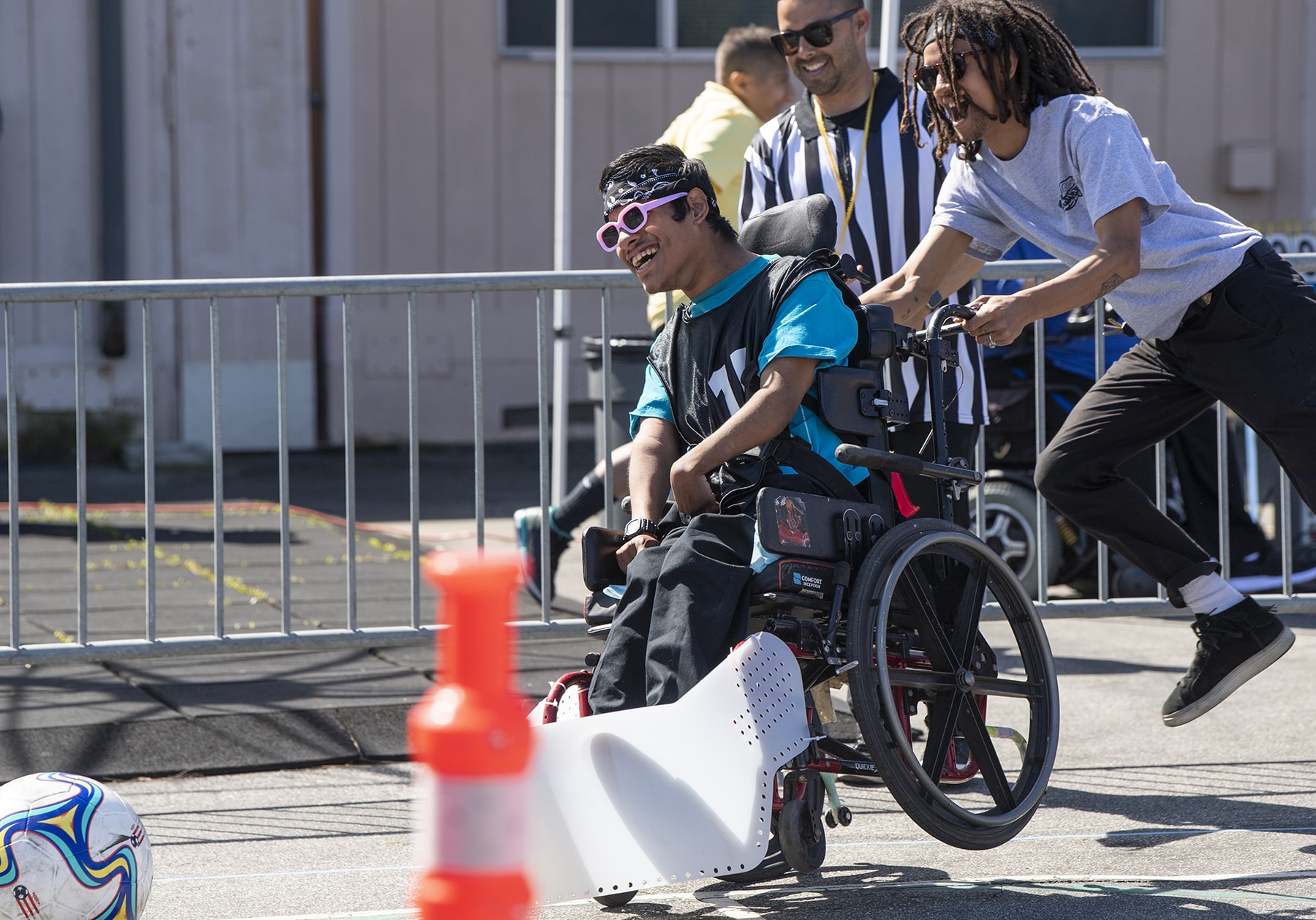 For a few hours on a recent Friday morning, people from all over the city came together to help with one cause: giving young people with disabilities the chance to play a sport.
Students from the Adult Community Transition program were able to play soccer on a team—many for the first time—using wheelchairs pushed by "wingmen," plastic guards to protect their legs and pursuing a giant soccer ball. ACT is a part of Long Beach Unified School District that provides adult students with disabilities training for vocational skills, social skills, mobility skills and independent living skills.
The city loaned the guard rails that would form a court, Sato High School loaned portable bleachers for extra seating and LBUSD maintenance personnel left a meeting early to deliver them in the rain. Clients from a nearby vocational school made the teams' t-shirts, the school district provided the oversized soccer balls and plastic leg guards and the Director of Special Education was a referee.
"Everybody just kept saying yes," said Julie Denmion, a Teacher on Special Assignment at the program, which is based out of Tucker Elementary School.
Denmion had been looking for ways to do something special for the kids, particularly for the ones who are in wheelchairs, to give them "something that was theirs."
"Many kids with disabilities are always on the sidelines watching," she said.
She came up with the idea when she saw an article online about Steve Everett, an elite wheelchair athlete in Long Beach who is the Western Regional Director for the Power Soccer Association. She contacted him and he helped her plan out how ACT students could play soccer. They modified the game so everyone could play, Denmion said.
"People think they can't, but it isn't that they can't, they just need somebody to come up with a way they can," she said.
Teams of students played two games, with upwards of 100 people at each game. Kindergartners from a special education class from Buffum Elementary School also came to watch and support the older students.
"You saw parents who don't really get to see their kids do things like that," Denmion said. "You saw joy on their faces."
Denmion is working to make sure this isn't the last game for her students and to possibly make it a district-wide sport and program for her students.
Valerie Osier is a breaking news reporter for the Long Beach Post. Reach her at [email protected] or on Twitter @ValerieOsier
Support our journalism.
It's been one year since the Long Beach Post began asking you, our readers, to contribute to keeping local journalism alive in the city.
Thousands have contributed over the past year giving an average contribution of $12.39 a month.
Please consider what the news and information you get every day from the Post means to you, and start a recurring monthly contribution now. READ MORE.