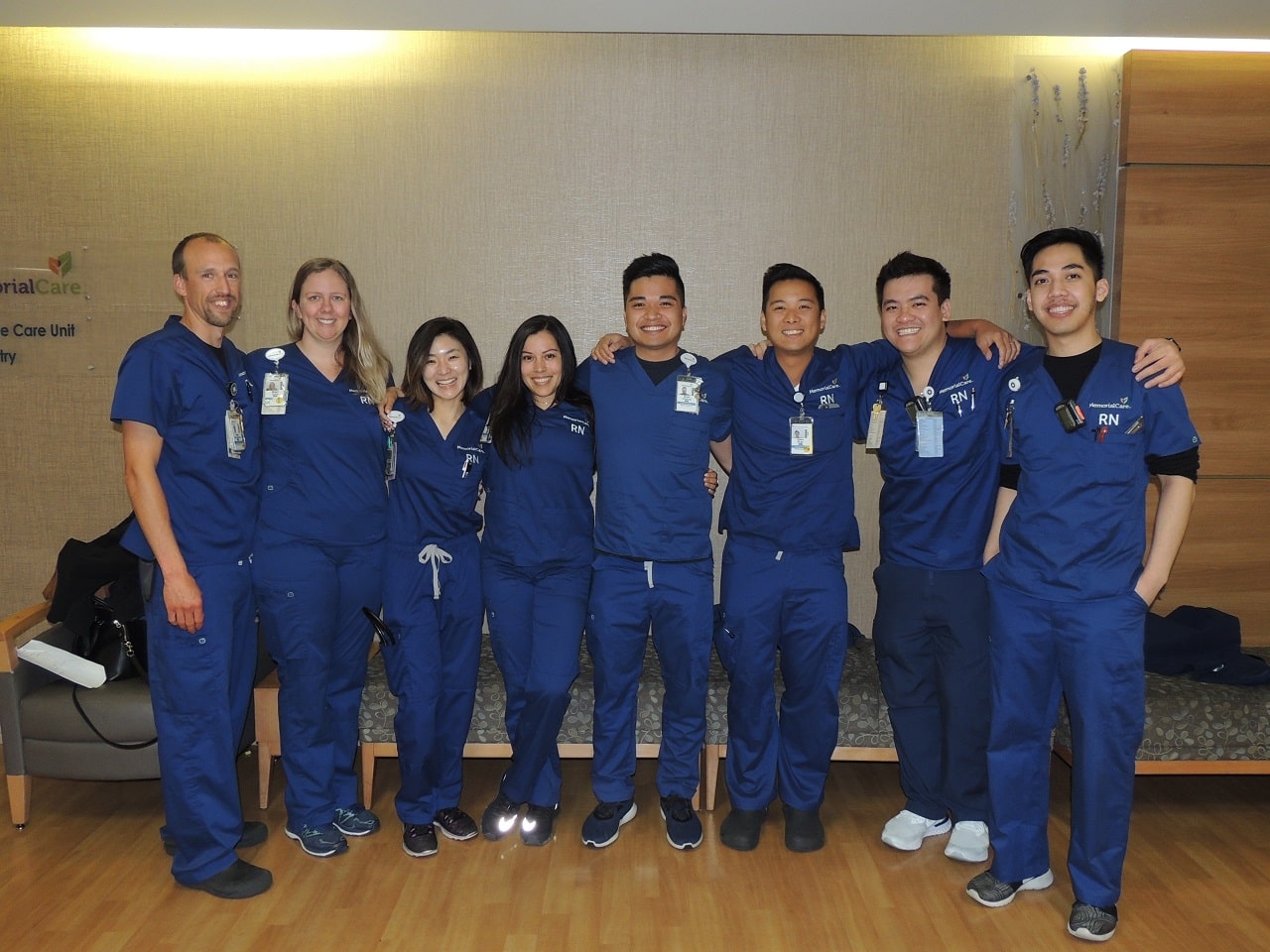 Dedicated stroke nurses make every minute count for patient
The care of a stroke patient involves a variety of specialists and departments. With multiple people affecting the outcome of one patient – and in a short amount of time – the stroke nurse has the complex role of keeping all of the pieces together.
Each shift, there is a designated stroke nurse, who is specially trained in neurologic and critical care. About 30 nurses make up the team that operates 24/7.
"The stroke nurse is equipped with a 'stroke phone,' which can ring at any moment," says Vanessa Daniels, RN, stroke nurse, Comprehensive Stroke Center, Long Beach Medical Center. "Calls can come in from the emergency department (ED) with a patient from the community or transferring from another hospital with a patient requiring a higher level of care. Once the stroke phone goes off, so does our adrenaline, since every second counts!"
That initial call sets off a chain of rapid events. Upon arrival to the ED, a multi-disciplinary care team, including the stroke nurse, works quickly to get the patients vital signs, blood drawn, and complete the National Institutes of Health (NIH) Stroke Scale.
"The scale uses a series of assessments to identify stroke symptoms and narrow down the size and location of the stroke in the brain," says Angela West, MSN, RN, CCRN-K, ANVP, SCRN, program director, Comprehensive Stroke Center, Long Beach Medical Center. "Assessments look at levels of consciousness, motor, sensory, vision, speech and coordination capabilities. Our stroke nurses are experts in the NIH Stroke Scale and use it to discuss and anticipate treatment plans with the care team, especially in the early hours of stroke onset."
After the initial assessment, the patient is quickly taken for a 320 slice CT scan, which can diagnose areas of the brain affected in minutes. The stroke nurse joins a radiologist and neurologist to get a final impression of the scan.
"If there is evidence of salvageable brain tissue, we rush to get the patient ready for a thrombectomy with our Interventional Neuroradiology team," says Daniels. "This is a procedure, which uses live x-ray machines to carefully thread a catheter to the point of blockage in the brain in an attempt to remove it and restore blood flow."
Stroke nurses use the evidence-based goal of providing the thrombectomy procedure within 90 minutes of the patient arriving through the ED doors.
"Once we decide to proceed, another team is there ready to fight against time and save brain cells," says Daniels. "As stroke nurses, we do anything to help the team complete the procedure as safely and efficiently as possible."
Those first 90 minutes are critical to ensuring a positive outcome. The procedure to remove the clot can be life-saving, but the stroke nurse's job is never done. Just as one patient is expected to make a recovery, the stroke phone can ring again – and off they go!
Support our journalism.
Hyperlocal news is an essential force in our democracy, but it costs money to keep an organization like this one alive, and we can't rely on advertiser support alone. That's why we're asking readers like you to support our independent, fact-based journalism. We know you like it—that's why you're here. Help us keep hyperlocal news alive in Long Beach.