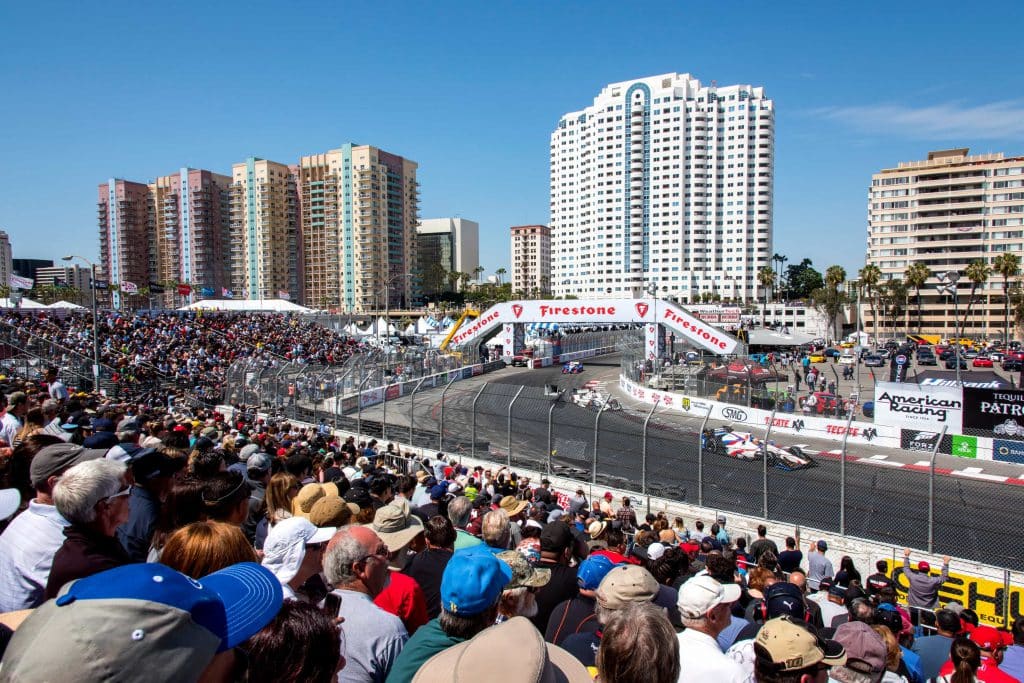 Here's why you may see anti-human trafficking activists at the Grand Prix
A photo of a man in a bright neon-yellow T-shirt flashed onto the projector screen at a recent Long Beach Human Trafficking Task Force meeting. The back of the shirt said, "GIRLS direct to your room in 15 minutes," with a phone number.
The photo was taken at last year's Grand Prix—feet away from where the task force had set up an information table.
"People may not even know that that situation is potentially a human trafficking situation," said Mary Silvestri, a retired attorney and part of the ESTHER ministry at St. Joseph's Catholic Church. She's a member of the task force.
Silvestri clarified that they don't know who the man was and don't know of any specific incidents of human trafficking at the Grand Prix, but she said that the Grand Prix is a large sporting event that could "lend itself to something like that."
"It's a situation where there's going to be a lot of out-of-town people," Silvestri said. "And people want to have fun, and different people define fun in, well, different ways."
The Super Bowl and other large events are often targets for human trafficking sting operations, although experts are quick to point out that it happens every day too.
"Human trafficking occurs year-round and worldwide, from major cities to small towns, and it can spike during major events," Silvestri said.
Long Beach Police Department spokeswoman Jennifer De Prez said human trafficking has not been an issue at the Grand Prix in the past and "the task force's participation is not a reactive response to the presence of human trafficking at the Grand Prix."
This is the third year the task force will have an official presence at the race. With upwards of 200,000 people coming into town, its the perfect opportunity to educate the community about the $150-billion-a-year industry that is human trafficking, Silvestri said.
"Grand Prix volunteers will tell people how to identify the signs of human trafficking and provide answers to any questions," Silvestri said. "Even though people will be busy with many other Grand Prix activities, awareness is key."
In past years, volunteers have seen parents usher their kids away from their table, for fear of exposing them to the idea of trafficked humans. Silvestri noted that the task force isn't trying to bring a cloud over what many see as a fun, family weekend, but they want to educate people about their cause. At the meeting, volunteers even discussed how the posters were specifically designed this year to not appear threatening.
"Our goal is to keep the community safe," she said.
Volunteers will be comprised of people from about 50 different organizations that are involved in the task force.
The task force volunteers will be stationed outside the Renaissance Hotel, which has donated space for the volunteers to store their equipment in support of their cause. Silvestri wanted to make it clear: "I don't want people to think were protesting the hotel."
Support our journalism.
Hyperlocal news is an essential force in our democracy, but it costs money to keep an organization like this one alive, and we can't rely on advertiser support alone. That's why we're asking readers like you to support our independent, fact-based journalism. We know you like it—that's why you're here. Help us keep hyperlocal news alive in Long Beach.