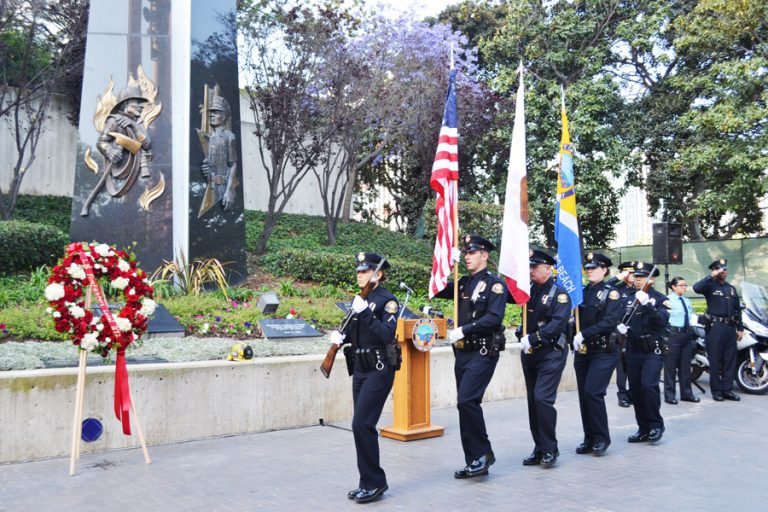 New monument honoring fallen first responders approved by City Council
A new $700,000 monument dedicated to fallen Long Beach police and fire personnel was approved by the City Council Tuesday night as it prepares for a Sept. 11 rededication ceremony at the new civic center.
Penwal Industries, a Rancho Cucamonga-based company, was granted the contract. It has completed projects at San Juan Capistrano Mission, Los Angeles International Airport and Mann's Chinese Theater. The installation of the new monument is expected to be completed before a planned dedication ceremony on Sept. 11, 2019.
The new monument will be installed on the southwestern corner of the new civic center just outside the yet to be opened civic chambers where the City Council will hold future meetings. Tuesday's vote came on the same day that police and fire personnel held their annual remembrance of those lost in the line of duty.
An old obelisk monument, located on the civic center property, had to be removed to make way for demolition and construction crews as they work to complete the new City Hall that is slated to open this summer. The new design will be made of bronze interlocking triangles meant to represent the folded American Flags presented to families when service members are laid to rest.
Each triangle will be inscribed with the name of the fallen officer or firefighter, the department shield and the year of their death.
"The plaques are assembled into a porous screen-like structure that relies upon the connection of the plaques for strength," the director of public works wrote in a memo to the City Council this month. "Intentionally intermingled, the Police and Fire plaques convey cumulative strength of their service."
The cost of the monument is not to exceed $687,000, with much of that funding ($500,000) coming from the public works capital improvement fund. The remaining $187,000 is expected to come from the city manager office funding for special advertising and promotions as well as donations from the Long Beach Area Chamber of Commerce ($30,000), Friends of Long Beach Fire Fighters ($19,000) and the Long Beach Police Association ($15,000).
Jason Ruiz covers City Hall and politics for the Long Beach Post. Reach him at [email protected] or @JasonRuiz__LB on Twitter.
Support our journalism.
It's been one year since the Long Beach Post began asking you, our readers, to contribute to keeping local journalism alive in the city.
Thousands have contributed over the past year giving an average contribution of $12.39 a month.
Please consider what the news and information you get every day from the Post means to you, and start a recurring monthly contribution now. READ MORE.