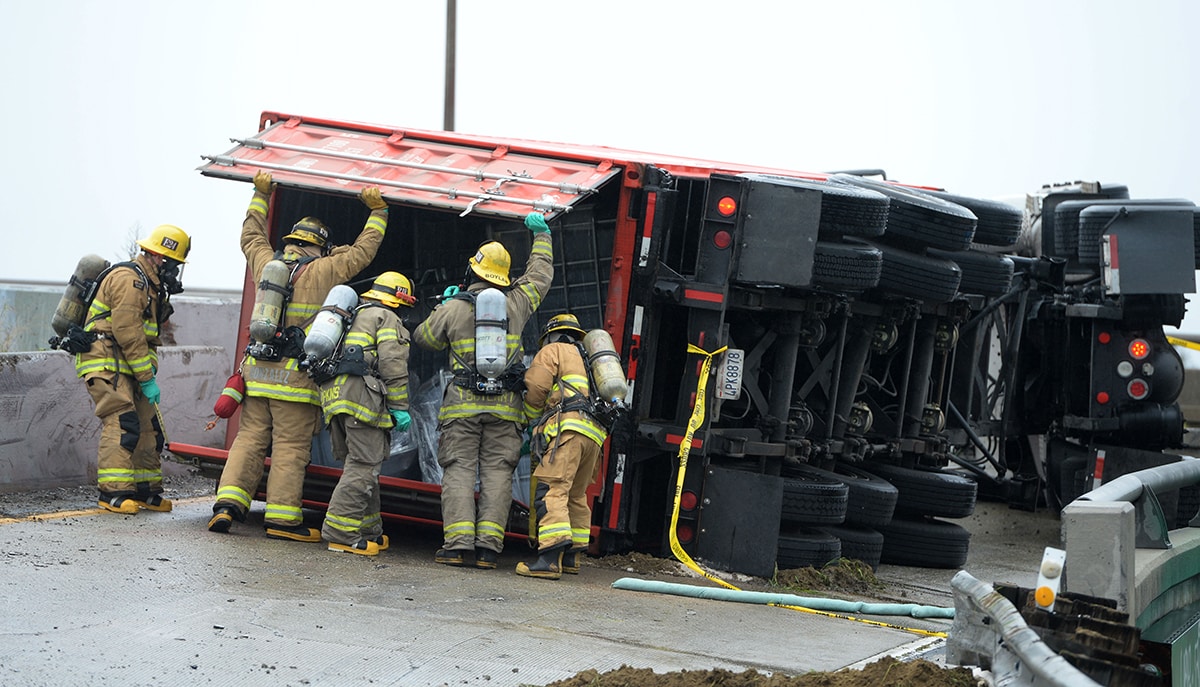 Overturned big rig spills on 710-to-405 ramp, causing hours-long shutdown
A big rig truck overturned on the ramp connecting the northbound 710 and southbound 405 freeways Wednesday morning causing an hours-long shutdown of the ramp. The wreck also spilled a chemical from the trailer onto the rain-soaked road.
According to the California Highway Patrol, the contents of the truck, Tolyltriazole, started leaking and mixing with rain water runoff. Tolyltriazole is widely used as an anti-corrosive in coolants and hydraulic fluids.
The Long Beach Fire Department hazmat team put up dams to stop the flow of the substance in the afternoon.
The trailer was leaking the chemical at an estimated rate of two to three gallons per minute, LBFD spokesman Jake Heflin said. The container capacity is about 2,500 to 3,000 gallons and an estimated 20 gallons of the liquid washed into a nearby storm drain before it could be stopped, a CHP spokesman said.
The truck overturned when it drove onto the curving ramp too fast with the heavy liquid load, the CHP said in the collision report.
"The sudden brake and turn to negotiate the curve caused the liquid load to shift causing the trailer, and subsequently the tractor, to roll onto its side," the report said.
The truck was the only vehicle involved in the incident and the driver walked away with minor abrasions to the head, according to the report.
LBFD estimates the on-ramp will be closed until about 7 p.m. while crews clean up the mess.
Editor's note: This story has been updated to reflect the accurate number of gallons of liquid that spilled onto the roadway and to add more details on how the truck overturned.
Valerie Osier is a breaking news reporter for the Long Beach Post. Reach her at [email protected] or on Twitter @ValerieOsier
Support our journalism.
It's been one year since the Long Beach Post began asking you, our readers, to contribute to keeping local journalism alive in the city.
Thousands have contributed over the past year giving an average contribution of $12.39 a month.
Please consider what the news and information you get every day from the Post means to you, and start a recurring monthly contribution now. READ MORE.