'Tis still the season to give a shelter pet a home
Christmas may have been marked off on the calendar, but it's still the holiday season. Translated into rescue, there's still time to bring a pet home for the holidays. The best place to start looking is in our shelter at Long Beach Animal Care Services. It's not only because Animal Care Services has the most meme-inspiring cats or faithful dogs or cottoniest-tailed rabbits—every shelter, rescue and personal living space does. It's because you'll not just be getting a friend—you'll be saving a life, too.
Long Beach Animal Care Services is a municipal shelter funded by taxpayers and functioning as the city's animal control. As an open-admissions facility, they are obliged to accept any animal brought in, regardless of temperament, breed or mixture, state of health or age. Sounds like an ideal democracy, but it's more like a scenario for overcrowding and an overworked staff. And sadly, yes—even though the director, staff and volunteers knock themselves out trying to rehome every single creature in the place, any of them could be euthanized if the shelter runs out of options.
That's why you need to go into the shelter before you look anywhere else. If you bond with a shelter pet, you'll give an animal the opportunity to lead a full life, and there will be a space for the next pet to come in. If you adopt two of them, even better.
Long Beach Animal Care Services shares space with spcaLA, a privately funded rescue, at the P.D. Pitchford Companion Animal Village at 7700 E. Spring St. It can get a little confusing inside as to which entity is where, so ask a volunteer or staff member to point you in the direction of the shelter animals first. Here are five representatives:
Christmas is over, but apparently not officially. Commercials are still flashing gift-wrapped cars to surprise people likely out of our class on Christmas morning, stores still have their trees and decorations up, and just the other day, the Frank Sinatra Christmas album played in its entirety while we were having breakfast out. So, I don't have any reservations about offering the old holiday gift coupon again. Besides, it's the sixth night of Hanukkah, and the shelter's open tomorrow and Sunday. When your family member or friend finds their new buddy, you pay the adoption fee and maybe throw in a bling-y collar or a scratching post as a bow to the furniture.

Or make a resolution: this year, I'll adopt an animal and make at least their year promising. Of course, you don't need a holiday as a reason to adopt a pet. That'll make any day special.
Peaches (ID#636347) is a 3-year-old female German shepherd that loves to place fetch. Watch her attempt to wear out volunteer Ricky!This black-haired beauty has endless amounts of energy and is looking for an outgoing and fun owner. In return, she'll reward you with endless amounts of love and affection!
Phil (ID#A636319) is a 4-month-old male domestic shorthair kitten. He's a curious little lad full of wonder and surprises. He loves to play with anything lying about and will make himself at home in any situation. He's ready to fill your home with absolute love. See Phil in action in the 12 days of Christmas cats video–well! You have what, nine more days?
Things to do, pets to support
Please send any Long Beach or Seal Beach pet-related events or projects to [email protected]. Posting subject to approval.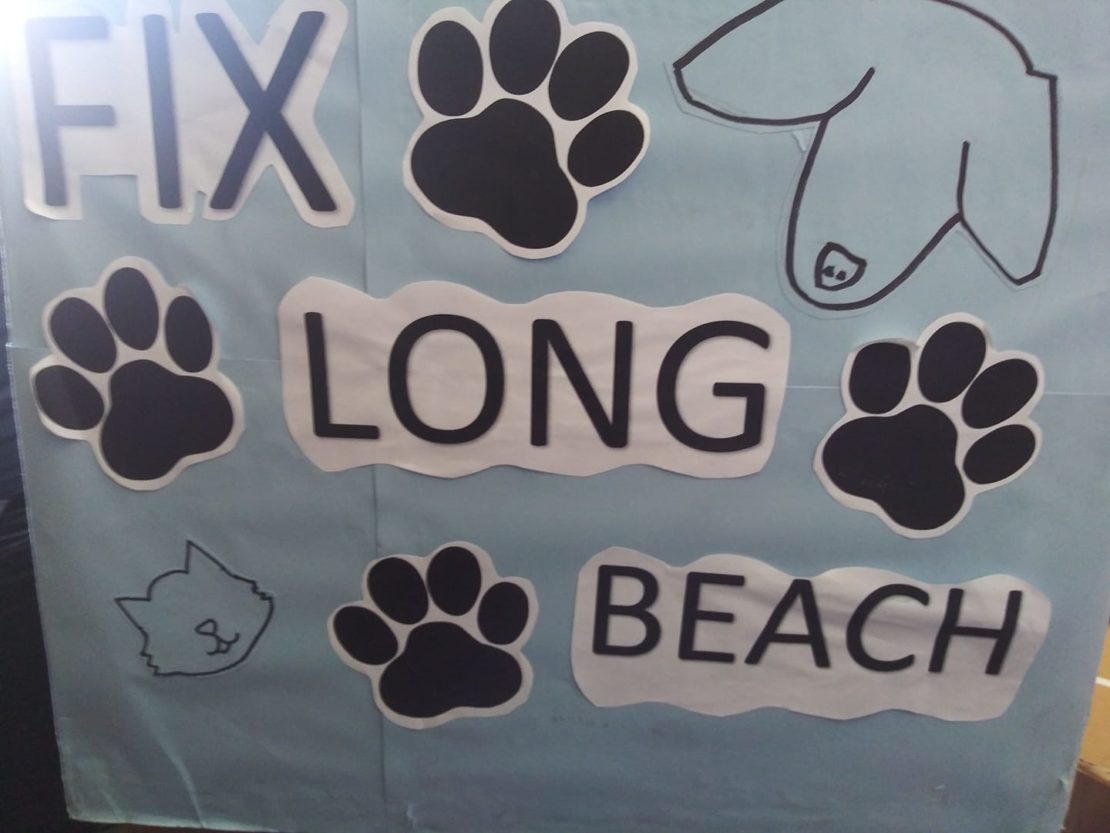 Events
Fix Long Beach vaccine/information mini-clinic: Saturday, Jan. 4, 11 a.m.–4 p.m., Somerset Park, 1500 E. Carson St., Long Beach, free
January's clinic will not have a spay/neuter truck, but Fix will be there with spay/neuter vouchers, $10 vaccines (no rabies this time), free microchips and $5 nail trimming. Good time for a visit with the organization.
Movie Night, featuring 'The Aristocats': Thursday, Jan. 16, 6:30–8:30 p.m., Feline Good Social Club, 301 Atlantic Ave., Long Beach, tickets $20 online
The Feline Good Social Club has become a regular activity center! The cats in residence have chosen the film "The Aristocats" and are looking forward to sharing popcorn with friends and batting it across the room. Feel free to bring your own human treats as well.
Sound Healing Workshop: Sunday, Jan. 19, Feline Good Social Club, 301 Atlantic Ave., Long Beach, $25 online reservation
It's not as if purring weren't enough to heal the frayed psyche, but sometimes, it needs some help. This unique workshop presented by Illuminate Life, a partner with Sound Healing, uses bowls, chimes, drums and a didgeridoo (fits right in and fun as heck to spell) to get your blood pressure down, your thoughts squared away, and your memory bank accessed. The cats do the rest. More information available here.

Calendars
The 2020 pet calendars are ready to wag in the new year, with favorite pinups on each month.
Helen Sanders CatPAWS Show Us Your Kitties calendar: $10 each, available here.
Southern California Bulldog Rescue Ador-a-bull Calendar: $25 each, available here.
Seal Beach Animal Care Center 2020 Calendar: available here in mid-November.
Has your dog been waiting for that walk down the runway? Has your cat been waiting to be discovered as the star they know they are?  It is now their time to shine! The 13 cats and 13 dogs with the most votes will become a monthly model, with the top cat and top dog as cover pets. Whether you're a winner or a beloved entrant, the pets at Seal Beach Animal Care Center will profit from your entry—all funds will go to their care. Details available here.
Shelter Shenanigans
The shelter needs volunteers, like, yesterday. Animals need socializing for adoption, doggies need baths and walkies, events need attendance and gaps need to be filled where there are more needs than humans to fill them. If you want to make a real difference, fill out an application here and attend a volunteer orientation meeting.
Have an overnight with a kitty with Foster Fridays! The shelter has kittens coming out of the walls—literally. The shelter manager constantly has a few in her office! The shelter is at capacity, especially where cats are concerned, so fosters are sorely needed. Every Friday from 2-5 p.m., shelter staff is inviting residents who have the necessary accommodations—a safe space, time to feed them and play with them, and a propensity to say "Awwww!" every 15 minutes—to take a healthy, weaned kitten home for a while. Shelter will provide food, litter and a carrier and will cover any offsite medical. Time commitment is two weeks, with an option to adopt—of course! Foster fail! Have questions? Contact the shelter director at [email protected].
Other/ongoing
 Cats and Mats Yoga: Feline Good Social Club, 301 Atlantic Ave., Long Beach, every Saturday, 11 a.m.–noon and 5:30–6:30 p.m., $20 per person
Can you side-plank on a mat? Can you do it with a cat? That's the idea at Long Beach's Feline Good Social Club, where you can have their resident kitties join you in asanas, which is really the best way! Bring a mat and wear comfy clothes that you don't mind getting fur on. For ages 10 and up. Schedule available here. Reservations are recommended and may be made on the events page.
Instructional Pack Walk: First Saturday of the month, 10–11 a.m., Bixby Park, 130 Cherry Ave., Long Beach, free, donations accepted
The public is invited to take part in a walk sponsored by Trot's Dog Walking and Training that will help you and your best buddy learn proper leash manners and focus on each other instead of the distractions of the "real world." Trot's experienced pack leaders are there to guide you through the process. Meet at the park at the corner of Ocean and Junipero at 10am.
Donations accepted for Pets of the Homeless
Pets of the Homeless' home page gives a self-description as the only organization focusing only on providing food and care for pets belonging to homeless people. Businesses and other organizations across the country receive in-kind donations of food and other needs that the dogs and cats' human families can pick up at outreach locations. The following Long Beach businesses will accept your donations:
Trendi Pawz, 3726 E. Seventh St., Long Beach
Belmont Heights Animal Hospital, 255 Redondo Ave., Long Beach
Paw Shoppe Pet Center, Inc., 6416 E. Spring St., Long Beach
Food and supplies are available at Beacon for Him Ministries, 1535 Gundry Ave. Long Beach, Mondays from 9 a.m. to noon and Saturdays from noon to 3 p.m.; and at Christian Outreach in Action, 515 E. Third St., Long Beach, Thursday from 9 to 11 a.m. Donations will be gratefully accepted at these locations as well.
Adopt, adopt, adopt
The following pet-related businesses regularly feature cat, dog and rabbit adoptions. If you're a Long Beach-area rescue and don't see your adoption event listed here, please email [email protected]. Click on the links for each rescue in case of updates or changes.
Chase Bank, 5200 E. Second St., Long Beach
The Farmer's Marketplace of Long Beach, 5000 E. Spring St. (Spring and Clark), Long Beach
Gelson's Market, 6255 E. Second St.
Kahoots Pet Store, 18681 Main St. #102, Huntington Beach
Pet Food Express, 4220 Long Beach Blvd., Long Beach:
PetSmart Cerritos, 12741 Towne Center Drive, Cerritos
PetSmart Compton, 1775 South Alameda St., Compton
PetSmart Garden Grove, 9835 Chapman Ave., Garden Grove
PetSmart, Long Beach Exchange, 3871 N. Lakewood Blvd., Long Beach
PetSmart Seal Beach, 12341 Seal Beach Blvd., Seal Beach.
PetSmart Signal Hill, 2550 Cherry Ave., Signal Hill
PetSmart Towne Center, 7631 Carson Blvd., Long Beach
Unleashed by Petco, 600 Redondo Ave.
Support our journalism.
Hyperlocal news is an essential force in our democracy, but it costs money to keep an organization like this one alive, and we can't rely on advertiser support alone. That's why we're asking readers like you to support our independent, fact-based journalism. We know you like it—that's why you're here. Help us keep hyperlocal news alive in Long Beach.