First – I apologize for the gap in my columns. Big changes have been brewing – Melissa and I got married (note to self: tell Ryan to update my bio). Getting ready for the wedding and then getting caught up from the honeymoon took time away from my writing.
Now, bring on the food!
One of my favorite meals is small plates with wine and shared with others. More and more of my meals are eaten in this way. It's one of the things I loved about traveling through Spain – excellent tapas with good beer and wine. But you do not have to leave Long Beach to have that wonderful experience. In fact, great food like this is as close as Bixby Knolls.
La Vineria Italiana is a wonderful new addition to the culinary scene in Long Beach. It inhabits a brand new, sleek and modern space on Atlantic Boulevard, just South of Carson. It's a welcome addition to the Bixby Knolls's dining scene.
La Vineria Italiana is also unique in Long Beach. It is the product of two Italian born sommeliers: Davide Visentin and Riccardo Del Santo, who also serves as the chef.
Several things make this place unique. First, they only serve Italian wines. Riccardo says that you can sit at his bar and visit every region and taste all of the varietals of Italy. I have not completed my tour yet, but I intend to do so soon! Turn yourself over to them and let these experts help you find a new favorite wine. If you like white wines, let me suggest the Sauvignon Valentino Botussi 07 – a sauvignon blanc unlike any that I have ever experienced. The aroma reminds me more of a good Riesling or Albarino – a huge peachy nose but a crisp, clean and dry finish. The acid to clean your palette makes it a perfect choice to accompany your cheese course. Melissa would suggest a Primitive Rosa del Golfo if you prefer a red wine. But these are only two of dozens of good choices. It will take you many trips here to be able to try all the good wines they have to offer.
Melissa and I have sat at the bar every time and have had the opportunity to talk with Riccardo and try a few samples until we find a wine we really enjoyed. They have a state of the art wine dispenser which allows them to have a huge number of wines available by the glass and to taste – and it looks great as well!
But enough about wine – on to the cheese.
La Vineria Italiana has a wonderful cheese plate with – yes, you guessed it – a wide range of Italian cheeses served with endive leaves filled with reductions and sauces. The truffle honey is amazing. But even better than the cheese plate, is the prosciotto di parma with burrata. It is a revelation. The burrata is a soft and creamy cheese, served with basil infused olive oil and surrounded by a select imported prosciutto that Riccardo assures me you cannot find anywhere else in California. This is a must try. But do not stop here. There are other great salads and antipasti to try – but I will have a hard time passing up the burrata. Melissa and I have tried to get the octopus salad on each visit only to be told it is sold out. We'll keep trying!
One other important thing to for you to know is that all the pasta they serve is made in house. The tagliolini with Amatriciana sauce is wonderful – with pork cheek and tomatoes. The cherry tomato and basil sauce is an excellent version of a classic tomato basil sauce – simple flavors prepared perfectly.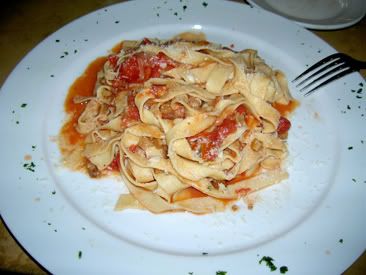 The pizzas are also a good choice. In fact, the pizza oven is one of the dominant features of the room – along with some interesting prints of a Vespa and other Italian scenes.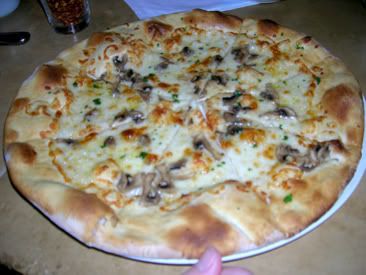 If you have room for dessert, they have a small selection of homemade deserts. The one time we had it, we had a chocolate panacotta which was an interesting twist on traditional Italian custard and quite good.
To sum up – I love this place and I think you will too. Sit at the bar, ask for a wine recommendation and order some cheese with your wine!
La Vineria Italiana
4020 Atlantic Ave
Long Beach, CA 90807
562.988.9500
www.lavineriaitaliana.com
For my next column: Have some MORE cheese with your wine! Tell me what you think!
{loadposition bottomshare}