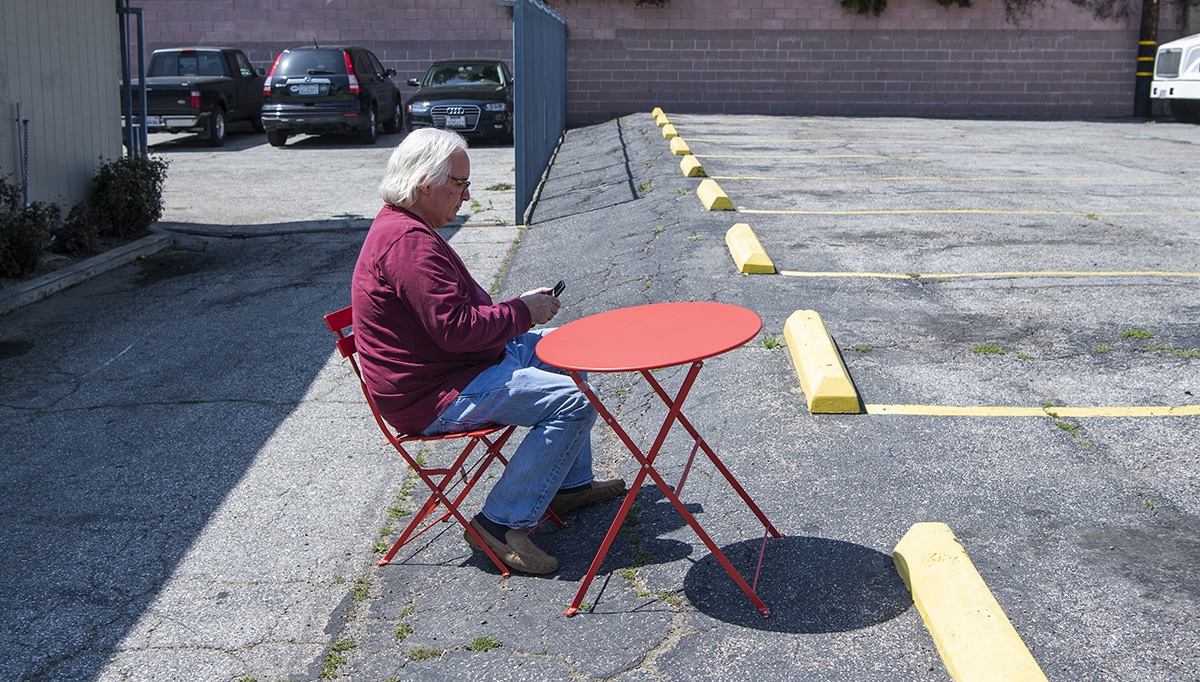 The most popular quotation on real estate websites, and perhaps on shellacked knots of pine hanging above desks in Realtors' offices everywhere, is the Hebrew proverb that declares, "He is not a full man who does not own a piece of land."
Pieces of land are at a premium in the Long Beach area, and by "piece of land," I mean land unsullied by mankind's never sated appetite for building upon it. Not a house, not an office building or hotel, just sweet, sweet land; a blank slate with a potential limited solely by your imagination.
It's hard to come by these days. Mark Twain, to throw you another quotation, sagely observed that buying land is a solid investment, because "they're not making it anymore."
I've scoured the various real estate and investment companies looking for a nice slice of vacant property available in Long Beach. Not something wildly over the top like the city's elephant lot, which is waiting patiently for someone to drop a baseball stadium on it. Or the $4 million piece of grassland in Naples that I've mentioned in an earlier column.
There's more out there than I thought. I found a third-of-an-acre lot on the corner of 69th Street and Long Beach Boulevard that's zoned for a cannabis dispensary, offered at $590,000; a cute little place in Wrigley just screaming to have an apartment building be constructed on it; and an ambitiously vacant block of land on Elm Avenue in the East Village, with accompanying advertisement urging you ever upward, with "potential to be part of the high-rise LB community."
"You want a 240-feet height limit? You have it."
"Want to build higher?" (Yes! God, Yes!)  "How's 500 feet?" And I was just about all in, till I got to the price tag of $5.25 million, which didn't leave me a lot of extra money to take her to 500 feet and damn the cost.
I finally found some land that wouldn't explode my pocketbook. A piece of Bixby Knolls/Los Cerritos on Long Beach Boulevard for $17,995.
OK, before you get all excited, I need to tell you you're not going to go up to 500 feet on this plot. In fact, "plot" is too magnificent a term for what $17,995 will buy you in Bixby Knolls/Los Cerritos.
I will tell you that I can fit in it, unless I tip over in a north-south direction, which would put at least part of me in someone else's property. Trespassing by falling.
The land for sale (and it's been for sale for about 500 days) is impressively long at 96 feet, and depressingly wide at about 4 feet. It runs along a parking lot to its north side and a driveway for some vacant law offices to the south. It also slopes steeply for about 65 feet of its length, making it useless for a bowling alley or shuffleboard court.
It's unclear how this .01-acre hunk of Long Beach didn't fall into the hands of either of its neighbors.
I set up a nice little bistro table on the land to see how I liked it and, to be startlingly honest, I've stayed in nicer places, though at least it's across the street from Steelcraft, so lunch is taken care of.
The listing agent, Tova Oren of ERA North Orange County, said her client is "adamant" about the price and is in no huge hurry to sell it.
"When he bought it, he thought it was a different lot and then Googled it and found that he didn't own what he thought he was buying and so now he's just hoping that one day a builder will come and put up a shopping center."
Oren said she gets a lot of calls about it and has had offers from $1,000 to $15,000. "Every one of them asked me questions about it and I tell them to contact the city about what they're allowed to do with the property," she said. "And every person gets different answers from the city."
The consensus, though, is that nothing permanent can be put up there, which destroyed my dreams of building the world's skinniest office on it to shirttail on the fame that accrues annually to the Skinny House at 708 Gladys Ave. in Rose Park.
With a permanent structure taken off the board, I was left with suggestions posted on the listing: "Storage, food stand or parking carts, bikes etc."
After some serious soul searching, I came to the conclusion that the piece of land and I aren't a good fit for one another. When I tip over, I don't want to care about which way to fall.
Tim Grobaty is a columnist and the Opinions Editor for the Long Beach Post. You can reach him at 562-714-2116, email [email protected], @grobaty on Twitter and Grobaty on Facebook.
Free news isn't cheap.
We believe that everyone should have access to important local news, for free.
However, it costs money to keep a local news organization like this one—independently owned and operated here in Long Beach, without the backing of any national corporation—alive.
If independent local news is important to you, please consider supporting us with a monthly or one-time contribution. Read more.