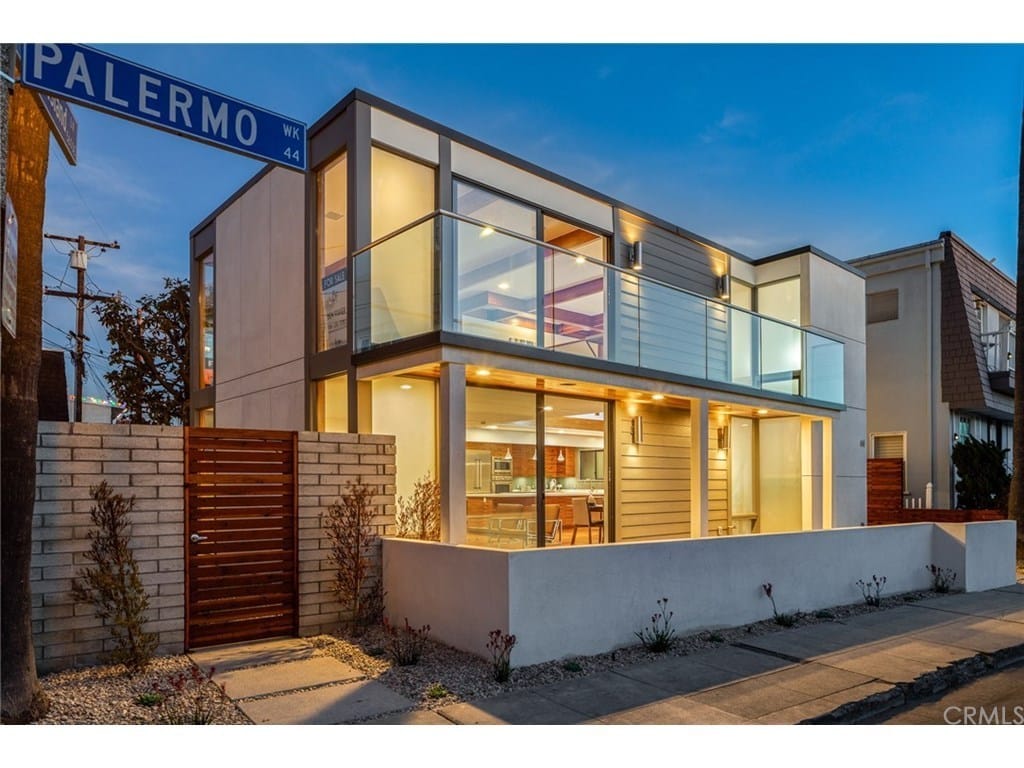 If you're big into surf memorabilia and are looking for a nice place to showcase your collection, your quest ends here: The boyhood home of Bruce Brown, the Long Beach filmmaker who made the seminal surf documentary "The Endless Summer," is on the market now for $2.28 million.
The three-bedroom, three-and-a-quarter-bath mid-century revival home is on Naples' Treasure Island off the water at 44 Palermo Walk, a quiet little street between Naples Canal and Alamitos Bay.
Built in the 1950s by Long Beach architects Power and Daniels (who built the Belmont Shore Library and our recently featured residence in Park Estates), the home was built for Brown's parents, Dana and Myrna, who owned Long Beach's Brownie's Toys chain, with shops on Second Street, Bixby Knolls and Los Altos.
The house stayed in the family for half a century until the parents died. It was purchased in 2010 by a man who gutted it down to a skeleton and then passed away. It was picked up in a probate sale last spring for $1.45 million by builders/designers William Smith and Patrick Bostrom of Modern Design Builders, who upgraded the home on spec.
"It's a new rendition of true mid-century," said listing agent Ben Fisher. "It's more functional for the way people live now," with wide open spaces, all bedrooms with ensuite bathrooms and a breezy second story.
The indoor-outdoor aspect of the mid-century modern style is enhanced by five massive slide doors. The kitchen contains teak cabinetry, a large island with prep sink and Thermador appliances and the floors in the living area and kitchen are Brazilian teak.
But a big selling point is the home's heritage.
Bruce Brown, who attended Wilson High, dabbled in short surf films in the late 1950s, but "The Endless Summer," initially released in 1964 (its debut was in the Wilson auditorium), opened up the globe to surfers and surfing.
The idea behind the film was, as its title more than implies, to chase the summer by traveling the latitudes looking for waves throughout the world. The film follows surfers Robert August and Mike Hynson as they ride waves in Australia, New Zealand, Tahiti, Hawaii, Senegal, Ghana, Nigeria and South Africa.
The movie became a classic, playing to crowds in such unlikely places as Wichita and New York City and loosed Southern Californian and Hawaiian surfers on similar worldwide quests for perfect waves in perfect climates. Brown made "The Endless Summer" for $50,000 and it went on to earn more than $20 million.
He was inducted into the Surfers Hall of Fame in 2009, and in 2015, the Smithsonian Institute had an exhibit titled "Wave of Innovation: Surfing and the Endless Summer."
Brown died in Santa Barbara in December 2017 at the age of 80.
Tim Grobaty is a columnist and the Opinions Editor for the Long Beach Post. You can reach him at 562-714-2116, email [email protected], @grobaty on Twitter and Grobaty on Facebook.
Free news isn't cheap.
We believe that everyone should have access to important local news, for free.
However, it costs money to keep a local news organization like this one—independently owned and operated here in Long Beach, without the backing of any national corporation—alive.
If independent local news is important to you, please consider supporting us with a monthly or one-time contribution. Read more.