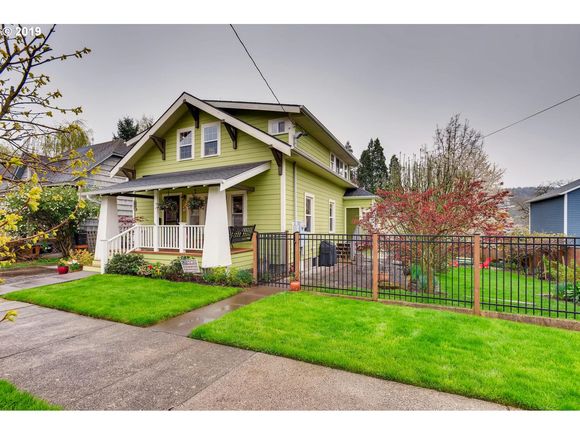 Long Beach houses too pricey? Maybe you'd be happier living somewhere else
A median-value home in Long Beach, by definition, is one which is more expensive than half the homes in the city, and less expensive than half. Here in Long Beach, the median home value, according to Zillow, is $597,400.
Among the homes for sale now, the closest to the median figure is a $598,000 two-bedroom, one-bath "trendy" home in the Artcraft Manor neighborhood near the Traffic Circle. If by "trendy," the listing agent is referring to the "tiny house" trend, this 898-square-foot home is definitely on the cutting edge.
Size aside, it's a perfectly fine home for a small family with one child, or, better, no children, and they can use the extra bedroom for an office or a guest. It sports an upgraded kitchen and bathroom on a fairly large lot, giving your pooch a spacious backyard to explore.
But throw your suitcase full of $597,400 in the trunk of your car and motor out to other cool cities in this country and you might find yourself in a house more to your liking. The downside, of course, is you won't be in California anymore. For some of us, that's a non-starter, but if you're tired of living here and want more bling for your home-buying buck, much of the country's real-estate agents will be happy to help you out.
In Portland, Oregon, the Seattle of Oregon, $599,000 will get you what you can't afford in Long Beach: a four-bedroom, two-bath 1910 Craftsman Bungalow in the heart of the Alberta Arts District. The 2,705 square-foot house comes with a finished basement, a pair of wood-burning fireplaces, oak floors, a handsomely landscaped backyard with a covered patio. It also has a two-car garage, a rarity in this part of town and partially explains why this property is almost $175,000 above the city's media home price of $425,700.
Heading north, we're now looking at Seattle, the Portland of Washington, where $595,000 allows you to move in to a three-bed, two-bath home plopped on a corner lot.
The two-story house, like your Portland pad, has a basement, as well as two fireplaces, an updated kitchen with new appliances, a backyard deck overlooking an orchard of fruit trees on a 7,654 square-foot lot. It's a good bargain considering Seattle's median home price of $729,400.
Question: What's the only city in Texas worth saving, come the Apocalypse?
Yes, by all means, let's look at what your home-buying dollars will do for you in Austin, Texas. You know they'll go far, because the median home price in Austin is $365,600.
So, for $595,000 in the capital of Texas, you get a Texas-size residence, with four bedrooms and four baths, an office, high ceilings and wood floors and a second-floor great room spread out over 3,458 square feet on a 9,104 square-foot that boasts a spacious backyard with pool, hot tub and outdoor kitchen. The home's on a private cul-de-sac. Hard to pass this one by.
Madison, Wisconsin is a town that perennially makes the Best Places to Live lists. A great university, an even better college town,  the state capital and lots of lakes and badgers.
Take your Mad money here and you're going to wind up with this humongous 4,100 square-foot home on half an acre of land. You'll get a wide-open floor plan, 12-foot-high ceilings in the great room, a floor-to-ceiling stone fireplace along with four bedrooms and 3.5 baths. You'll be "that family" living in this sort of splendor in a town where the median home value is $256,900 by paying more than twice that for this masterpiece, and you'll get to cut your grass on a ride-on mower.
Now you're saying, "I don't want to live in those places. I want to live in a bustling, vibrant city like Manhattan or San Francisco." Well, you've heard the phrase "people in hell want ice water." Your half-million-plus dollars will get you a real nice steak and a martini in those cities. But not the residential equivalent. I did get a little excited when I found a two-bedroom condo in Lower Pacific Heights (the Heights' lowlands) for $575,000, but then I got blindsided by the $761.01 monthly Homeowners Association fee. And, no, they don't let that extra penny slide. The median home value in Frisco? $1,365,700 and rising by the minute.
As for Manhattan, $569,000 will get you a one-bath studio on 10th Street in which you can freely roam over its 368 square feet. You want just-OK in Manhattan, you're looking down the barrel of a median price of $1.55 million.
Give up your dreams. You're moving to Texas.
Tim Grobaty is a columnist and the Opinions Editor for the Long Beach Post. You can reach him at 562-714-2116, email [email protected], @grobaty on Twitter and Grobaty on Facebook.
Support our journalism.
It's been one year since the Long Beach Post began asking you, our readers, to contribute to keeping local journalism alive in the city.
Thousands have contributed over the past year giving an average contribution of $12.39 a month.
Please consider what the news and information you get every day from the Post means to you, and start a recurring monthly contribution now. READ MORE.