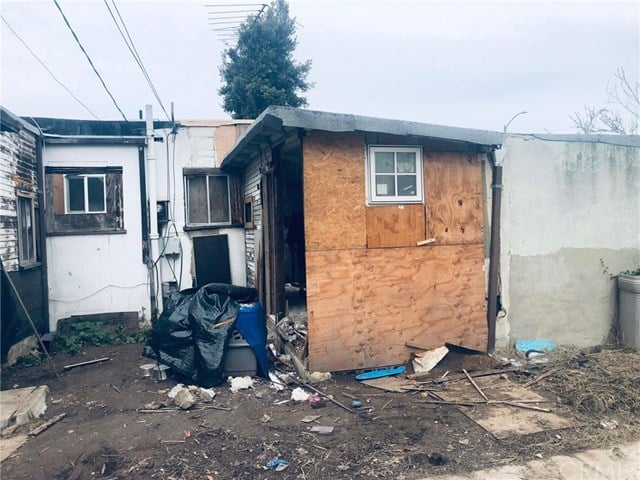 Realtor and contractor Tony DeSmet has a great pitch for this sweet little piece of real estate on cozy Leigh Court in the Poly High area:
"It's a piece of junk," he bragged. "There were seven tweakers living in it until I had them evicted last Thursday."
DeSmet was overselling the two-bedroom, one-bath house at 1208 Leigh Court. The home needs an awful lot of work to get it up to the "piece of junk" shape.
It was listed on Monday and "priced to sell" at $279,000, making it on the short list of the cheapest single-family house in Long Beach.
To be sure, the tweakers didn't put a lot of effort into keeping the place up, and DeSmet didn't pull any punches on the photos that accompany the listing on the real-estate website Estately.com. The pictures are the perfect example of truth in advertising.
The bathroom looks like you'd need to have a thorough health check and perhaps spend some time relaxing in quarantine after you used it. The kitchen appears to have been the scene of dozens of vicious tweaker food fights. The bedrooms have been decorated tastefully with graffiti and the drywall has been pulled away exposing its wooden frame, giving it a sort of rustic yet savagely violent ambience.
The 1922 house's curb appeal is minimal. The architecture is Early Rectangular. The front yard is landscaped with easy-to-manage drought-resistant dirt and a pot with a cactus in it, which comes with the property.
The front exterior, while decidedly unspectacular, does not tip you off to the horrors of the backyard, where our tweakers seem to have tried their hands at home addition/remodeling with something a little shy of mixed results. The main addition is a sort of half-finished indoor-outdoor extension of the garage which would be ideal for an office, a crafts room or even a guest room.
"I flip houses," said DeSmet, who bought the property last November for $221,000. "And I'd love to build a new house on the lot, but it's a pain in the ass. Someone could fix it up now and make a profit, but it's a lot of work. It needs new electrical, plumbing, drywall, windows. There are a lot of people interested in it, because it's priced well and there's not a lot of inventory available for flippers right now.
"If I was going to do it with my crew, I'd probably put $50,000 to $70,000 into it, and I'd make a profit on it, but then someone else would buy it from me and flip it again," he said. "And it's still gonna be a piece of junk."
Tim Grobaty is a columnist and the Opinions Editor for the Long Beach Post. You can reach him at 562-714-2116, email [email protected], @grobaty on Twitter and Grobaty on Facebook.
Free news isn't cheap.
We believe that everyone should have access to important local news, for free.
However, it costs money to keep a local news organization like this one—independently owned and operated here in Long Beach, without the backing of any national corporation—alive.
If independent local news is important to you, please consider supporting us with a monthly or one-time contribution. Read more.