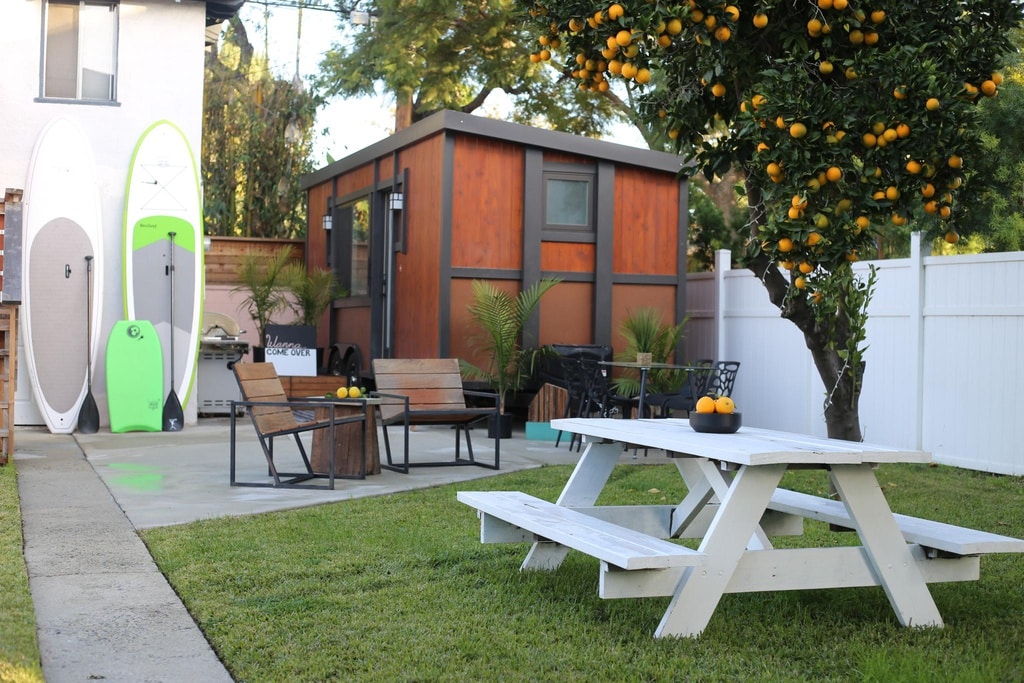 Rent this luxury shed for $1,675/month: Really, how much space do you need?
Welcome to a special Friday edition of Real Estate Monday. We had to rush this into print, or pixels, or whatever, because at this price, this property won't last.
For just $1,675 per month, you can rent an "amazingly private, stylish, fully furnished Tiny House" on Daisy Avenue in Long Beach's Wrigley District.
And already your seller is off to the hyperbole races, because "amazingly private" to some of us means you can't even see your nearest enemy. Your definition certainly doesn't stretch so far as to mean that you're living in someone's backyard. And when they say it's located in a "walled garden section." There's a fence, a citrus tree, maybe a half-dozen potted palms and some grass. It's nice, but it's a good eight plants shy of a garden.
It's unclear how often the people in the Big Giant House in front spend time hanging out in your slice of paradise. But you won't want to hide in your house because at 182 square feet of living space, it barely has room for a full-size person to fight for room among a houseful of square-feet-gobbllng amenities that includes a queen-size bed, a full-size shower, a couch, a flip-top desk, a mini fridge and a microwave. Stove? No, Wolfgang, it doesn't have a stove. It has, as we said, a microwave.
The house is, admittedly, nicer looking than your basic Rubbermaid storage shed, although if you want to go that route, we can hook you up with an unfurnished one for $618. It's 312 square feet and you'll know the pride of ownership. You'll also rattle around in it like a BB in a rain barrel.
And this Wrigley Tiny House is actually pretty cute with some cool innovative space-saving designs. But they're merely innovative. It takes full-on heroism to make 182 square-feet livable for one person, and forget about two people. There's not even enough space for a cordial argument.
Update: Following publication, the owner of the property explained in an email: "This listing was a mistake by the PR people with the tiny house company. They are based in Wisconsin and posted this ad with the wrong owner's info (my info and tiny house).  They're a big company and they must have gotten their info crossed in their data base when posting ads.  We are financing to own our unit, but it's only parked in our back yard. That's it. For a slight discount on our monthly bills we give the company permission to take photos, give tours and promote their units using our info and photos. They do have rental programs all over the country, but ours is NOT one of them!"
Tim Grobaty is a columnist and the Opinions Editor for the Long Beach Post. You can reach him at 562-714-2116, email [email protected], @grobaty on Twitter and Grobaty on Facebook.
Free news isn't cheap.
We believe that everyone should have access to important local news, for free.
However, it costs money to keep a local news organization like this one—independently owned and operated here in Long Beach, without the backing of any national corporation—alive.
If independent local news is important to you, please consider supporting us with a monthly or one-time contribution. Read more.