At a press conference Friday afternoon, the 11 men who will make up the third class of inductees to the Poly Football Hall of Fame were made announced, and those present shared their favorite moments from high school.
Here's the complete list:
Brandon Whiting, Jim Barnett, Samie Parker, Darrell Rideaux, Willie Martin, Jeff Smith, Morley Drury, Johnny Morris, Walter McCowen, Eugene Burkhalter, and Mike Giers
We'll have features on a few of these players as we lead up to the Hall of Fame ceremony on July 11th. Get your tickets by emailing This email address is being protected from spambots. You need JavaScript enabled to view it. .
There are some definite no-brainers on the list, including coach Jim Barnett, who won a CIF title in 1980 to bring back the championship tradition at Poly, and was runner-up in 1981 and 1982. Darrell Rideaux and Samie Parker are both highly decorated members of the late 90s championship teams who both played in the NFL.
As always, it's the lesser known members of the class that give it its real depth, such as Walter McCowen, class of 1935, who is being inducted posthumously. McCowen was the first African-American to play football for the Rabbits, back in 1932. He was later rejected from the LBPD because of his race. He's not just being inducted for that breaking new ground, though; McCowen was a star in the early 30s, with two touchdowns in the 1934 championships win over San Diego high, including an 83-yard run. McCowen's younger brother was the first black quarterback at the school.
The six members who were there (or had representatives) shared some great stories. Mike Giers, a hard-nosed lineman who went on to play for the Giants in the 60s, said, "Just being at Poly is one of the biggest things in my life. It's more than just a high school—it's an incredible experience."
McCowan's niece, Nedra Miller, shared some of her uncle's favorite memories (taken from his papers), including winning a title in front of 10,000 at the Los Angeles Coliseum. Miller said that since, every descendant of McCowan's has graduated from Poly.
Parker recalled beating Mater Dei in the CIF title as his favorite moment. Rideaux gave an emotional, memorable speech about the value of Poly, and the opportunities it provided him with (after a stint in the NFL, Rideaux has become a successful businessman, as well as a media personality covering USC with ESPN). He recalled being a freshman at the August training camp, practicing with the varsity team (he'd begin starting in the fifth week of his freshman year). During the summer practice, Rideaux says he refused to come out of the huddle until a coach forced him to. He also recalled meeting with quarterback Chris Lewis and deciding the two of them would begin personally policing the team's academic efforts, since they were losing games due to ineligible players. "Once our GPA went up, we started winning more games," he said.
Poly coach Raul Lara pleaded with the inductees to come back and tell the story of Poly's history to the current players. "These kids need to hear these stories," he said. He also said that this year, the team would be at the ceremony, for just that reason.
Look for more bio info on the players as we get closer to the ceremony, which again will be July 11, at the Westin Long Beach, at 4pm. For tickets, please email This email address is being protected from spambots. You need JavaScript enabled to view it. , and we'll see you there!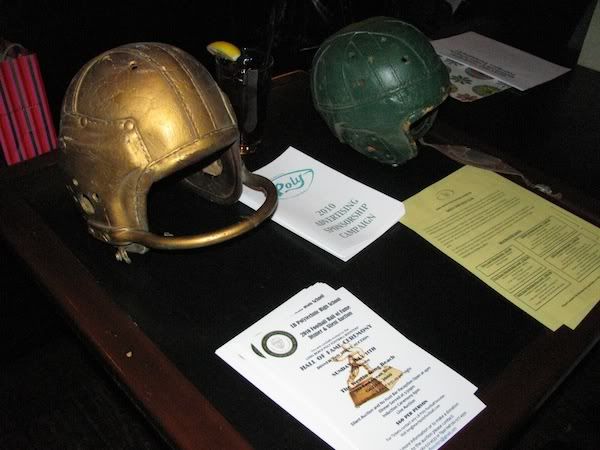 These helmets were found in a box in the Poly locker room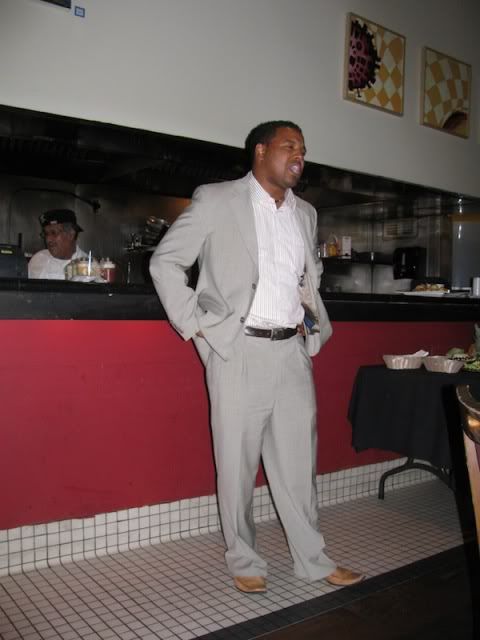 Darrell Rideaux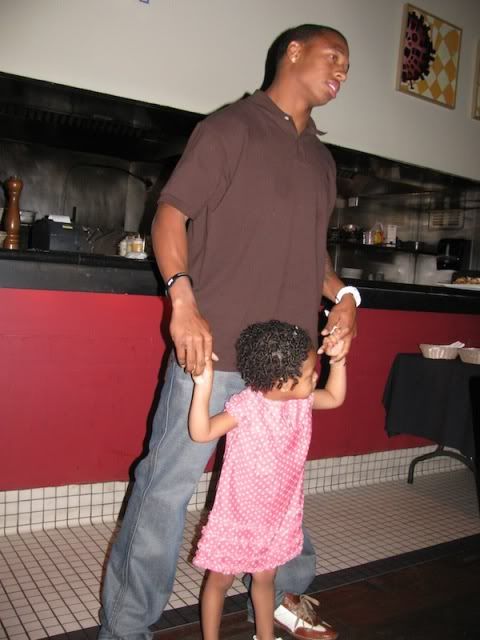 Samie Parker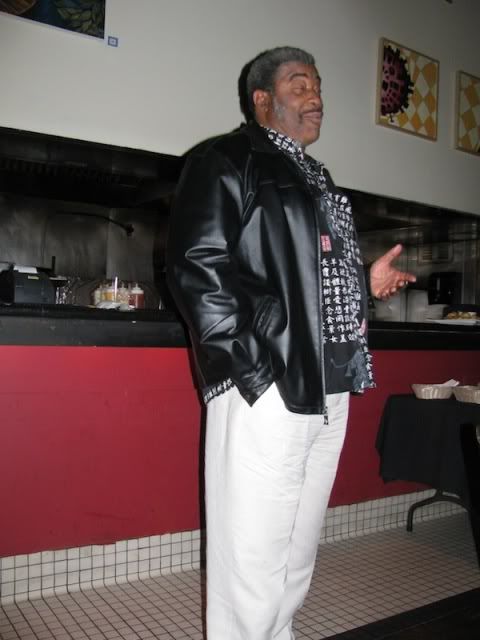 Jeff Smith
Poly coach Raul Lara talks about the importance of history
L-R: Jeff Smith, Nedra Miller (McCowen's niece), Samie Parker, Darrell Rideaux, Willie Martin Jr. (Willie Martin's son), and Mike Giers, representing six of the 11 inductees