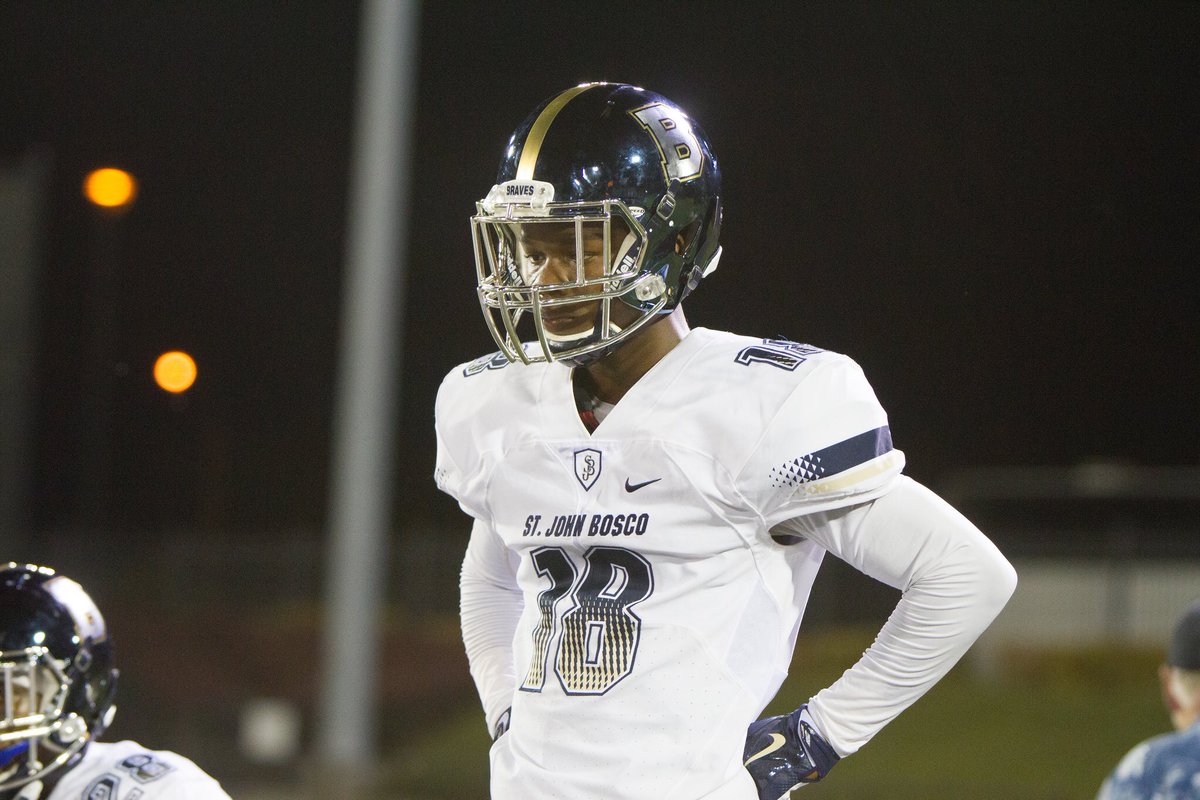 Funeral set for Bryce Turner, 20, a talented football player with 'so much life in front of him'
The year is off to a painful start for the Long Beach football community, as former St. John Bosco and Long Beach City College defensive back Bryce Turner died at age 20 Saturday.
Funeral services have been set for this Saturday in Inglewood.
Turner, who was a standout DB for the Braves and Vikings, had just finished his redshirt sophomore season at Cal, and was home for the winter break when he collapsed during a workout in late December. Turner was hospitalized after what Cal termed a "medical emergency" and died Jan. 5.
His cause of death is still unclear.
Turner, a Lakewood native, was an outgoing, bright, and popular student-athlete who was well-liked in his time at Bosco and LBCC.
His passing is another hard moment in what has been a difficult stretch for LBCC, which has now lost three players in a 16-month span: Tim Johnson died from injuries sustained in a car accident, and Guy Alford died after being shot in late September.
"It's been a very difficult year and a half for us," said LBCC coach Brett Peabody. "These guys are our family. Bryce was an amazing young man with all his priorities in the right order. He was fun to be around and a good leader for us even as a freshman."
Peabody saw immense talent in Turner, and after his freshman season asked him to return for another year. Turner had an opportunity for a preferred walk-on spot at Cal and wanted to take it.
"He said, 'Coach, my dream is to go to Cal,' and I patted him on the back and wished him well," said Peabody. "He was a kid everyone knew would be successful, with so much life in front of him and a beautiful family. We had tragedy with Guy and Tim and out of nowhere here's another guy living his life, working as hard as we can. … It's hard to understand."
LBCC Athletic Director Jim Knowlton said Bryce was a young man with a bright future.
"His life was taken far too soon and he will be deeply missed," he said. "Our thoughts and prayers are with Bryce's family, friends, teammates and coaches during this difficult time, and we will do all that we can to support each other, his family, our students and the entire Cal community through the grieving process."
The loss reverberated throughout the area, with Turner's teammates at Bosco flooding social media with remembrances. Traveon Beck shared a backfield with Turner while at Bosco and was his teammate at Cal. Beck updated friends on Twitter about Turner's progress in the hospital, while trying to understand how his close friend could go from playing with him in a bowl game on Dec. 26 to the hospital a few days later.
"My tears won't stop falling as I type this," tweeted Beck. "Words can't explain how I feel but I love you brother. Never would I have thought I'd have to bury one of my best friends."
Turner's funeral service will be at 10 a.m. Saturday, Jan. 12, at Faithful Central Baptist Church in Inglewood. Overflow parking will be available across the street.
Support our journalism.
It's been one year since the Long Beach Post began asking you, our readers, to contribute to keeping local journalism alive in the city.
Thousands have contributed over the past year giving an average contribution of $12.39 a month.
Please consider what the news and information you get every day from the Post means to you, and start a recurring monthly contribution now. READ MORE.